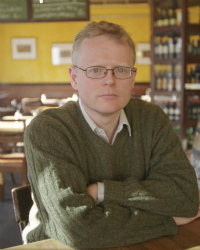 HONG KONG – 8 November 2011 – Ian Johnson China expert and Pulitzer Prize winner, joins China Speakers Agency, the international speakers bureau with a China focus.
Ian Johnson
Ian Johnson first went to China in 1984 and has lived there off and on for a dozen years. He was bureau chief for the Wall Street Journal, where he won a Pulitzer Prize for his coverage of China. He has also won two Overseas Press Club awards for his work on China and Asian economics.
He is currently affiliated with the New York Times and working on a book about grassroots change in China. His articles also appear in the New York Review of Books, the New York Times Sunday Magazine, Foreign Policy and the Journal of Chinese Religions. He has been a Nieman Fellow at Harvard University and a fellow at the Open Society Institute. He is currently writing a book on faith in China.
Example of Ian's Speech Topics
The Soul of a Superpower.
The Silent Majority: why grassroots China matters.
China's changing political landscape:
Misunderstanding China
About China Speakers Agency
China Speakers Agency, the international speakers bureau focusing on China, serves as your hub for finding the speaker(s) that will best fit your event needs. Our service is particularly useful for organizations that are:
MNCs looking for concrete know-how on how to do business with / in China
Chinese companies entering the global market looking for international experience
Based in Hong Kong and representing renowned speakers from China, Asia Pacific as well as around the world, we are the resources for personalities who bring fresh ideas and new insights.
For further information, contact:
Priscilla Chan
China Speakers Agency
A: 20/F, Central Tower, 28 Queen's Road, Central, Hong Kong
E: info@chinaspeakersagency.com
T: +852 3489 9246