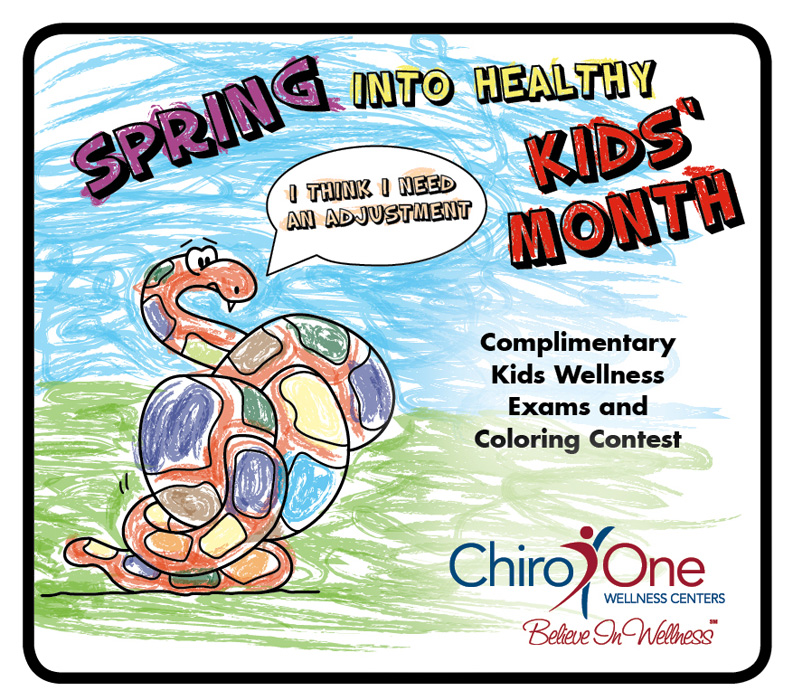 Oak Brook, IL–March 2nd, 2012 – Have you ever been frustrated trying to find help for your child who suffers with asthma, chronic ear infections or ADHD? If you've used the traditional medical model with its array of beneficial options including drugs and surgery and your child still suffers, there still may be hope. Chiropractic care has been shown to be an effective treatment to help reduce a myriad of childhood illnesses and diseases including ear infections, asthma, allergies, as well as symptoms associated with ADHD, Autism and more. Chiropractic has also been shown to boost the immune system by up to 48% and is a great way to keep your kids healthy and well.

In an effort to bring the healing power of Chiropractic to kids, Chiro One Wellness Centers is offering free Chiropractic exams* for kids in March. Chiro One Wellness Centers''Spring into Healthy Kids' Month' is for children 0 to 18 years of age and has been developed to educate parents about the devastating effects of subluxation and the importance of maintaining a healthy spine and nervous system. A subluxation is a misaligned vertebrae that puts pressure on the nervous system and can be a precursor to many childhood illnesses and symptoms.

Supported by their vision, "that every human being discovers their full potential," Chiro One invites parents to bring in their kids to find out more about how they can benefit from the opportunity to experience incredible health through an optimally functioning spine and nervous system.

Event Information: 'Spring into Healthy Kids' Month'
When: Monday, March 5th – Thursday, March 29th, 2012
Where: All Chiro One Wellness Centers in Illinois, Kentucky and Texas
Reservations are recommended. Event is open to the public. Call NOW to make an appointment at (877) 724-4761. For more information or to book your appointment online, visit http://www.ChiroOne.net/Events. Enter Promo Code: Healthy Kids.
To combat spring fever, Chiro One is hosting their 'Spring into Health Kid's Coloring Contest' during the event. Kids of all ages are welcome to join in the fun! Stop in your local Chiro One and submit your coloring entry for a chance to win a cool prize. One boy and one girl will win at each office.

*Spinal wellness evaluations may include a doctor's consultation, focused exam (CPT:99201), digital orthotic foot scan, 2 spinal x-rays in area of complaint (if medically necessary), complimentary insurance verification (a total value of $395) from March 5th – March 31st at a Chiro One near you. Some restrictions apply. *Offer applies to new patients only. *Offer does not include personal injury or workman's compensation cases. *Medicare, Medicaid and Tricare recipients are excluded from this offer by law. *Based on initial exam finding additional services may be recommended. *Government issued identification and health insurance cards will need to be presented at time of initial visit. (*Kentucky Residents - You have the right to rescind, within seventy-two (72) hours, any obligation for services performed in addition to this free or discounted service).

About Chiro One Wellness Centers
Chiro One Wellness Centers serves Chicagoland, Kentucky and Texas with 73 convenient locations and offers a variety of services including corrective chiropractic care, core stabilization, and seminars and lectures on multiple health topics. Chiro One Wellness Centers' Vision is, "that every human being discovers their full potential." Their Mission: Being leaders in developing extraordinary wellness for families and individuals by taking a stand for the well being of their communities through education and service. Follow Chiro One on Facebook at http://www.Facebook.com/ChiroOne.

###
Media Contact:
April Neill, Director of Public Relations
2625 Butterfield Rd. Ste. 305N. Oak Brook, IL 60523
Phone: (630) 468-1824
Cell: (815) 651-0656
aneill@ChiroOne.net