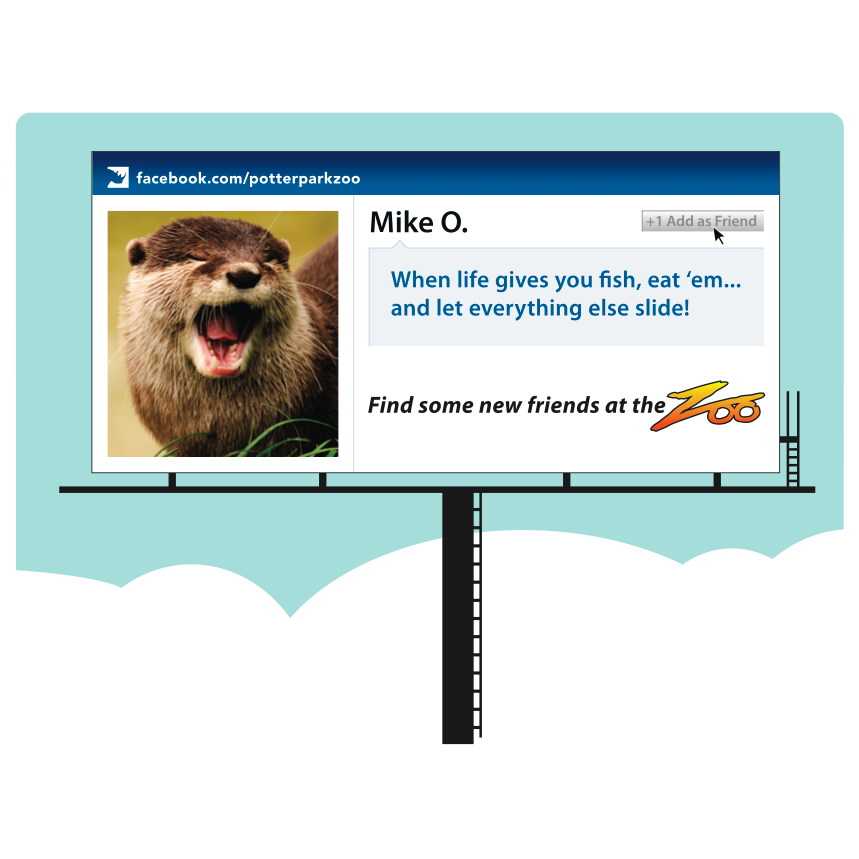 LANSING, Michigan, April 20, 2012 – CiesaDesign was awarded a CMPRSA PACE Award of Excellence in Innovative Tactics and the People's Choice Award for work on the Facebook Friends Campaign for Potter Park Zoo. The effort was a successful and fresh approach to integrated marketing that lead to increased web traffic and revenue for the zoo, part of the Ingham County Parks Department.
The PACE Awards recognize entries based on research/background, planning/content, creativity/quality, technical excellence, and results. The People's Choice Award for Tactics recognizes the best tactical entry overall by attendee vote at the ceremony.
Developed by CiesaDesign's creative team as a way to increase both website and foot traffic, billboards and posters presented an engaging way to inspire people to take a second look at the Zoo. Featuring Facebook profiles and 'status updates' from Potter Park's most popular animals, the ads were designed to increase interest in the zoo's digital presence while broadening the Zoo's traditional demographic to include a more tech-savvy audience. Vibrantly colored profile pictures and encouragement to find more friends at the zoo prompted people to get online, get to the zoo and start making connections.
"The client and the awards committee recognized the campaign as engaging and fun, but, more importantly hugely successful," said Chris VanWyck, vice president of creative strategy for CiesaDesign. "Combined with the campaign's AAF ADDY win in February, the campaign was recognized as effective on all fronts, truly a Best in Class effort from our creative agency."
From April to October 2011, Potter Park's Facebook page added 2,100 fans and had nearly 795,000 views (a 66% increase from 2010). Foot traffic estimates are expected to be overwhelmingly favorable as well. In addition to a three-fold increase in gift shop sales, the number of actual visitors to the zoo historically mirrors web traffic - and that has increased 25% since the launch of the campaign.
"It proved we could promote our Facebook page as the first touch-point with the Zoo online and capture fans without giving up an increase in .org traffic," explained Potter Park Zoo director of communications, Jake Petchel. "All of that has been translating to real world ROI as well."
The awards were accepted on April 19th by CiesaDesign vice president of creative strategy Chris VanWyck and Potter Park Zoo director of communications, Jake Petchel, at the Lexington Lansing Hotel.
About CiesaDesign
CiesaDesign is an Old Town agency specializing in creative strategy, visual messaging, branding, print and design services. Founded in 1983 by Lauren Ciesa, CiesaDesign's award-winning work includes a National Gold ADDY in logo design and a Governors Award (GUVVY) for Exemplary Business Supporting Arts and Culture. For more information, visit http://www.ciesadesign.com.
About Potter Park Zoo
Potter Park Zoo is located at 1301 S. Pennsylvania Ave. within Potter Park along the Red Cedar River in Lansing, Michigan. The zoo is open daily year-round, summer hours are 9 a.m. to 6 p.m. For more information, call (517) 483-4222 or visit www.potterparkzoo.org.