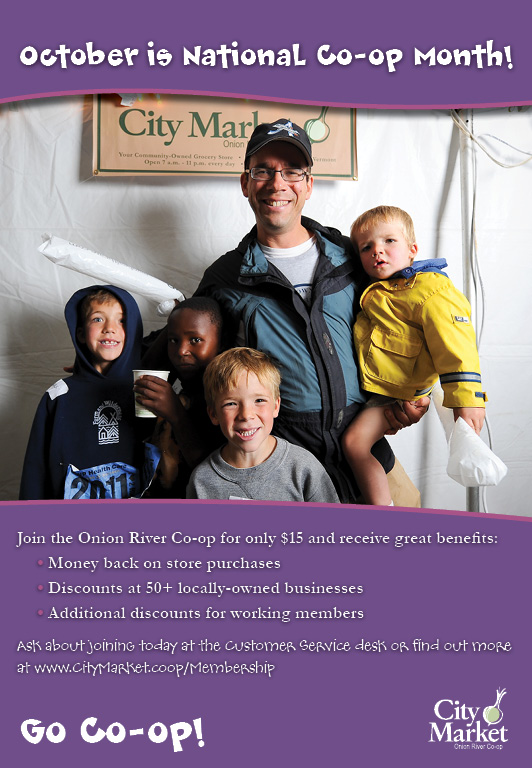 City Market, a member-owned cooperative, has declared a Patronage Dividend for fiscal year 2011 of $1,017,754, based on net income from sales to its members. The City Market Board of Directors has voted to return 60% of this dividend to members in the form of a Patronage Refund. On November 10, the Co-op will be mailing over 6,200 checks to its members, with an average check of $98.
Members have options to cash or donate their Patronage Refunds. Through donations, shared resources and Member Worker volunteers, City Market partners with local non-profits to enhance our local food system and meet the needs of our community's most food insecure families. To these ends, City Market will facilitate donations of members' Patronage Refund checks this year to Hunger Free Vermont and the Intervale Farmers' Equipment Corporation.
Hunger Free Vermont is an education and advocacy organization with the mission to end the injustice of hunger and malnutrition for all Vermonters. "City Market has been a valuable partner for Hunger Free Vermont and we're appreciative of their support for our statewide work on hunger issues," says Marissa Parisi, Hunger Free Vermont's Executive Director. "Due to this long recession, Vermonters need food and nutrition support now more than ever, and we are grateful to City Market and their members for helping us ensure all of our citizens have access to food on a regular basis."
The Intervale Farmers' Equipment Corporation (IFEC) began in 2007 as a collaborative effort between the Intervale Center and seven independent Intervale Farms to transition ownership of equipment and infrastructure to a cooperative group consisting of the member farms. For the last four seasons, IFEC has met its goal of providing members with a low cost way to own and maintain farm infrastructure and equipment. IFEC will be outfitting a heated shop space in the former Intervale Compost Products building to better maintain equipment and increase efficiency of farming operations. "These donations from City Market members will ease the financial burden on member farms, all of whom were significantly impacted by Irene. The money will help outfit the new shop space with necessary equipment and it will also help farms pay for the space rental during these particularly tight months. The future security of the Intervale Farms will be greatly enhanced with access to this space," says Becky Maden, treasurer of IFEC and a farmer at the Intervale Community Farm.
In 2010, City Market returned over $389,000 to its members in the form of a Patronage Refund to recirculate back into the local economy. This 2011 Patronage Refund represents a 57% increase over the prior year and represents just one benefit of Co-op membership. Last year, City Market members donated over $2,500 from their Patronage Refunds to the Intervale Center and Hunger Free Vermont.
Clem Nilan, City Market's General Manager, is proud of the Co-op's ability to offer a Patronage Refund to members. "While more and more of the wealth of our country is being concentrated in the hands of fewer, our Cooperative model is designed to return our profits directly back to our members. Our community clearly embraces our financial model and membership has soared to record levels, growing by over 21% in fiscal year 2011."
About City Market/Onion River Co-op
The Onion River Co-op is a consumer cooperative, with over 7,000 members, selling wholesome food and other products while building a vibrant, empowered community and a healthier world, all in a sustainable manner. Located in downtown Burlington, Vermont, City Market provides a large selection of local, natural and conventional foods, and thousands of local and Vermont-made products. Visit City Market, Onion River Co-op online at www.CityMarket.coop or call 802-861-9700.
###