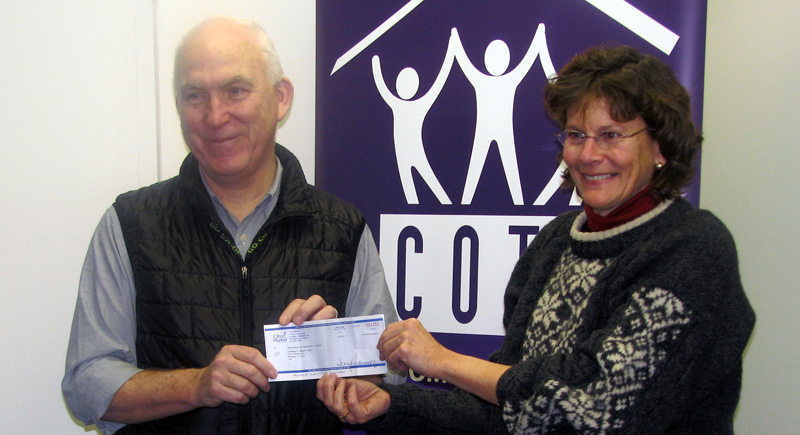 Burlington, VT – City Market, Onion River Co-op donated the proceeds from its 14th annual COTS Tree Sale to the Committee on Temporary Shelter (COTS). City Market staff presented the check totaling $8,900 to COTS Executive Director Rita Markley. The annual tree sale to benefit COTS has been held at the Co-op for the past 14 years, bringing the total donation to over $69,000.
"We are so grateful to City Market, Steve Moffatt of Moffatt's Tree Farm in Craftsbury, and the wonderful volunteers who make City Market's annual COTS Tree Sale a reality each year. This wonderful event that benefits COTS raises much needed money for services, heightens awareness about those who are homeless or at risk of becoming homeless -- and has become a wonderful tradition for so many people in our community," said Rita Markley, executive director of COTS.
City Market staff, Co-op members and community volunteers assisted customers with trees throughout the sale. The fresh, local trees were delivered from Moffatt's Farm in Craftsbury and were sold for only $30. According to COTS, $20 covers food and a night of emergency shelter for an adult at the Waystation, while $50 can provide backpacks and school supplies for two children in shelter. At their Daystation, they serve lunch to an average of 40-55 people a day.
Founded in 1982, COTS provides emergency shelter, prevention services and outreach to families and individuals who are homeless or at risk of becoming homeless. COTS also offers case-management and referral services to those who are homeless or marginally housed, as well as transitional and permanent housing to veterans, low-income families and individuals.
This past November, COTS' prevention initiative, known as the Housing Resource Center, and COTS family services moved to the organization's new administrative building, located at 95 North Ave. This new space allowed COTS to anchor key programs for families and homeless prevention as well as work toward a goal of bringing together a range of preventative resources to help families preserve their housing and credit during these difficult times. Learn more at www.cotsonline.org.
About City Market/Onion River Co-op
The Onion River Co-op is a consumer cooperative, with over 7,000 members, selling wholesome food and other products while building a vibrant, empowered community and a healthier world, all in a sustainable manner. Located in downtown Burlington, Vermont, City Market provides a large selection of local, natural and conventional foods, and thousands of local and Vermont-made products. Visit City Market, Onion River Co-op online at www.CityMarket.coop or call 802-861-9700.
###