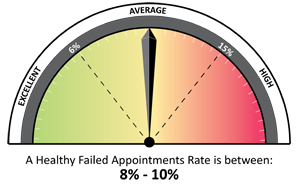 A Healthy Failed Appointments Rate is Between 8-10%.

A Healthy Failed Appointments Rate is Between 8-10%.
Clinicient, a leader in Physical Therapy EMR, Practice Management and Billing solutions, announced the availability of "Measuring and Managing Failed Appointments", a short guide developed by Clinicient that provides best practices for reducing no-show and cancelled appointments for physical therapy private practices. The guide gives information on how to measure failed appointment rates, outlines the industry standard for healthy ranges, provides best practices for making improvements and offers a report example available with most EMR and practice management software systems.
"Missed appointments are missed revenue. Practice owners struggle enough with declining reimbursement rates and the increasing costs to run a private practice. In working with hundreds of outpatient rehabilitation private practices, we are committed to share information that helps them overcome additional challenges with remaining profitable and being successful" said Jim Plymale, CEO of Clinicient.
The guide also stresses the importance of establishing benchmarks and running regular reports to monitor failed appointments as a key performance indicator of practice performance. It is available at no cost to practice owners and administrators on their website-
Download Failed Appointments Tip Sheet
.
Failed appointments are one of the
7 Key Metrics that healthy practices monitor
, according to an earlier report published by Clinicient.
Want to read more about specific examples of how your practice can reduce no-show rates? Clinicient Co-Founder interviewed Paul Christensen, DPT, OCS, ATC, FAAOMPT of OPTM Physical Therapy Group, and a Clinicient customer with one of the lowest no-show rates in the industry at an astonishing 6% (industry average for a healthy practice is 10% or less) to learn more about how he acheives such low rates. In the 4-part blog interview series, Christensen shares actionable tips on how to reduce no-shows and increase practice profitability. Follow the links below for the complete interview.
About Clinicient:
Clinicient is a leading provider of Outpatient Rehabilitation EMR, Practice Management and Revenue Cycle Management solutions that help practices achieve compliant documentation, faster payments, fewer denials and higher collections per visit. They provide fully integrated, web-based software for Physical Therapy, Occupational Therapy, and Speech Therapy practices seeking clinical documentation, scheduling, billing and reporting solutions. They also provide billing services that include free use of their EMR software. For more information please visit
www.clinicient.com
or call (877)312-6494.