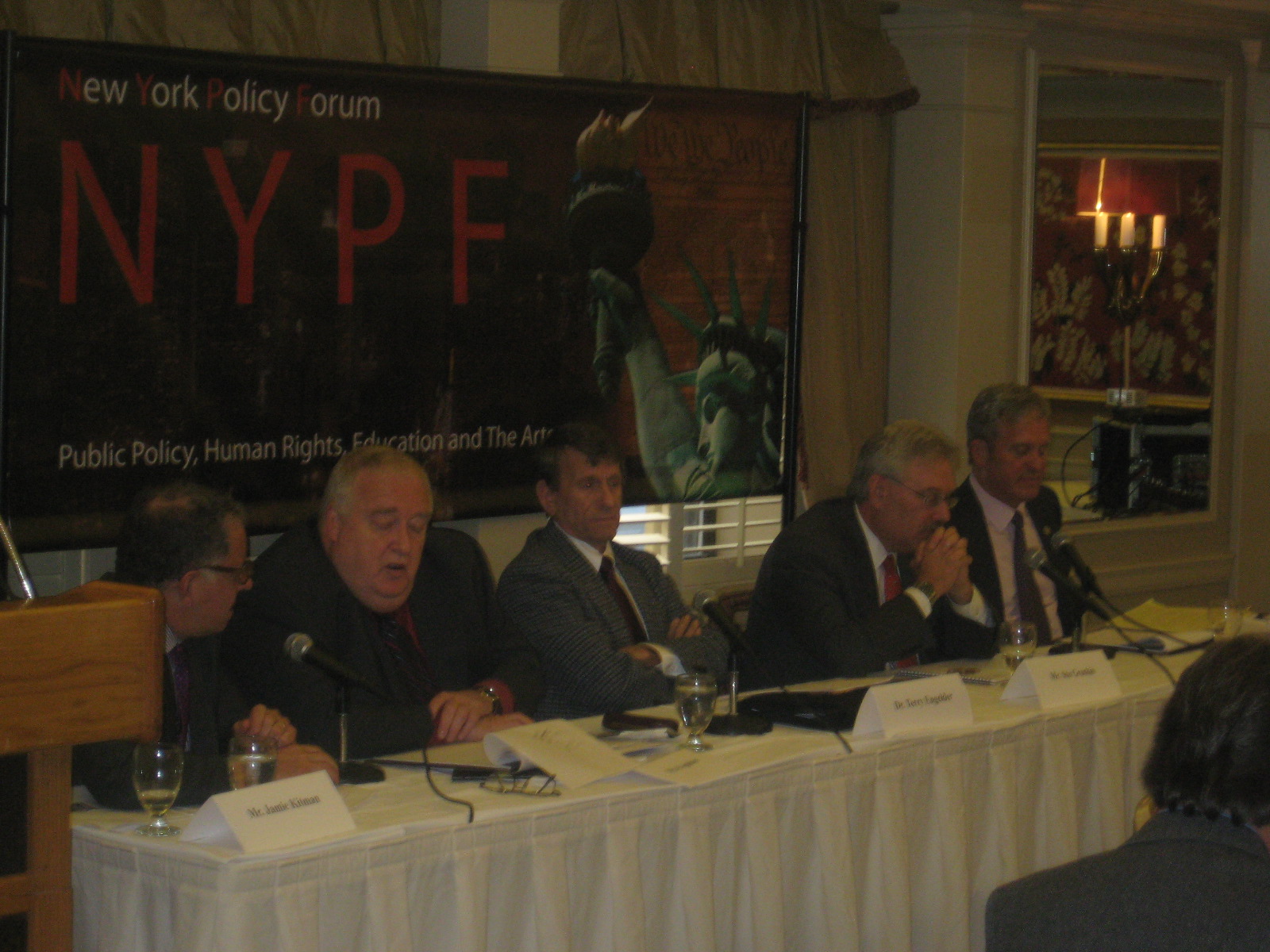 Jamie Kitman, Albert Appleton, Terry Engelder, Stuart Gruskin, Matthew Ryan

Jamie Kitman, Albert Appleton, Terry Engelder, Stuart Gruskin, Matthew Ryan
(New York City) The New York Policy Forum announced the availability of a full transcript and select videos from its October 6, 2011 panel discussion on allowing hydrofracking in New York State. The transcript and videos are available at the organization's website, newyorkpolicyforum.com
The material features analysis and commentary from panelists Albert F. Appleton, former environemtal protection commissioner of New York City; Dr. Terry Engelder, professor of geosciences at Penn State University; Stuart Gruskin, former environmental conservation deputy commissioner for New York State; and the Honorable Matthew T. Ryan, mayor of the City of Binghamaton. Jamie Kitman, New York bureau chief for Automobile Magazine, served as moderator.
NYPF co-founder Jonathan Cohen said, "The experts who gathered for our recent panel shared their views, both for and against hydrofrakcing, in a way that we think contributes to a reasoned, respectful and productive discussion of this highly charged but very important issue. We hope that those interested in how energy policy is created will find the panbel's insights useful."
A number of opinion essays have resulted from the panel, among them Abby Wise Schachter's "Anti-drilling Hysteria," which appeared in the New York Post, ,and Jamie Kitman's esssay in the New York Daily News, "Hydrofracking in New York? Too dangerous, and too costly to properly regulate."
About New York Policy Forum
The New York Policy Forum (NYPF) is a non-partisan, non-profit organization founded Jonathan Cohen and John Giardino. Our mission is to promote discussion on timely and important topics of general interest. NYPF's public forums feature expert panels and speakers on a wide range of issues spanning public policy, human rights, education, and the arts. We are not aligned with any party, movement or advocacy group. Visit our website to read articles and to access transcripts and videos of our events at http://www.newyorkpolicyforum.com
Contacts:
For press inquiries, contact Jonathan Cohen, jcohen.nypf(at)gmail(dot)com, (203) 722-1858