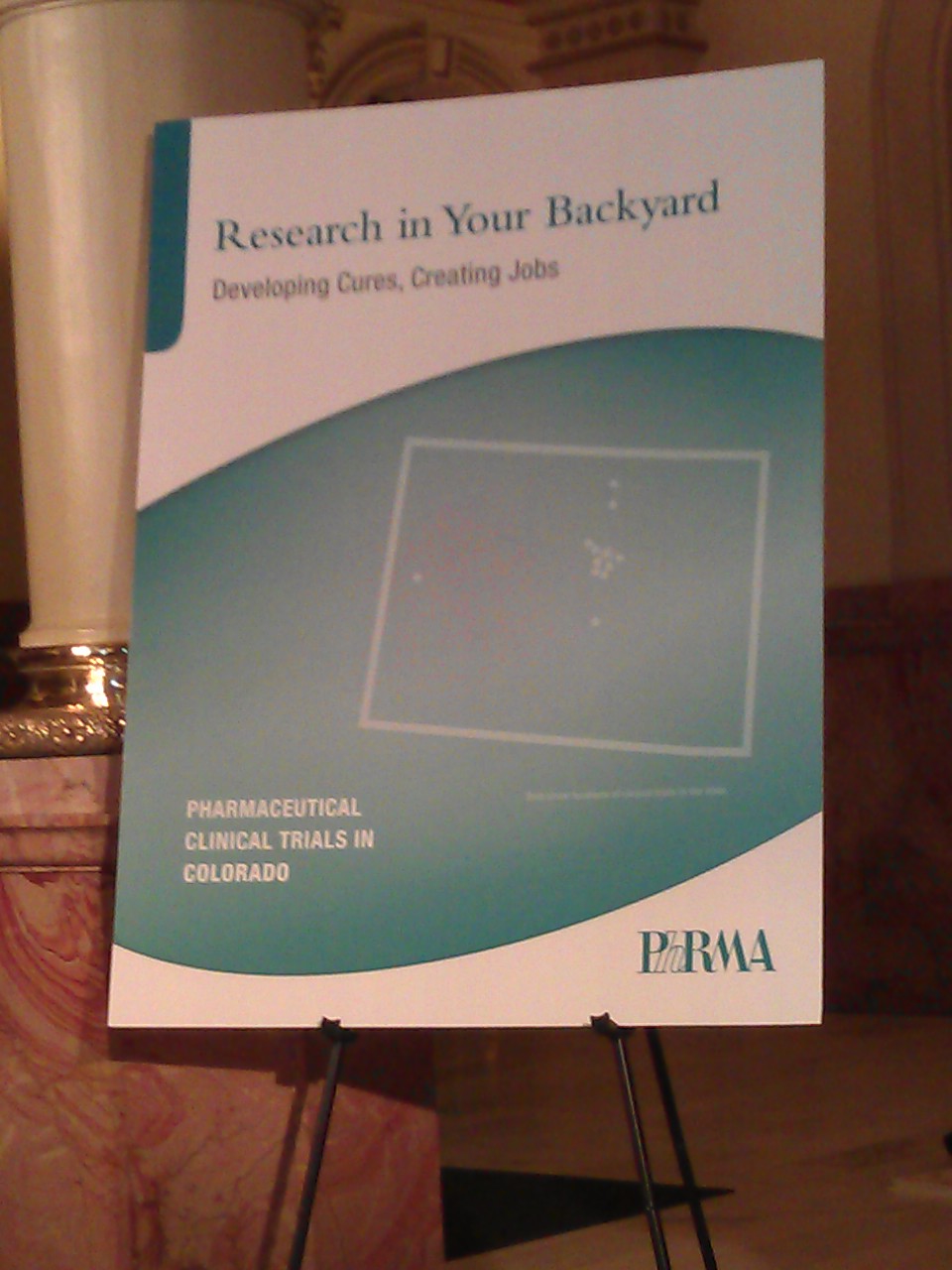 Denver, CO, March 19, 2012 - Colorado BioScience Association (CBSA) commends PhRMA and the We Work for Health initiative for drawing important attention to the 1,400+ clinical trials for chronic diseases currently being conducted in Colorado, of which more than 280 are actively recruiting patients suffering with chronic conditions such as asthma, cancer, diabetes, heart disease, mental illness and stroke. The announcement is made by Holli Riebel, CBSA President & CEO, who today joined with colleagues from both the public and private sectors, including Colorado Governor John Hickenlooper, at a State Capitol News Conference to applaud the release of PhRMA's new report: "Research in Your Backyard."
In addition to providing new avenues of care for chronic disease sufferers, Riebel explains: "The biopharmaceutical industry in Colorado is a vital part of Colorado's economy. This sector includes approximately 300 companies employing over 5,410 with average salaries of $93,000. Not only are these high paying high tech jobs but each are working on the innovative life saving medicines of the future."
In Colorado, according to the report, "biopharmaceutical companies have the luxury of having trials conducted at the states' well-respected university medical schools, comprehensive cancer centers and clinical trial research centers. According to U.S. News and World Report, University of Colorado-Denver School of Medicine ranked 38th among this year's top 100 research-oriented medical schools in the United States."
"Research in Your Backyard" is a comprehensive look at pharmaceutical clinical trials in Colorado. Biopharmaceutical research companies are conducting or have conducted more than 3,000 clinical trials of new medicines in collaboration with the state's clinical research centers, university medical schools and hospitals. Of the more than 3,000 clinical trials, 1,427 target or have targeted the nation's six most debilitating chronic diseases – asthma, cancer, diabetes, heart disease, mental illnesses and stroke.
For more information, link to the report: http://www.cobioscience.com/resources/2012_Colorado_ResearchInYourBackyard.pdf
When biopharmaceutical companies hire local research institutions to conduct trials they support Colorado's economy across the state. CBSA works to encourage economic development in the bioscience industry where every day over 600 Colorado bioscience companies help improve lives locally and around the world.
About PHRMA
The Pharmaceutical Research and Manufacturers of America (PhRMA) represents the country's leading pharmaceutical research and biotechnology companies, which are devoted to inventing medicines that allow patients to live longer, healthier, and more productive lives. PhRMA companies are leading the way in the search for new cures. For more information, visit: http://www.phrma.org
About We Work For Health
We Work For Health is a grassroots initiative that unites health consumers, biopharmaceutical company employees, vendors, suppliers and other business, academic and community partners to demonstrate how these diverse groups are vital to the socioeconomic climate and provide shared benefits and a better quality of life to all. Specifically, the partnership includes local chambers of commerce, universities and research centers, labor, businesses, patient advocacy organizations, provider groups and biopharmaceutical research companies that work together to improve America's health care system and strengthen our economy. For more information, visit http://www.weworkforhealth.org
About Colorado BioScience Association
The CBSA is a not-for-profit organization providing services and support for Colorado's bioscience industry. With more than 350 members, CBSA actively works to promote the growth of the industry by advocating for a better business environment, growing the state's biotech workforce, fighting for policies that support a strong bioscience industry in the state, and speaking with a single voice on behalf of the industry. For more information, visit http://www.cobioscience.com
CBSA also is found on these social media sites:
Twitter: http://twitter.com/COBioscience
LinkedIn Group: http://www.linkedin.com/groups?about=&gid=98468&trk=anet_ug_grppro
Facebook Fan Page: http://www.facebook.com/ColoradoBioScienceAssociation
News Feed: http://coloradobio.blogspot.com
YouTube Channel: http://www.youtube.com/COBioscience
Pinterest: http://pinterest.com/COBioscience
# # #
Contacts:
Mae Desaire, Director of Marketing, Colorado BioScience Association - http://www.cobioscience.com – 720-382-5918, mdesaire@cobioscience.com
Maggie Chamberlin Holben, APR, Absolutely Public Relations - http://www.absolutelypr.com - 303-984-9801, maggie@absolutelypr.com