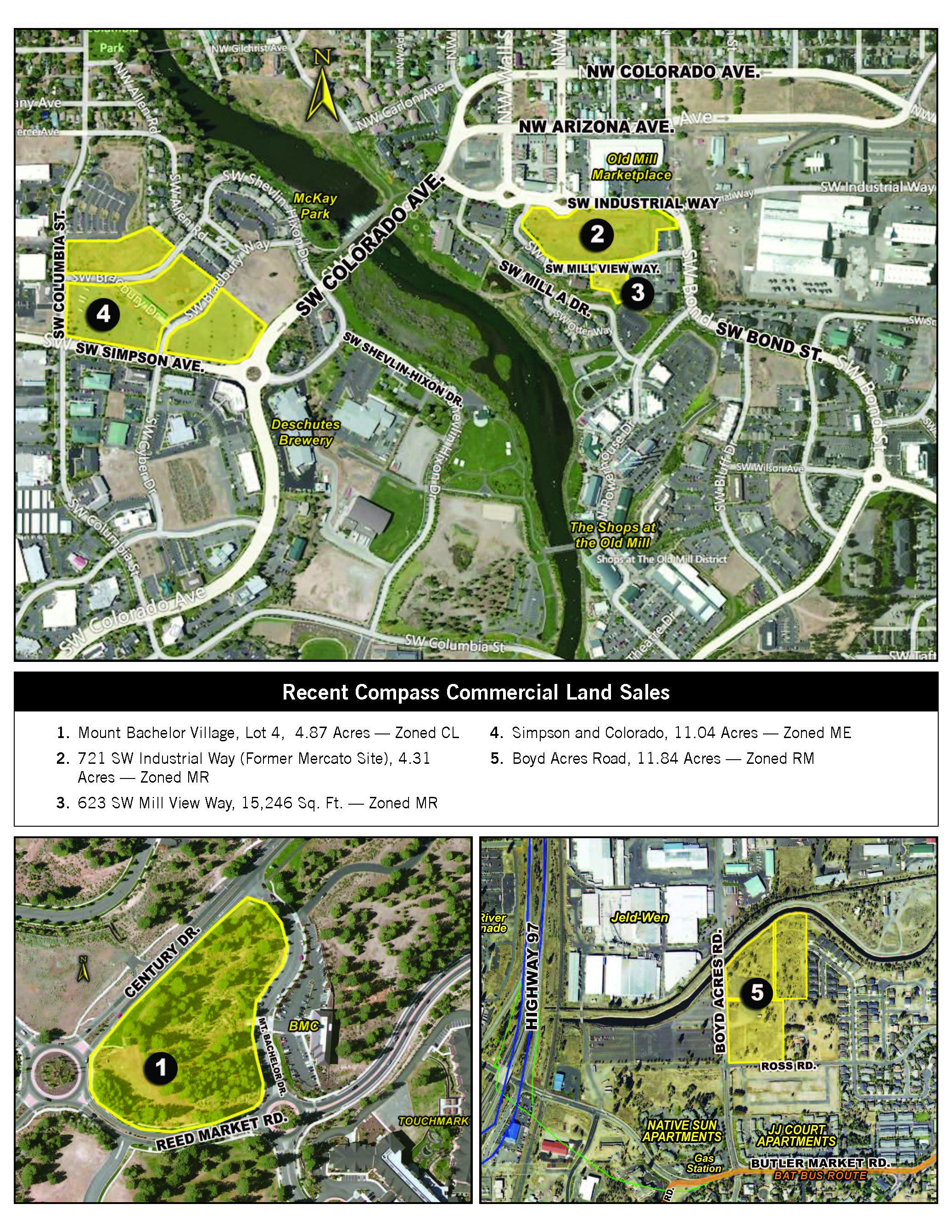 Bend, OR – Bend has seen an increase in land sales in the last six months, with Compass Commercial Real Estate Services helping to push through a contracting inventory. In the last six months, the commercial brokerage company has represented the sale of a combined 33 acres for a total consideration of over $6 Million. Most recently, the company sold 4.87 acres of land in Mt. Bachelor Village at Century Drive and Reed Market Road adding to the volume of land sales activity.
"We are entering a new phase of the commercial real estate cycle," said Darren Powderly, CCIM, president with Compass Commercial Real Estate Services. "The recent sale of several large developable commercial parcels throughout Bend has helped to push the cycle through as investors look at long-term horizons and owner/users, such as Bend Parks and Recreation, take advantage of some of the best deals in land."
Compass Commercial recently represented both parties in the sale and purchase of JELD-WEN's 11-acre RM zoned parcel. Buyers have mostly consisted of investors with the exception of Bend Parks and Recreation's purchase of three separate lots totaling approximately 11-acres along Columbia Street, Simpson Avenue and Shevlin Hixon Drive. Compass Commercial's recent land sales have included:
1. Mount Bachelor Village, Lot 4, 4.87 Acres - Zoned CL
2. 721 SW Industrial Way (Former Mercato Site), 4.31 Acres - Zoned MR
3. 623 SW Mill View Way, 15,246 Sq. Ft. - Zoned MR
4. Simpson and Colorado, 11.04 Acres - Zoned ME
5. Boyd Acres Road, 11.84 Acres -Zoned RM
"Not all large parcel opportunities are gone, but a good portion of them are," said Powderly. "The next step in this phase is going to be an increase in prices."
Compass Commercial, (www.compasscommercial.com) headquartered in Bend is Central Oregon's leading commercial real estate firm offering services in sales and leasing, tenant/buyer representation, asset and property management, and development services. Follow us on Twitter @CompassCom.