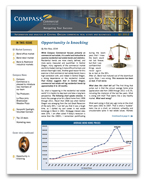 Compass Commercial Real Estate Services released its first quarter market survey results for 2012. The new issue of Compass Points summarizes the trends in Central Oregon's commercial real estate market and provides an update on transactions and vacancy rates throughout the region.
Highlights of the report include a positive absorption in the industrial markets in Bend and Redmond, with vacancy rates decreasing for the second and third quarters, respectively.
The issue's cover story takes a look at the Central Oregon residential market and cites opportunities for those with long term investment horizons.
In addition to submarket data, the Q1 2012 issue of Compass Points also features key new listings as well as the announcement of several new hires, Compass Commercial's top ten transactions for the quarter and a nonprofit spotlight interview with Volunteer Connect.
Compass Points has been published quarterly since 1996. It serves as the region's trusted source of information about office, retail and industrial square footage absorption and vacancy rates. The editorial and the market survey is a shared responsibility by Compass Commercial brokers and staff. It helps the company remain close to the data and knowledge they require to be current on the market and better serve their clients.
Compass Points is available online via PDF download, or as hard copy via telephone request to our offices at 541.383.2444.