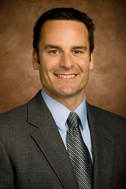 BEND, ORE. — March 23, 2012 — Darren Powderly, CCIM, president of Compass Commercial Real Estate, was quoted in the March/April issue of Commercial Investment Real Estate, the magazine of the CCIM Institute. CCIMs have earned an internationally recognized professional designation that signifies their expertise in commercial investment real estate.
In the article "Small(er) Markets, Big Opportunities," Powderly touches on Bend, Oregon's bank owned real estate assets and how investors are applying a "fix and hold" mentality.
"Most active investors have a value-add mentality with a long-term investment horizon," says Darren Powderly, CCIM, president of Compass Commercial Real Estate in Bend, Ore., where cash buyers are looking to capitalize on a flood of available bank real estate-owned assets. "They feel that purchasing a good property at prices well below replacement cost and then adding value will result in attractive investment returns five to 10 years from today."
A separate article, "Marketing for Today's Market" talks about web-based strategies for commercial real estate professionals and Powderly expands on the benefits of implementing a strategy to your social media initiatives. He talks about how Compass Commercial is using social media to maintain and create relationships, garner industry information, share company news and keep track of client news.
"Bend, OR is a small town, but most of our team has relocated from other areas of the country," Powderly says. Social media enables us to maintain our contacts from across the country. When I reconnect with friends or business associates they often comment on how active I am on social media. Several have asked me to keep them in mind if a 'killer deal' surfaces. As a result, my buyer network has flourished.
The article continues, while social media is great, "… commercial real estate success boils down to knowing your customer's needs and tailoring a solution specifically to them. Ultimately, people want to do business with people, not their iPads."
To read the full articles and Powderly's comments in "Marketing for Today's Market," and "Small(er) Markets, Big Opportunities," access the entire issue of CIRE by visiting http://cire.epubxpress.com. To learn more about Central Oregon's commercial real estate market contact Darren Powderly, CCIM, at 541-383-2444.
About the CCIM Institute
Since 1969, the Chicago-based CCIM Institute has conferred the Certified Commercial Investment Member (CCIM) designation to commercial real estate and allied professionals through an extensive curriculum of 200 classroom hours and professional experiential requirements. Currently, there are more than 9,000 CCIMs in 1,000 markets in the U.S. and 31 additional countries. Another 7,000 practitioners are pursuing the designation, making the institute the governing body of one of the largest commercial real estate networks in the world. An affiliate of the National Association of Realtors®, the CCIM Institute's recognized curriculum, powerful technology tools, and networking programs impact and influence the way CCIM members do business. Visit www.ccim.com, www.stdbonline.com, and www.ccimredex.com for more information.
About Compass Commercial
Compass Commercial, (www.compasscommercial.com) headquartered in Bend is Central Oregon's leading commercial real estate firm offering services in sales and leasing, tenant/buyer representation, asset and property management, and development. Follow us on Twitter @CompassCom.