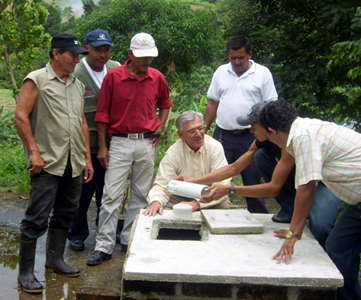 ST. PAUL, Minn. (March 20, 2012) – Compatible Technology International (CTI), is pleased to announce that as the local nonprofit celebrates World Water Day 2012 on March 22, CTI has doubled the number of people it's providing with clean water in Nicaragua. For more than a decade, CTI (the St. Paul, MN-based nonprofit) has been working with volunteer engineers and Nicaraguan citizens to treat the badly contaminated water sources of rural Nicaragua.
"Last year on World Water Day 2011, we were providing clean drinking water for 35,000 Nicaraguans." said Roger Salway, Executive Director at Compatible Technology International. "We are now providing clean drinking water for 79,698 people in 126 communities in rural Nicaragua. We are so proud of these results and look forward to reaching 200,000 people by 2014."
Like many parts of the developing world, Nicaragua faces serious water quality problems, particularly in rural communities, where families often drink water polluted with animal waste and disease-causing pathogens that's collected from rivers, streams and rainwater. A lack of clean water in developing communities causes huge economic losses, severe illness and—for children in particular—death. Every year, more than a million children die as a result of drinking water contaminated with bacteria and disease.
"The number of diarrhea cases has diminished. When we just did the annual report, it went down 2.6% compared to last year." said Javier Mendoza, an official at the Nicaraguan Ministry of Health. "This year we haven't had any deaths because of diarrhea. Last year we had 6 deaths of children who were under the age of five."
With donations from individuals, corporations, and community organizations, CTI has installed water treatment systems in 126 communities in rural Nicaragua. The unique systems are built with PVC piping and utilize chlorine technology to provide potable water to communities for just pennies per day. Once installed, Nicaraguan volunteer water groups maintain the systems, collecting money from community members for chlorine tablet replacements. CTI subcontracts two Nicaraguan managers who install the chlorinators and train the communities to maintain them.
"What's heartening is that the Nicaraguan communities have completely embraced this project and have committed to investing their own money to ensure it continues." said Salway. "No one is interested in a quick fix; we all want a long term, sustainable solution."
The program is supported financially by Pentair, Project Redwood, Unity Avenue Foundation and area Rotary Clubs.
Compatible Technology International (CTI) is a St. Paul, MN-based nonprofit organization that designs and distributes practical food and water technologies for the developing world. For 30 years, CTI has alleviated hunger and poverty by providing robust, affordable and culturally appropriate tools that help families better feed themselves and gain access to clean drinking water. CTI's unique approach to sustainable development has proven to result in a better food yield, improved nutrition and increased family incomes. For more information about CTI, visit www.compatibletechnology.org.