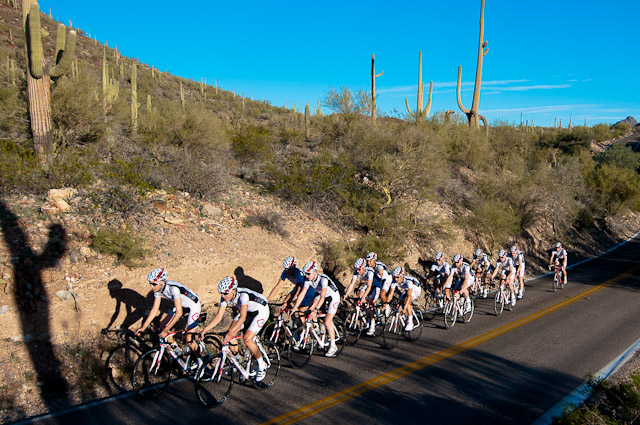 After a week of riding through countless miles of saguaro-lined pavement in The Sunshine Factory, today the 2012 Competitive Cyclist Racing Team wraps up its official training camp in Tucson, Ariz. The camp featured quality Team-bonding time, riding through hail and heat, laughs, sweat, pushing on an empty tank, dialing in new gear, tumbleweeds, and media events. Camp culminated last night with a public Team presentation on the rooftop of Tucson's new Playground Bar & Lounge, an event that benefited local youth cycling organization, El Grupo.
"From start to finish, bringing the entire Team together for the weeklong camp enabled us to continue to gel as a Team, work on our strengths and weaknesses, enjoy each others company, and fine-tune our equipment for the upcoming season," said directeur sportif Gord Fraser. "It was cool to bring the Team to Tucson, where I live, and show them the top-notch training rides in the area. It was also so fulfilling to have the opportunity to work raise awareness and money for El Grupo."
Riding four to five hours each day, the Team's camp ran Feb. 11-17. Mixing in a variety of terrain – from flat, long distance group rides, to a 20k climb up Kitt Peak – each day tested riders' skills in the saddle.
Camp also included anti-doping testing for each rider – a non-standard practice at professional cycling team training camps, but one that Team management believes is important and has enforced since the Team's inception last season when they rode under the RealCyclist.com banner.
"We have a strict no doping policy and we go the extra mile to reinforce that with our riders. They're tested at camp, and they're tested randomly throughout the season as well," said Fraser.
The Team's speed week through Tucson was capped off by an official presentation last night that was open to the public. Announced by Dave Towle, the event featured an introduction of the Team, an opportunity to mingle and interact with the riders, and a huge raffle of gear donated by the Team's sponsors. All proceeds - which totaled more than $5,600 - from the presentation benefited El Grupo, a Tucson-based youth cycling program with the mission of exposing local at-risk and undeserved teens to the sport and discipline of bike racing.
"We really couldn't have asked for a better week of training," said Fraser. "We saw everything from sunshine to inclement weather, which allowed us to test all of our gear. The camp has built a great foundation for us as we head into the season ready to compete."
After a successful inaugural 2011 campaign racing as the RealCyclist.com Pro Cycling Team, this years Competitive Cyclist Racing Team is poised and focused to pick up where they left off. In addition to Fraser returning to man his post at the helm for 2012, the Team returns captain and Spanish climbing specialist Francisco "Paco" Mancebo. The 13-rider roster includes members from last years Team, as well as seven new additions. SEE FULL ROSTER BELOW.
Last year, Mancebo, finished the season on top of the National Racing Calendar (NRC) men's individual standings with 822 points, winning five General Classifications. Mancebo helped the Team take fifth place overall in the final NRC standings.
The UCI Continental pro cycling team will compete in NRC events in North America and is managed by Dahlonega, Ga.-based On The Rivet Management. The Team's first race will be March 16 at the San Dimas Stage Race in San Dimas, Calif.
Competitive Cyclist Racing Team's 2012 sponsors are: Pinarello (official bike), SRAM (official drivetrain), Giordana (official Team kit) and Vittoria (official tires). Rounding out the full roster of sponsors are: 2XU (compression), Catlike (helmets) Reynolds (wheels), Smith Optics (eyewear), 3T, Arundel, Biknd, Chamois Butt'r, Clean Bottle, DMT, Feedback, GoPro, Honey Stinger, K-Edge, Lezyne, Lexus of South Atlanta, Look, Motorex, PowerBar, PowerTap, San Marco, Veloshine, Feedback Sports, Altra Shoes and Yakima.
2012 Competitive Cyclist Racing Team Roster:
Francisco "Paco" Mancebo Pérez, 34, from Madrid, Spain. Resides in El Tiemblo, Avila, Spain. Pro since 1998.
Cesar Grajales, 37, from Manizales, Caldas, Colombia. Resides in Atlanta, Ga. Pro since 1997.
Cole House, 22, from Oneida, Wis. Resides in Oneida, Wis. Pro since 2009.
Tommy Nankervis, 27, from Melbourne, Australia. Resides Melbourne, Australia. Pro since 2005.
Thomas Rabou, 27, from Schijndel, Netherlands. Resides in Loosbroek, Netherlands. Pro since 2006.
Ian Burnett, 24, from Durango, Colo. Resides in Durango, Colo. Pro since 2010.
Chad Beyer, 25, from Kansas City, Mo. Resides in Tucson, Ariz. Pro since 2009.
Phil Grenfell, 22, from Taree, NSW, Australia. Resides in Glebe (Sydney), NSW. Pro since 2012.
Max Jenkins, 25, from Novosibirsk, Russia. Resides in Citrus Heights, Calif. Pro since 2009.
Nate King, 24, from Salt Lake City, Utah. Resides in Salt Lake City, Utah. Pro since 2011.
Mike Olheiser, 37, from Forest Lake, Minn. Resides in Huntsville, Ala. Pro since 2012.
Taylor Sheldon, 24, from Breckenridge, Colo. Resides in Boulder, Colo. Pro since 2011.
Dave Williams, 23, from Grand Rapids, Mich. Resides in Grand Rapids, Mich. Pro since 2010.
For more info, please visit: http://proteam.competitivecyclist.com/