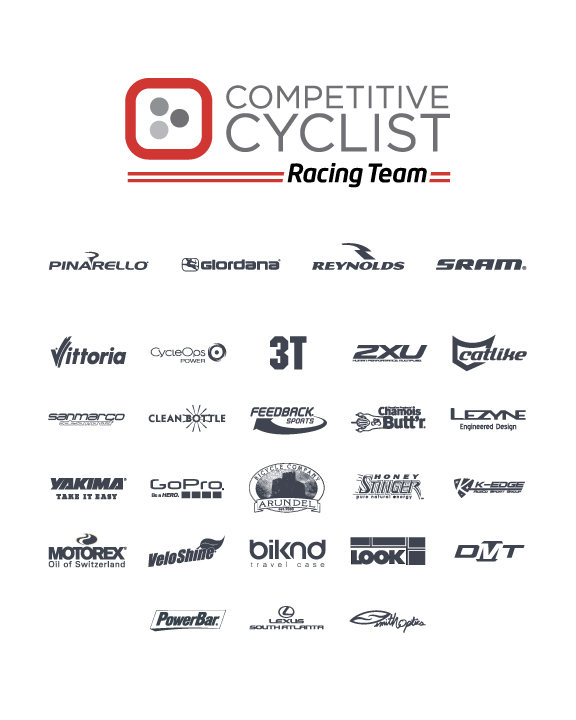 PARK CITY, Utah – It's not all about the bike. But some of it is. And don't forget the kit, the helmet, the trainer, the nutrition, the sunglasses, the water bottle, the drivetrain, the tires, the tubes… And then there are the guys that put it all to hard use. For the 2012 season, the riders and management of Competitive Cyclist Racing Team will hit the pavement knowing they're backed by the premium products of strong partners. The Team will be riding their hearts out representing industry-leading suppliers of gear, nutrition, and performance essentials.
"We couldn't be happier with our partners for the 2012 season," said Jon Atencio, Competitive Cyclist athlete manager. "The brands that are backing our team this year are all top-tier brands that we're proud to use and proud to promote. We had a stellar first year with the RealCyclist.com Pro Cycling Team, winning five out of seven major stage races, and we look forward to rolling that momentum into the Competitive Cyclist Racing Team for 2012."
Competitive Cyclist Racing Team's 2012 sponsors are: Pinarello (official bike), SRAM (official drivetrain), Giordana (official Team kit) and Vittoria (official tires). Rounding out the full roster of sponsors are: 2XU (Compression), Catlike (Helmets and Eyewear) Reynolds (Wheels), 3T, Arundel, Biknd, Chamois Butt'r, Clean Bottle, DMT, Feedback, GoPro, Honey Stinger, K-Edge, Lezyne, Lexus of South Atlanta, Look, Motorex, PowerTap, San Marco, Veloshine, Feedback Sports, and Yakima.
Competitive Cyclist provides the personalized service of a local brick-and-mortar bike shop while offering the convenience and selection of an online retailer. Serving both road and off-road enthusiasts, Competitive Cyclist carries an extensive inventory of the industry's elite brands in cycling and mountain biking.
"We're honored to partner with each and every one of our Team sponsors for the 2012 season. We'll do our very best to represent the quality and strength of our sponsors when we're out there racing," said Gord Fraser, Directeur Sportif. "It's motivating to see the excitement the industry's vendors have for our team. Now we have to make them proud."