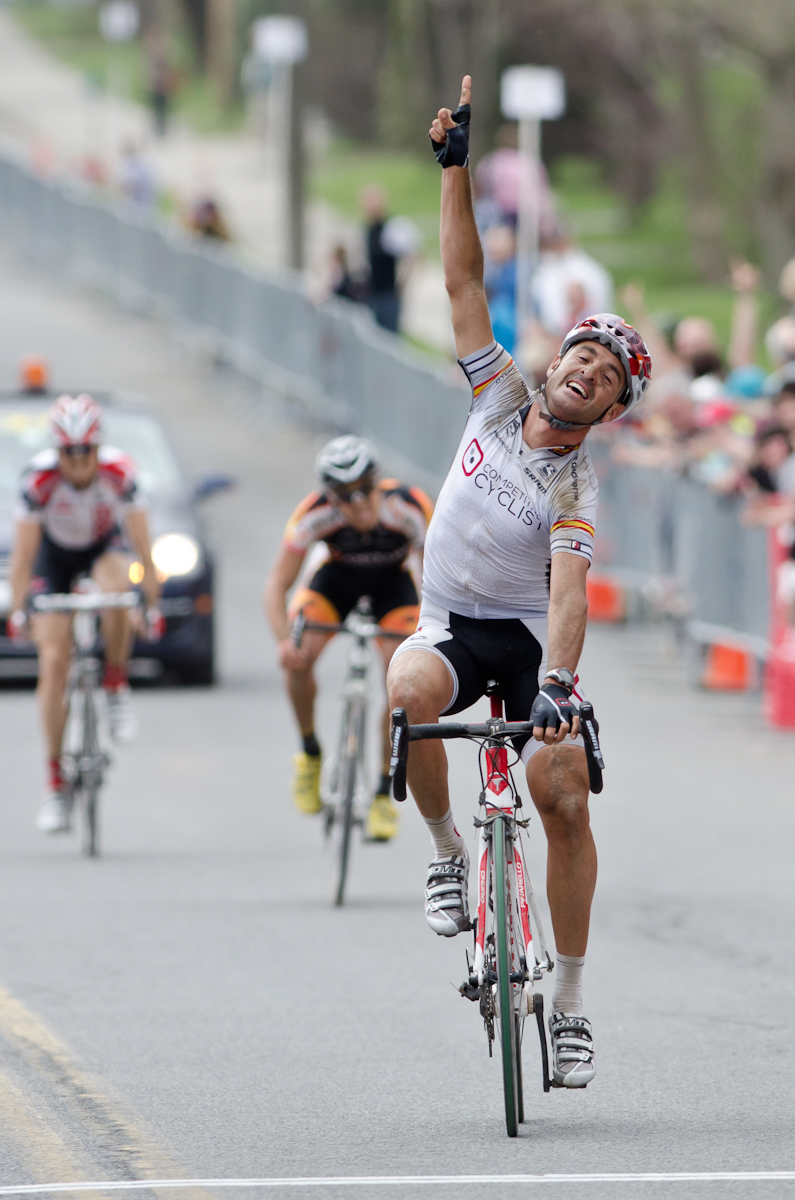 Competitive Cyclist Racing Team captain Francisco "Paco" Mancebo throwing his hand in the air after crossing the finish to win the eighth annual Tour of the Battenkill. Photo credit: Darrell Parks.

Competitive Cyclist Racing Team captain Francisco "Paco" Mancebo throwing his hand in the air after crossing the finish to win the eighth annual Tour of the Battenkill. Photo credit: Darrell Parks.

Chad Beyer during the SRAM Tour of the Gila. Photo Credit: On the Rivet Management.

Chad Beyer during the SRAM Tour of the Gila. Photo Credit: On the Rivet Management.

Competitive Cyclist Racing Team group ride along saguaro-line pavement of Tucson, Ariz. during training camp in Feb. Photo: Tommy Chandler/Competitive Cyclist

Competitive Cyclist Racing Team group ride along saguaro-line pavement of Tucson, Ariz. during training camp in Feb. Photo: Tommy Chandler/Competitive Cyclist
PARK CITY, Utah
– With successful performances in the first few months of the racing season, the
Competitive Cyclist Racing Team
cracked the top 10 in the recently released
International Cycling Union (UCI) America Tour Rankings
. Sitting in eighth place with 131 points, the Competitive Cyclist Racing Team is one of three U.S.-based pro cycling teams that compete in the
National Racing Calendar (NRC)
to place in the UCI's top 10.
"The Team has been in splendid form so far this season in some very competitive races," said directeur sportif Gord Fraser. "We are looking forward to maintaining that momentum through the rest of the season. Knowing they're in eighth place in the UCI rankings, especially with strong showings from both Paco and Chad Beyer in the individual standings is really a boost for the guys."
Recognized by the International Olympic Committee, the UCI is cycling's International Federation whose mission is to develop and promote cycling around the world. While the Team jumped two spots from the previous UCI rankings, commendable racing by Team captain Francisco "Paco" Mancebo (ESP) and Chad Beyer (USA) have landed those riders notable positions in the
individual UCI America Tour Rankings
: Mancebo is in 17th place with 57 points, while Beyer sits in 33rd with 41 points. Both riders moved up a combined 139 places in the standings since the last UCI rankings were released.
Mancebo leads the NRC individual standings with 681 points and Beyer is in third place with 195 points. The Competitive Cyclist Racing Team is first in the NRC team standings with 1,250 points.
On June 3rd, the Competitive Cyclist Racing Team will race at the UCI- sanctioned
TD Bank Philadelphia International Cycling Championship
in Philadelphia, Pa. The 124-mile classic remains the longest running single-day cycling road race in the U.S.
For more information, please visit: http://proteam.competitivecyclist.com/.