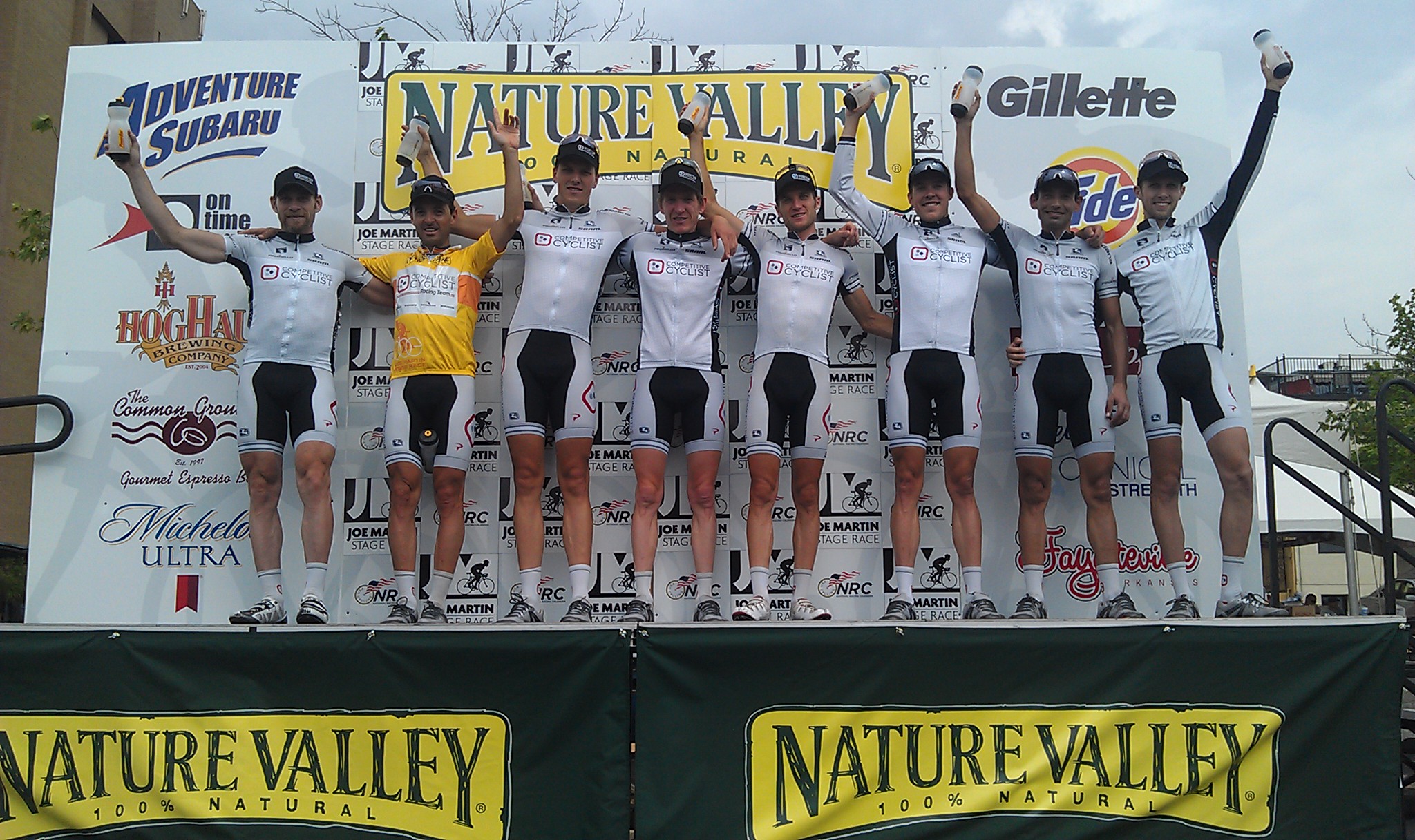 PARK CITY, Utah (April 30, 2012) – Competitive Cyclist Racing Team earns the top spot in the National Race Calendar (NRC) standings after an exciting and competitive four days at the 35th annual Joe Martin Stage Race (April 26-29) in Fayetteville, Ark. Team captain Francisco "Paco" Mancebo (SPN) also holds onto his lead in the Men's Individual Standings. With strong performances all around, and a victory from Mancebo, the Team takes home its first NRC General Classification (G.C.) victory of the year.

"I had reason to be optimistic as the Joe Martin prologue suits our Team very well," said directeur sportif Gord Fraser. "This optimism was bolstered when the mood in our Team meeting (Day 1) was noticeably different. The intensity was hard to describe but motivating indeed."

Mancebo's opening stage win came in the Individual Time Trial – held on a 4K, uphill course that favored riders with strong climbing skills. Teammate Cesar Grajales (COL) joined in the top 10 with a 4th place finish while Chad Beyer (USA), Ian Burnett (USA), and Max Jenkins (USA) all came in under the 20th position.

For 2012, Fraser and the Team, particularly the new recruits, are striving to meet their goal of regularly defending the NRC yellow jersey, and Mancebo's victory provides the season's first defense. Even with back-to-back 100+ mile stages and an 85-minute criterium on the final day, Mancebo held his position from start to finish, demonstrating the success of Fraser's recruits in their role of protecting their lead rider. Joining in the success, Grajales floated around the top five all weekend to finish with a 3rd place podium spot. His success gave the Competitive Cyclist Racing Team an 18-second lead over Team Exergy for the Team G.C. victory.

Just a few states over, the Competitive Cyclist Racing Team had a crew of five taking part in the USA Crit Speedweek – Stage 1, the Terrapin Twilight (April 28) in Athens, Ga., and Stage 2, the Historic Roswell Criterium (April 29) in Roswell, Ga. Cole House (USA) earned two Top 10 spots. With his 5th and 8th place race results, House takes the fourth position in the Speedweek overall standings.

With just a few days off, the Team preps for the 26th Annual SRAM Tour of the Gila in Silver City, N.M., May 2-6, and the next stages of Speedweek in Beaufort and Walterboro, S.C., on May 1 and 2.

For more information, please visit http://proteam.competitivecyclist.com/.