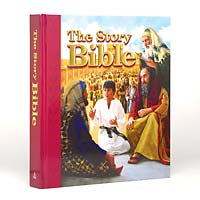 Saint Louis, MO—Released in 2011, Concordia Publishing House's newest and best-selling children's Bible, The Story Bible, has been selected as a finalist for the 2012 ECPA Christian Book Award in the category of "Children's Books."
Out of hundreds of entries of books and Bibles published in the past year, five finalists (and five ties) in seven categories were chosen to represent Christian publishing's finest books and Bibles for 2012.
"This year's forty finalists and five ties, represent the strength and quality of content our industry continues to produce, in both seasoned and new voices and from small, mid-sized and large publishing houses," stated ECPA President Mark Kuyper. "We congratulate each author and the sixteen publishers represented on this list!"
CPH's finalist, The Story Bible, was created for children ages three and up and features lifelike, high-quality illustrations, Christ-centered stories, and resources to enhance learning.
Whether for at-home use, in preschools, or as part of a congregation-wide children's ministry, The Story Bible is truly groundbreaking for Concordia Publishing House and for the Christian market.
"Aside from beautiful pictures and a wonderful design, The Story Bible offers something no other children's Bible provides: the wonderful Christ-centered power of the real and true Holy Scriptures," said Paul McCain, publisher at CPH.
Developing this groundbreaking resource was a task that its editors, Rev. Edward Engelbrecht and Gail Pawlitz, did not take lightly. Hundreds of hours were spent researching and field testing the product; plus, the artwork alone took four years to compile.
In the end, the final product was worth it, said Engelbrecht. "The Story Bible was a dream project for me since I had used numerous Bible story books with my four children but was never quite happy with what was available."
"We are so honored to be a finalist for this award; it is extremely gratifying to see our work recognized," he added.
Concordia has four additional titles that have been featured as ECPA Gold Medallion winners and finalists in the past. These books include The Very First Christmas (gold medallion winner, 1998), The Very First Easter (silver medallion winner, 2000), Martin Luther: A Man Who Changed the World (finalist, 2005) and He Was Crucified (finalist, 2009).
The ECPA award will be announced and presented in late April of 2012. To learn more about CPH's resources, including this year's finalist The Story Bible or any of our past winners, visit cph.org or call 1-800-325-3040.