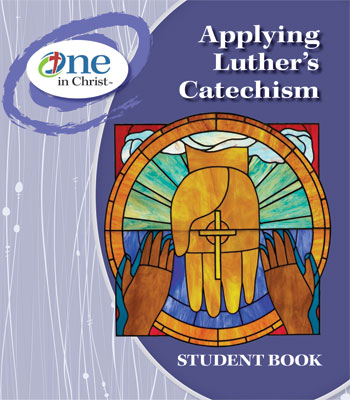 Saint Louis, MO—
Preparing students for the rite of confirmation is a very important ministry; its aim is simple and in line with the church's mission: to answer Christ's call to go to the nations and make disciples by baptizing and teaching.
During confirmation, students learn the Six Chief Parts of Christian Doctrine through a review of Luther's Small Catechism. With Concordia Publishing House's resource,
Applying Luther's Catechism
, lessons provide students with real-life applications of the material learned.
The confirmation resource, which was recently revamped and released in correlation with the new day school religion curriculum One in Christ, is now keyed to the English Standard Version Bible. This is the very first ESV confirmation resource available from Concordia Publishing House and is arranged in five units that feature 60 sessions. It can be used for either a one- or two-year program.
In addition to trusted content with real-life application,
Applying Luther's Catechism
also features streamlined integration with the online resource Confirmation Builder.
"Because there are constant updates to
Confirmation Builder
this confirmation curriculum will always stay up to speed," said Rodney Rathmann, curriculum editor at CPH.
As part of the new curriculum,
Applying Luther's Catechism
follows the same straightforward format as One in Christ, which makes it easy to use for pastors, teachers, and lay teachers alike. It can also be used as a stand-alone product for schools and churches that are not currently using One in Christ.
This course can be used with
God's Action Plan
, which provides a Bible survey so that students have knowledge of Bible stories that reveal God's unfolding plan of salvation before catechism instruction.
"Confirmation classes are so important because they give young people a chance to ask questions in a comfortable way, verbalize their faith, and begin their initiation into the adult life of a congregation," said Rathmann. "With
Applying Luther's Catechism
, students will learn the materials in a way that works for them, and teachers will appreciate the easy-to-use format."
For more information or to order, visit
cph.org
or call 1-800-325-3040.