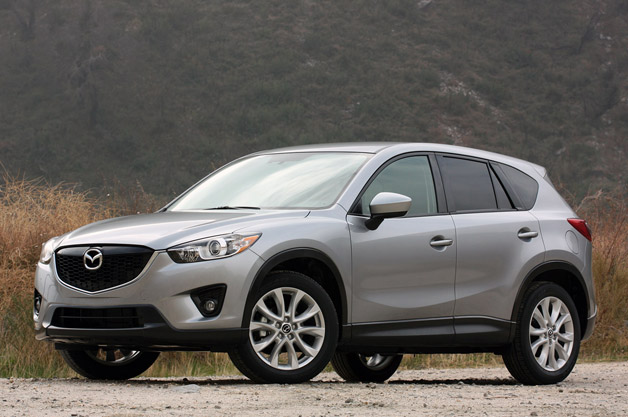 Congressional Motors is excited to report that, Mazda North American Operations (MNAO) announced official fuel economy figures for the all-new 2013 CX-5 compact SUV, as rated by the United States Environmental Protection Agency (EPA), with highway mileage of some models as high as 35 miles per gallon (mpg). As expected, Mazda's first vehicle fully engrained with SKYACTIV®[1] TECHNOLOGY, the brand's breakthrough engineering and manufacturing approach to its next generation of vehicles, offers unprecedented non-hybrid best-in-class fuel economy for all transmission and drivetrain configurations.
Front-wheel-drive models equipped with the standard SKYACTIV-MT six-speed manual transmission are EPA rated with an estimated fuel economy of 26 city/35 highway/29 combined mpg. When equipped with the optional SKYACTIV-Drive six-speed automatic transmission, front-wheel-drive models receive an mpg rating of 26 city/32 highway/29 combined. SKYACTIV-Drive is standard on all-wheel-drive models, which return an estimated fuel economy rating of 25 city/31 highway/28 combined mpg.
These figures apply for both Federal Tier2 Bin5 and California LEV II ULEV emissions standards. With a 14.8-gallon fuel tank in front-wheel-drive models (15.3 gallons in all-wheel-drive versions), the 2013 CX-5 has a driving range upwards of 500 miles.
All 2013 CX-5 compact SUVs are equipped with the SKYACTIV-G 2.0-liter gasoline engine, which features the world's highest compression ratio for a mass-produced vehicle at 13:1. This means SKYACTIV TECHNOLOGY is able to squeeze more energy out of every gallon of gasoline than conventional internal combustion engines. CX-5 also is the lightest compact SUV in its class, weighing in at a total curb weight of 3,208 pounds for entry models and up to 3,426 pounds for premium trim levels.
With its all-new 4-2-1 exhaust system, CX-5 delivers 155 horsepower at 6,000 rpm and 150 lb-ft of torque at 4,000 rpm; redline is reached at 6,500 rpm. With a choice of transmissions in either the SKYACTIV-MT six-speed manual or SKYACTIV-Drive six-speed automatic, a 2,000-pound towing capacity and an optional all-new all-wheel drive system, the 2013 CX-5 truly offers a little of everything for everyone.
Pricing will be available closer to the vehicle's launch in Spring 2012.
To reserve your 2013 Mazda CX-5 click here.
About Congressional Motors:
Congressional Motors treats the needs of each individual customer with paramount concern. They that customers have high expectations, and as a car dealer Congressional Motors enjoys the challenge of meeting and exceeding those standards each and every time. The experienced sales staff at Congressional Motors is eager to share its knowledge and enthusiasm with you.
Press Release Promoted By Automotive Advertising.