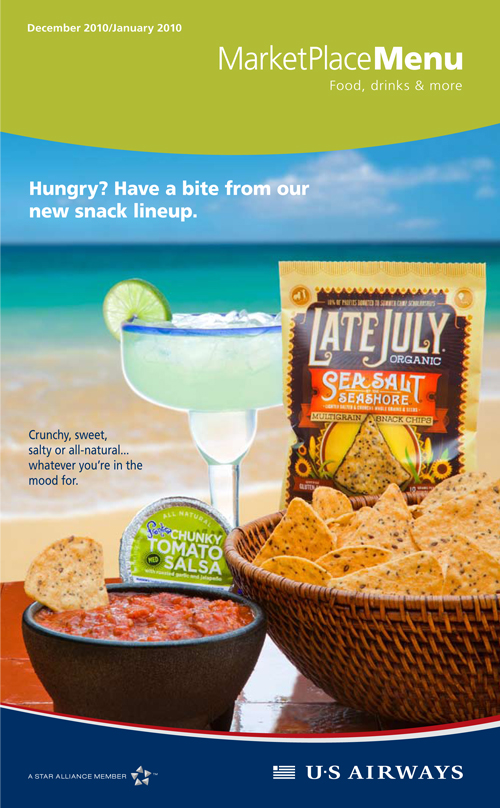 GoPicnic, the leader in ready-to-eat meal solutions, has partnered with US Airways to feature a new Mexican-inspired snack combination of all-natural Frontera Salsa and Late July Organic Multigrain Tortilla Chips in US Airways MarketPlaceT, the airline's popular on board menu of food, drinks, snacks and more.

Starting today, the new snack combination is available for $3 on most flights over one hour, departing between 5 a.m. and 8 p.m., excluding US Airways Shuttle and US Airways Express. The snack combination is nutritionally balanced and individually wrapped, offering the perfect portion for in-flight eating.

"By providing a range of healthier, all-natural snack choices for purchase onboard, we hope to show our customers that we offer value, variety and better-for-you foods," said Hector Adler, vice president, inflight services for US Airways. "Our goal is to tailor onboard snacks to meet the needs of today's fliers."

According to Food Technology Magazine's January 2010 report on What America Eats, Mexican meals are a regular weekly meal for consumers and continue to grow in popularity. Late July Organic, which recently launched three organic, gluten-free, 100 percent whole grain chips, is a highly regarded manufacturer for its quality and taste. Frontera Salsa is from the award-winning chef-restaurateur, cookbook author and the 2009 Winner of Bravo's 'Top Chef Masters' Rick Bayless, who has been instrumental in introducing Americans to authentic Mexican cuisine.

"We love the idea of bringing the taste of Mexico to US Airways, in hopes that flyers will enjoy the unique flavors and convenience of this healthy, organic snack," said Julia Stamberger, CEO and president of GoPicnic. "We commend US Airways for making the commitment to expand the range of foods offered in-flight to passengers using well-recognized, high-quality manufacturers."

For more information about US Airways' Salsa and Tortilla Chips snack combination or to sample a meal, please contact Lauren Russ at lauren@connectcomsinc.com. For more information about US Airways and the MarketPlace menu, visit www.usairways.com/marketplace. For more information about GoPicnic, log on to www.GoPicnic.com.

About GoPicnic
GoPicnic, Inc. was founded by Julia Stamberger in 2006 to create nutritious, delicious, ready-to-eat meals that have the added convenience of being shelf-stable, and require no refrigeration or preparation. GoPicnic's initial clients were major U.S. airlines wrestling with costly waste and customer-service issues from their buy-on-board fresh food-service programs. Recognizing the many benefits pre-packaged "picnic" meal programs brought to a wide array of other industries, GoPicnic expanded its offerings to reach consumers, retail outlets, hotels, and airports. For information about GoPicnic meals and programs, email sales@gopicnic.com or call 773.328.2490. For more information about GoPicnic and to purchase GoPicnic meals, visit www.gopicnic.com.

About US Airways
US Airways, along with US Airways Shuttle and US Airways Express, operates more than 3,100 flights per day and serves more than 200 communities in the U.S., Canada, Mexico, Europe, the Middle East, the Caribbean, Central and South America. The airline employs more than 31,000 aviation professionals worldwide and is a member of the Star Alliance network, which offers its customers 21,000 daily flights to 1,160 airports in 181 countries. Together with its US Airways Express partners, the airline serves approximately 80 million passengers each year and operates hubs in Charlotte, N.C., Philadelphia and Phoenix, and a focus city in Washington, D.C. at Ronald Reagan Washington National Airport. US Airways was the only airline included as one of the 50 best companies to work for in the U.S. by LATINA Style magazine's 50 Report for 2010. For the sixth year in a row, the airline also earned a 100 percent rating on the Human Rights Campaign Corporate Equality index, a leading indicator of companies' attitudes and policies toward lesbian, gay, bisexual and transgender employees and customers. For more company information, visit usairways.com.