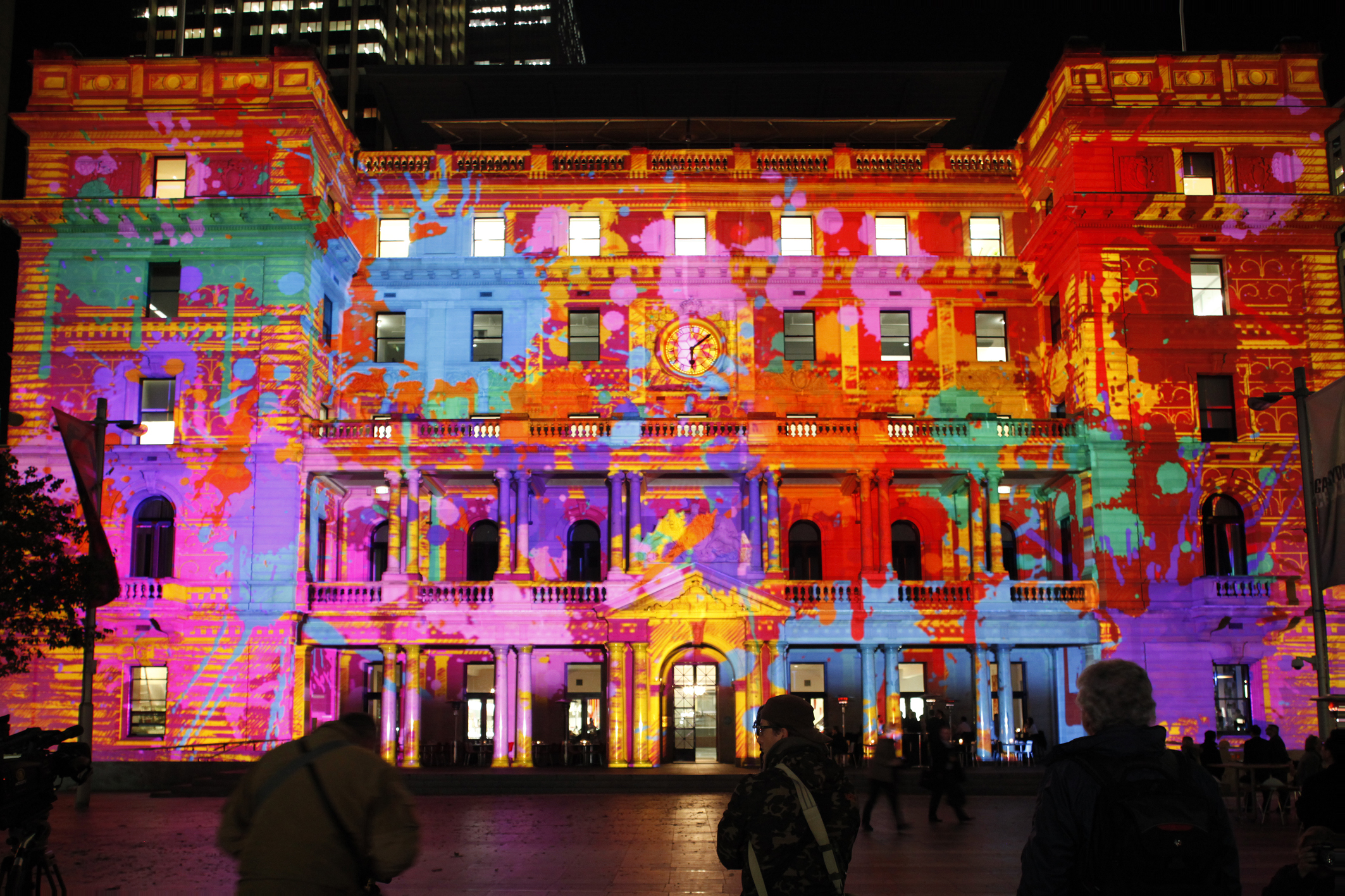 NSW Deputy Premier Andrew Stoner has announced details of the 18-day Vivid Ideas program (25 May - 11 June 2012) consisting of creative industry and public events that will focus on creative ideas, discussion and collaboration.
Mr Stoner said: "Vivid Ideas will connect Australia's creative industries with global leaders and emerging talent in over 100 events, more than double the creative industry events of previous years. These events will cover topics from electronic gaming, fashion, film, and design to publishing, architecture and photography.
"Sydney is the creative capital of Australia with around 150,000 people in NSW directly employed in creative industries," Mr Stoner said.
As part of Vivid Ideas, the new Vivid Ideas Exchange will be located at the Museum of Contemporary Art, hosting an industry-curated program that will be the creative hub of Vivid Sydney where technology, art and commerce intersect.
This year's program will consist of a selection of international keynote talks, information sessions and discussion panels all open to the public and industry only events including conferences, workshops, networking and fundraisers. The public program includes a range of free and ticketed events priced from $15 to $30 on sale at www.vividsydney.com.
Highlights from the program include keynote talks from Cory Doctorow, author and co-founder of world famous weblog Boing Boing; Chad Dickerson, CEO of Etsy; UK fashion talent, Henry Holland, from House of Holland, Jake Nickell, founder of Threadless and an appearance by VICE founder and CEO Shane Smith.
Other exciting additions are a partnership with the Sydney Film Festival; the Etsy Success Sydney microbusiness conference; ABC Rage 25th anniversary exhibition at Carriageworks; and a direction-setting think tank with 120 invited industry leaders on building the creative economy in NSW.
Major industry events include Song Summit, X Media Lab, Mumbrella 360, CeBIT Australia and SPARC Design.
Vivid Ideas Festival Director, Jess Scully said the Vivid Ideas program will build on the growth of three years of industry conferences and the public-facing Vivid Creative Sydney program.
"Vivid Ideas is a summit, forum and a playground for the creative industries to challenge and inspire ideas, and to connect our creators with the support networks and expert guidance that helps convert ideas into applied innovation," she said.
Destination NSW CEO Sandra Chipchase said this year's Vivid Ideas program is a coming of age for the festival with a record number of business events on the program.
"Destination NSW in partnership with the NSW Department of Trade and Investment is committed to growing the business potential of Vivid Sydney as a platform for the creative industries to collaborate, foster business connections and showcase new ideas.
"The festival is a ground breaking event model developed by Destination NSW. As well as providing entertainment for the public and attracting visitors, it's a stage for creative industry events and many associated business events.
"The Vivid Ideas program, one of the three pillars of Vivid Sydney - light, music and ideas, celebrates the creative industries and has a global outlook that will appeal to creative industry professionals across Australia and the world," she said.
Vivid Sydney is the largest festival of light, music and ideas in Southern Hemisphere and a major celebration of the creative industries.
Vivid Sydney was recently ranked as one of the world's top ten ideas festivals by the influential Guardian newspaper in the UK.
The festival is one of five signature events on the NSW Events Calendar developed by Destination NSW on behalf of the NSW Government.
The full Vivid Sydney program is available at http://vividsydney.com
Vivid Ideas Program Events
KEYNOTES
Global creative leaders deliver visionary keynotes: exclusive to Vivid Sydney.
Shane Smith (VICE, NYC) co-founder and CEO of VICE Media, on creating (and funding) high-quality, original content; online, in print and through innovative projects. Shane also shares his experiences creating the unforgettable Vice Guide To Travel series.
Chad Dickerson (Etsy, NYC) CEO of Etsy, on building community and the future of creative business: ETSY is the world's biggest handmade marketplace, home to over 14 million members in 150 countries. Chad also joins local entrepreneurs to discuss how Gen Y will change the way we do business.
Cory Doctorow (boingbong.net, London) author and creative commons crusader, on how creators can take advantage of a more connected world. Cory will also join Greg Williams, Executive Editor of WIRED UK, for a conversation on the new data economy.
Jake Nickell (Threadless, Chicago) founder and CCO of Threadless, a community of 1.8 million designers and design-lovers, on putting ideas into action and delivering on creative projects.
Henry Holland & Jessica Fletcher (House of Holland, London) UK design star, shares the story of his creative journey, from pop culture mags to London Fashion Week, and and explores the role of celebrity and collaborations in building a fashion brand.
TALKS AND PANEL DISCUSSIONS
Bridging the Digital Divide
Will the next Mark Zuckerberg or Steve Jobs come from Australia? Will she be a woman? Could she live in a small town? If not, why not – and what are we doing about it? Join experts including Marita Cheng (Robogals), 2012 Young Australian of the Year, to discuss how to build a workforce for the future.
Game Changers
Can we predict the next shift in technology, behaviour or communication? What are the next big opportunities for creative thinkers and makers? What do audiences want from performing arts, events and social experiences? Trend spotters and futurists explore the game-changing mega trends shaping creative culture and consumer behaviour in 2012 and beyond.
Engaging Asia
In China, there are 322 million people aged between 16 and 30. Asia-savvy experts from the worlds of advertising, not-for-profits, visual arts, performance and digital media discuss strategies for taking projects and products to China, and bust the myths that may be holding Australian creatives back.
CONFERENCES, WORKSHOPS AND MASTERCLASSES
How To: Living The Dream presented by &COMPANY is a professional development symposium inspiring designers and independent creative entrepreneurs with the need-to-know essentials of running a design business.
Etsy Success Sydney is a full-day microbusiness conference to inspire, inform and connect local creative business owners to learn new skills, understand the need for change in the new economy, and ensure their business is sustainable and viable.
Portfolio Masterclass presented by The Loop is an unmissable opportunity to put your work in front of Australia's leading creative directors. Get feedback and advice on selling your work and landing your dream job or project.
Inside Out, Outside In: development seminar presented by ScreenNSW, is hosted by leading US producers Meg LeFauve and Sheila Hanahan Taylor. This three-day seminar on the strategy, creativity and craft of developing compelling feature films, takes us from the "Inside Out"– thematic, character, emotional drive, plot – and the "Outside In" – trailers, posters, audience, marketplace, financing – showing the impact of every decision.
FailCon is a one-day event for entrepreneurs, investors, developers and designers to study their own and others' failures - in order to prepare for success. Founded in San Francisco in 2009, this is FailCon's first Asia-Pacific event.
Youtube Superstar brings together Australia's leading directors on the art of crafting unforgettable music videos: essential advice for musicians, filmmakers, stylists and aural aesthetes.
NETWORKING
Join us in the Vivid Ideas Exchange Lounge to meet collaborators, find supporters and make connections for your creative career or business.
Awesome Soup is a fundraiser for Sydney's next big idea: vote for the most awesome idea pitched on the night – or pitch your own to compete for $5000 in cash!
Creativity For Good brings together creative thinkers, social entrepreneurs and community builders, to increase the impact of the creative sector in society.
Speed Networking presented by Metro Screen is the largest screen networking event in Sydney, and your chance to meet your next wave of contacts and collaborators.
Driving Australian Design: What a national design policy could do for designers is a cross-disciplinary conversation and networking event for designers to consider the impact of design policy on industry, government and society.