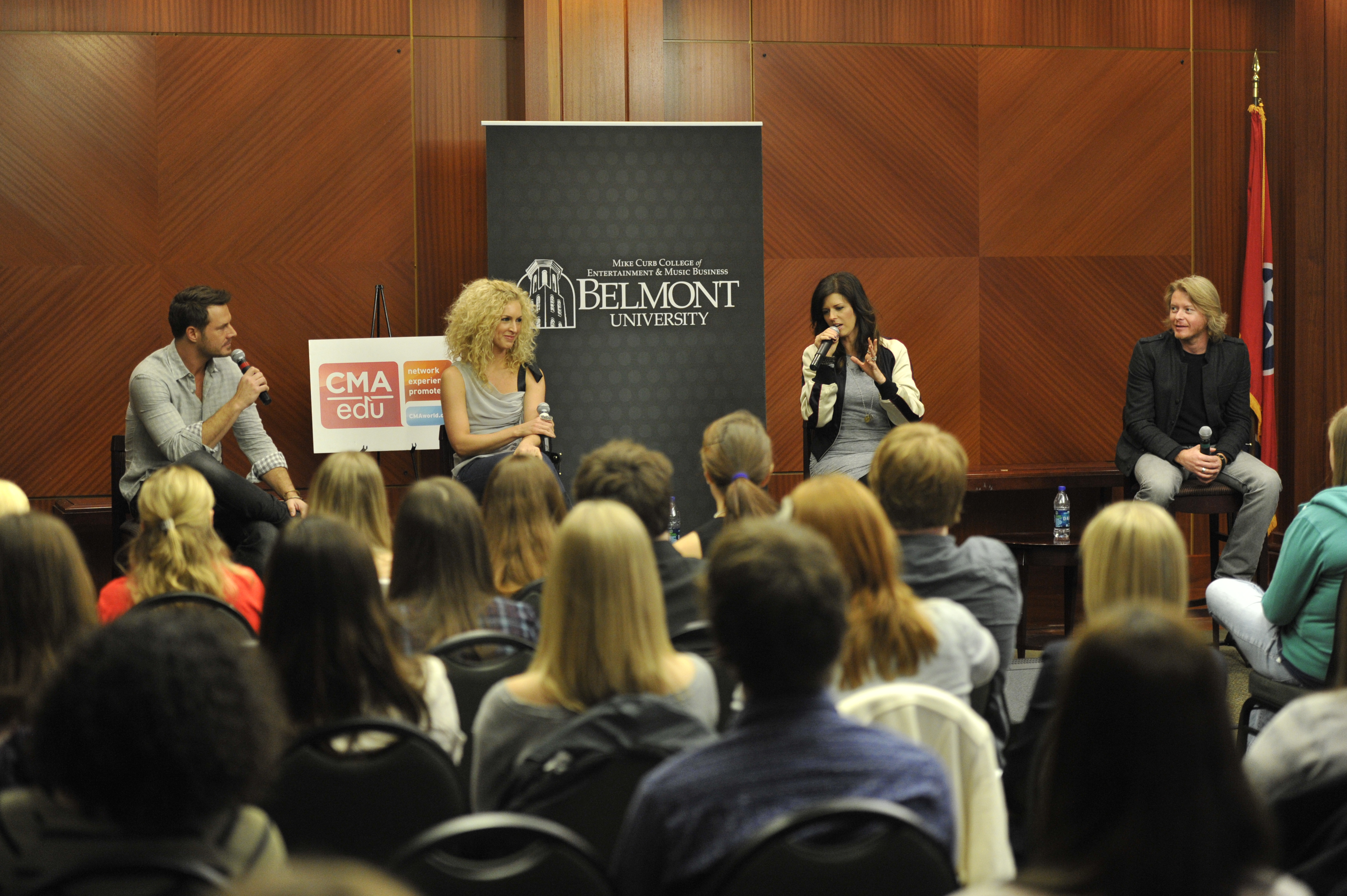 NASHVILLE - The Country Music Association, and special guests Little Big Town, unveiled plans last night at Belmont University for a new, education-based, national college initiative named CMA EDU.
The program is designed to reach and engage undergraduate college students with a hands-on opportunity to enhance their skills in marketing and promotion.
"CMA EDU is going to provide students an up-close look at the business they aren't going to get anywhere else," said CMA Board member
Karen Fairchild
of Little Big Town. "The networking possibilities are endless. I can only imagine how I would have jumped at the opportunity as a student to be a part of something this closely tied to the actual music business being done in Nashville. We're thrilled to be a part of the inaugural program."
With the support of CMA and the Country Music community, students will gain networking opportunities, unique educational experiences, and leadership training all while promoting the Country Music genre. The program will also serve as an opportunity for CMA to partner with the music industry community on different levels in an effort to engage and grow the format fan base.
"CMA is excited to be making history by launching this new initiative that will bring the Power of Country to campuses across the nation," said
Sarah McGrady
, CMA Senior Coordinator of Partner Programs, who spearheads the project."The college demographic is a great source for research, and their fresh perspective and passion will support the future growth of the Country Music format." By educating the students about the music industry, and giving them hands-on opportunities, CMA is insuring the success of the genre for years to come."
Belmont University was chosen to host the pilot program for CMA EDU and currently boasts more than 115 members. As enthusiasm continues to build, the program will expand to other university campuses with active music industry programs in Nashville with future plans to reach undergraduate students across the county this fall. CMA has already received interest from schools in Alabama, Ohio, Tennessee, and Virginia. 
The students enrolled in CMA EDU commit to holding monthly meetings and work closely with CMA and members of the Country Music community to develop workshops, panels, networking opportunities, and leadership training.
Dan Keen
, a former ASCAP VP and instructor in music publishing at Belmont serves as faculty adviser for CMA EDU. He said response to the program has been "overwhelming." Adding, "College kids are very interested in Country Music."
Keen notes that the program exemplifies a significant shift in the way young aspirants look for a place in the music industry.
"Fifteen years ago, when I began at Belmont, I was trying to train kids in how to fit into a machine," he said. "The publishing houses, the record labels, management companies, and everything looked a certain way, and had a certain way of doing business, so you trained the kids to fill specific roles. That's no longer true. Now we try to educate kids to be entrepreneurial and develop critical thinking skills so they can go out and build their own machine."
CMA EDU provides a platform for the discussion by building an interested community of eager and interested participants. Communication is a central feature. CMA has developed several tools including an e-blast bulletin dubbed, CMA EDU Insider; Twitter, Facebook, and inclusion on CMAworld.com (@cmaedu; facebook.com/cmaedu;
www.CMAworld.com/cmaedu)
, so that students can blog about their experiences and upload photos and videos. An application form is available at
www.cmaworld.com/cmaedu.
"This is a great opportunity for networking and getting your foot in the door of the industry," said
Aubrey Rupe
, 21, a Belmont Music Business major from Oklahoma. "Networking, definitely," agreed her friend and fellow Oklahoman
Ben Tripp
, 20, double-majoring in Music Business and Accounting. "And also the prospects of working with CMA and getting a chance to work with artists we're familiar with."
Another important component of the agenda is to pursue volunteerism, not only at the CMA Music Festival, CMA Awards, and other events, but as part of a bigger picture.
"One of my roles as a faculty adviser is to encourage the kids to think in terms of volunteerism," Keen said. "My thoughts in that regard, were that if you volunteer to work with CMA, you're going to be networking with a lot of people. You won't just be at some cocktail party. You'll be working together on charitable causes and other events that matter. When you work with people on things that matter, you bond better. And they also get to see how you work. Your nature and your character, come through.
"That comes with being part of the Nashville community, which CMA certainly nurtures," he continued. "And the kids trust the CMA brand. They know what CMA is about. They trust its stability and its dedication to core principles, and that's one reason they want to be involved."