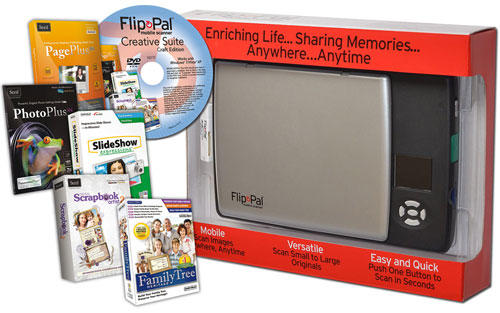 Couragent, Inc. chose to launch its new Flip-PalT mobile scanner with Creative Suite-Craft Edition DVD, in celebration of National Scrapbook Day, taking place on May 7.

You may start your project by scanning your favorite memories with the Flip-PalT mobile scanner, then unleash your creativity with the Creative Suite Craft Edition DVD. Create, edit, enhance. Easily tackle favorite crafting projects, including desktop publishing, photo editing, slide shows, invitations, digital scrapbooks, family trees and more. This carefully selected software sold separately would typically have a retail value of over $150.00, but the Flip-PalT mobile scanner with Creative Suite - Craft Edition DVD sells for just $199.99 and is available to customers on the company website, www.flip-pal.com and on amazon.com.

The company's flagship product, the Flip-PalT mobile scanner, started development in September of 2009 and was formally introduced to the North American market as well as to more than 8,000 consumers who attended the Craft & Hobby Association (CHA) trade show in July 2010. CHA is an international trade association for the $27 billion craft and hobby industry. It won the CHA Overall Best Innovation award. This is the second innovation award in less than a year for the Flip-Pal. The Flip-PalT mobile scanner started shipping to customers in early October 2010.

"We have had great success the past 6 months, including being selected as a Customer Pick on Home Shopping Network and receiving a Hot New Releases in Electronics rating on Amazon.com. Our affiliates have also brought much success to our program" said Lisa Milner, Marketing Director, at Couragent.

The Flip-PalT mobile scanner is for Memory Keepers who want to conveniently and reliably scan photos, images in books and magazines, and works of art so that they can be stored digitally, then shared with family and friends. The battery powered flatbed scanner is about the size of a typical netbook computer. It can scan photos anywhere with no connection to a computer. With the patented flip-and-scan technology, the cover can be removed and the scanner placed face down on top of an old family album, for instance, without having to remove pictures that might be fragile or glued down. The included Flip-PalT EasyStitch software can reassemble multiple 4"x6" scans into a larger image. Scanned images are saved immediately to an SD memory card that can be read by any computer. Batteries, a 2GB SD card and a USB to SD adaptor are included with each unit sold. Orders for the Flip-PalT mobile scanner can be placed online now for $149.99 at flip-pal.com and amazon.com.

Gordon Nuttall, CEO and Founder, of Couragent says, "We are very excited to offer our customers this bundle that is filled with the latest tools to help you turn good photos into great pictures, bring old and damaged photos back to life, organize and print photos, easily create slide show movies, create beautiful scrapbooks and preserve and share your family heritage your friends and family." And Nuttall says, "We focus on our great customers - we learn from them every day. Our success is built on our foundation of high core values: Courage, Integrity, Collaboration, Innovation, and Care.

Couragent, Inc. provides patented solutions that solve everyday problems, are designed to be simple to operate so many can use them, and have a combination of benefits that are not available anywhere else.

The Flip-PalT mobile scanner mark and logo are the trademarks of Couragent, Inc.
The CouragentT mark is a trademark of Couragent, Inc.