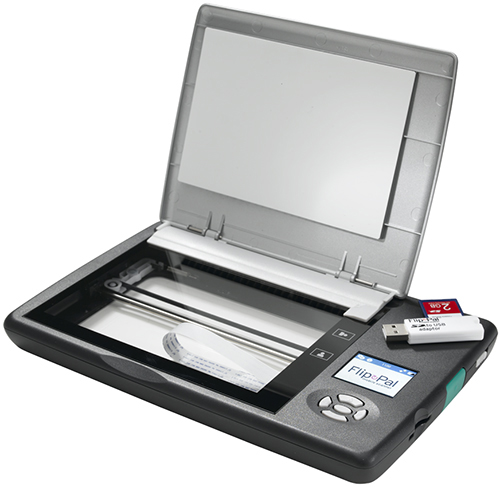 Coral Springs, FL - The producers of "The Art of Living with Marilu Henner" are pleased to announce that the Flip-PalT mobile scanner will be featured in an upcoming segment on topics, trends and issues related to "Key Essentials for Leading a High-Tech Lifestyle" as part of the show's Digital Lifestyle series. The five-minute Art of Living segment explores the patented flip-and-scan technology and provides viewers insight on the mobile scanner's wide array of uses.

Gordon Nuttall, CEO, and the team at Couragent developed the Flip-PalT mobile scanner to enrich lives through sharing of cherished memories, anywhere and anytime. The patented flip-and-scan technology allows a person to scan photos without removing them from the album or frame, which keeps them safely in place. Unlike other solutions that don't have the combination of mobility, accuracy, versatility and keeping the original safe, the battery-powered mobile scanner is compact, simple to operate, has high resolution, quick scan time, SD card memory and it is cordless-no computer is required. For larger items such as paintings and quilts, users can scan the object in sections and use the included Flip-PalT EasyStitch software to assemble them back together into a single image.

"Our Flip-PalT mobile scanner is ideal for those interested in scrapbooking, ancestry/genealogy, photography, the entire craft industry and really anyone with all sorts of objects, large or small, to scan," said Nuttall. "Our remarkable technology offers a great way to have fun and be creative with a convenient, reliable way to share memories with family and friends."

About The Art of Living
The Art of Living is a prominent lifestyle show that reviews the finest in travel, dining, fashion, entertainment, business, health, interior design and family life, among other topics. The show's host, Marilu Henner, is known to many as a Broadway, TV and film actress and an accomplished author of several celebrated books. As host of The Art of Living, Henner is dedicated to keeping all members of the family well-informed. The program showcases a variety of experts, famous personalities and the latest news and research on clever products, innovative trends and fresh ideas. The Art of Living is available nationally and regionally on many popular television networks. For more information, please visit www.watchartofliving.com.

About Flip-PalT
The Flip-PalT family of products is designed in Fort Collins, Colorado by the Couragent team. Their cornerstone values-courage, integrity, collaboration, innovation and care-guide decisions and attract highly talented individuals seeking to make a difference through the work they perform. The Couragent team focuses on their great customers-they learn from them every day. Visit www.flip-pal.com

The Flip-PalT mobile scanner mark and logo are the trademarks of Couragent, Inc. The CouragentT mark is a trademark of Couragent, Inc.