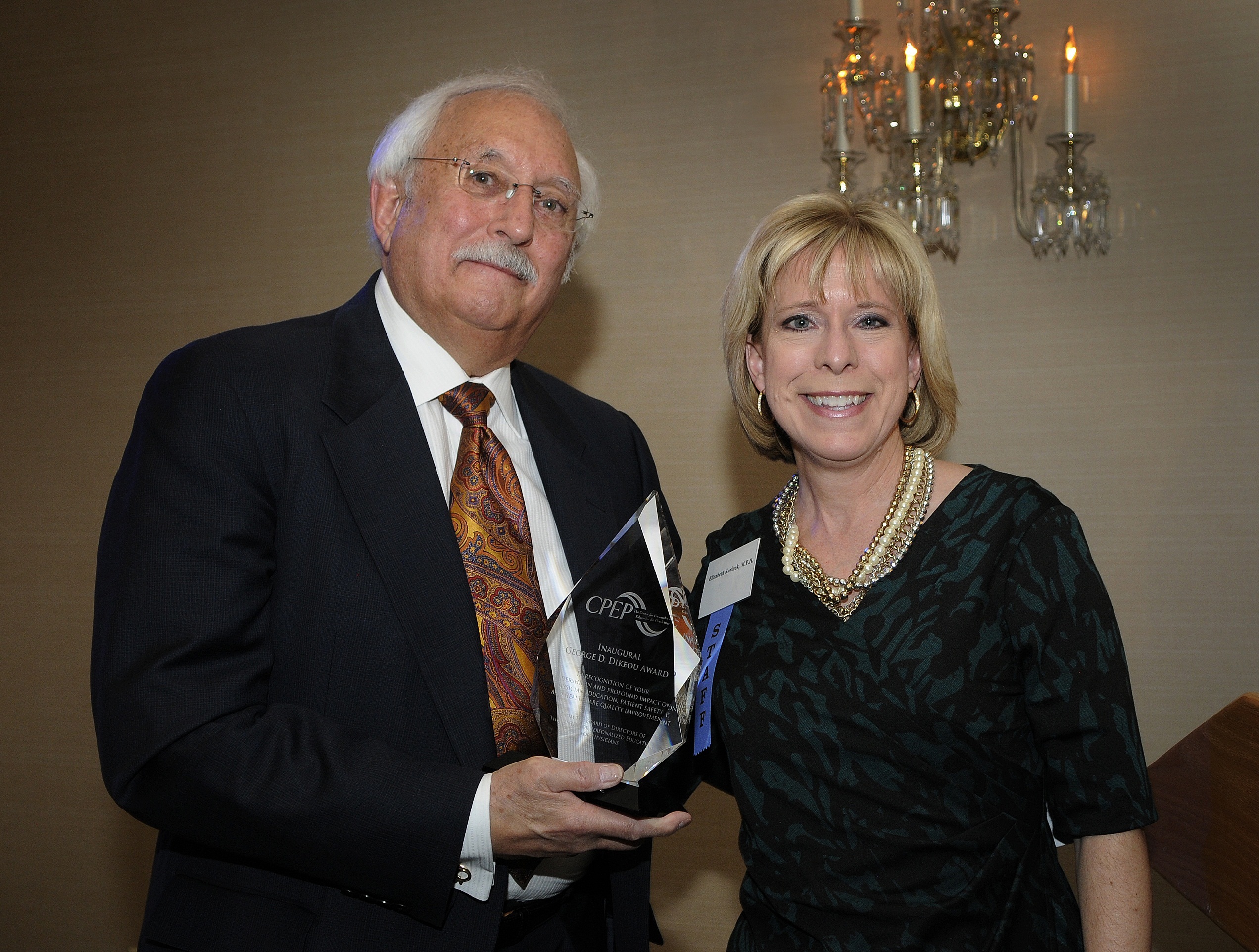 DENVER – CPEP, Center for Personalized Education for Physicians, this month recognized veteran Colorado healthcare attorney George Dikeou as the first recipient of an award created in his honor to acknowledge the contributions of leaders in physician education, patient safety, and healthcare quality improvement.
More than 85 people, including top Colorado medical and legal professionals and hospital administrators, attended an award dinner to recognize Dikeou and his contributions in these areas.
Throughout his distinguished career, Dikeou has served as an innovator and leader in the betterment of healthcare. Dikeou was in-house counsel and executive vice president of COPIC, a leading medical liability insurance provider and advocate for patient safety in Colorado and Nebraska, and served on its board until his retirement.
Dikeou committed his time, energy and his wisdom to serving on more than 30 different organizations' boards. Dikeou was an architect and motivating force in establishing much of what are now considered Colorado healthcare fixtures, including CPEP, the COPIC 3Rs Program (which encourages providers to Recognize, Respond to, and Resolve unanticipated outcomes), and key legislative efforts such as the 1988 Health Care Availability Act, to name just a few.
In his 15 years of volunteer service on the CPEP board, Dikeou set the course for CPEP as a resource to provide educational solutions to improve physician performance.
Beth Korinek, chief executive officer of CPEP, said, "CPEP's success is a tribute to vision and unwavering commitment of the individuals who, like George, rolled up their sleeves in those early days and took on the task of developing this pioneering organization. Among many individuals worthy of consideration for this award, one stood out – and that was George."
Dikeou joined CPEP's board in its inaugural year, 1990. As a founding member, Dikeou conceived of CPEP's mission: to help doctors become better doctors. Korinek stated, "George helped CPEP establish our central values and principals. Our services are confidential, objective, and unbiased. Our policies allow us to fairly serve participants while being responsive to needs of the referring organizations. These principals have not changed and continue to guide us today."
This award reflects the gratitude of CPEP's board and staff for Dikeou's contributions. The award is also presented on behalf of the over 2,000 physicians throughout Colorado and the United States who have participated in CPEP's services, and the patients who have ultimately benefited from improved quality of care.
The event, held at Denver Country Club, was sponsored by COPIC. Event speakers
recognizing Dikeou's contributions included Korinek, COPIC President and Chief Operating Officer Steven Rubin, and University of Denver Law School Dean Emeritus and Professor of Law Edward Dauer. Video testimonials were offered by Colorado Foundation for Medical Care President/Chief Executive Officer Arja Adair, Jr., Citizens for Patient Safety Executive Director Patty Skolnik, and Colorado Trust President Ned Calonge.
The George D. Dikeou Award will be awarded by CPEP in the future to recognize other outstanding leaders or organizations that have made profound impacts in these areas.
CPEP, The Center for Personalized Education for Physicians, was created in 1990 with a single, clear purpose: to provide the in-depth information and educational solutions needed to address physician performance concerns. As an independent not-for-profit organization, CPEP is uniquely positioned to provide comprehensive assessments in an objective, neutral environment. More than 2,000 healthcare professionals in 61 medical and surgical specialties have participated in CPEP's various programs. Participants are typically referred by medical boards, hospitals, and attorneys. While the majority of participants are physicians, CPEP also serves other healthcare professionals including podiatrists, physician assistants, and advanced practice nurses.