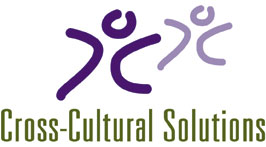 William Kennedy, a part time student in the Stetson University Russian Program and a retired government executive, and his wife Carolyn, spent two weeks in Yaroslavl, Russia performing charity work with Cross-Cultural Solutions (CCS), a U.S. non-profit organization.
CCS Russia volunteer program
(http://www.crossculturalsolutions.org/countries/eastern-europe/volunteer-russia).
Kennedy and his wife were part of a team of 11 volunteers, mostly college and graduate students, who provided various social services for orphans, underprivileged children, seniors and adults with disabilities. Each evening, the volunteers planned activities to conduct at their placements the following day. Activities included games, arts & crafts, sports, discussions, lectures and even some song and dance with the seniors.
CCS provided a Home-Base, all meals, in-country transportation, and volunteer support. CCS interpreters were also always available to provide language assistance for the volunteers.
In addition to the volunteer work, the volunteers toured various parts of Yaroslavl and Kostroma, two cities in the Golden Ring � a symbolic circle of ancient towns in Russia. They also participated in seminars and lectures on Russian history, culture and contemporary politics. A short beginners� course in Russian language was provided by CCS, and volunteers could travel on weekends to visit Moscow or St. Petersburg at their own expense.
The Kennedys describe their volunteer experience as interesting, educational and rewarding, and plan on returning to Russia next summer during the 1000th anniversary of the founding of Yaroslavl.
More information on CCS and its programs can be found at
Cross-Cultural Solutions
(www.crossculturalsolutions.org).