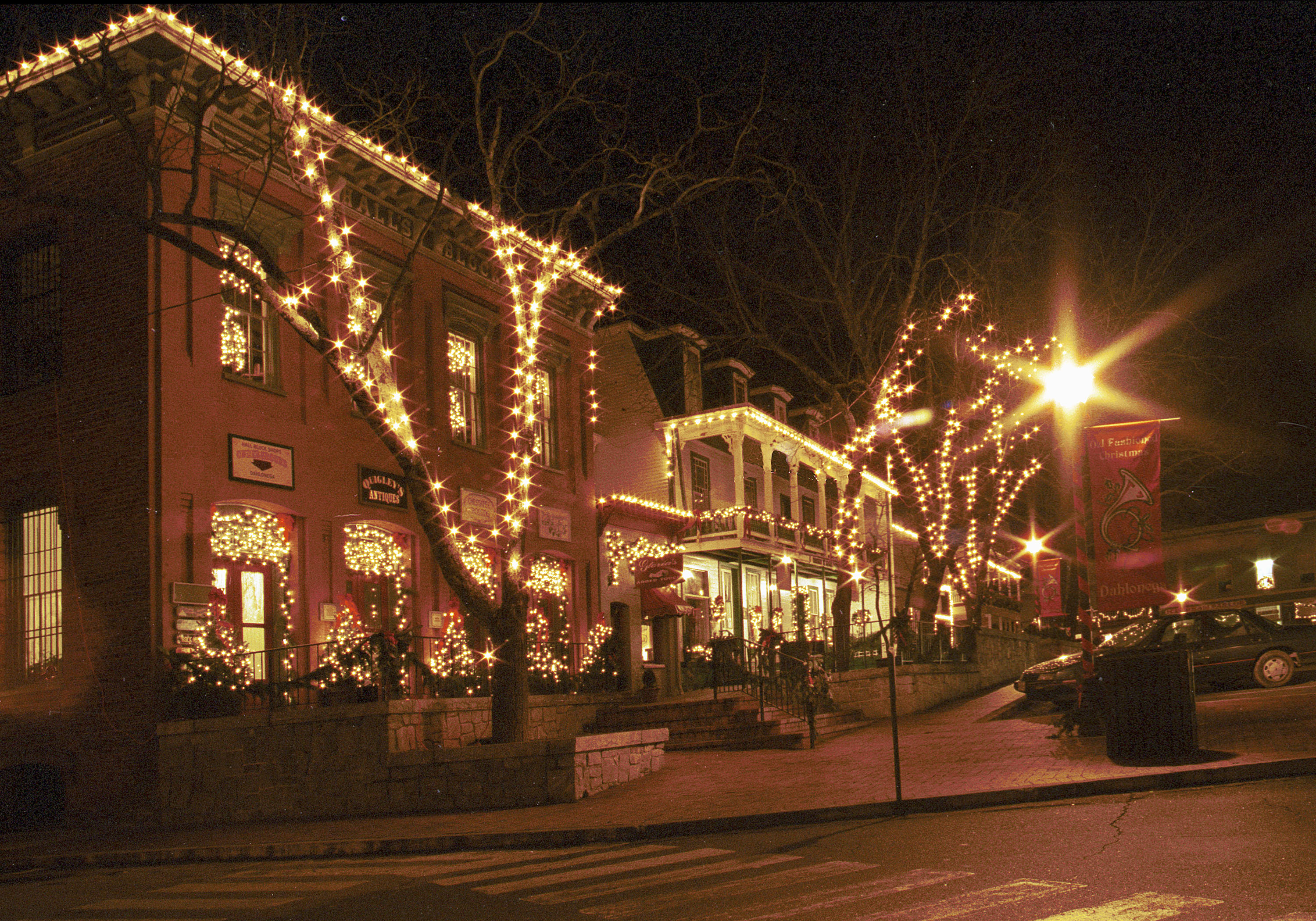 DAHLONEGA, GA (November 3, 2011) – Tis' the season to celebrate the holidays in Dahlonega, Ga. Beginning Thanksgiving weekend and not ending until after the New Year, the town of Dahlonega will be North Georgia's ultimate holiday destination. From festive decorations and a parade to holiday tours and almost daily celebratory events, December in Dahlonega will offer something for everyone this Christmas season.
The festive fun will kick off on November 18th when Dahlonega's historic downtown square lights up "at dark." On November 25th, this season's Old Fashioned Christmas will launch its first-ever guided trolley ride. The motorized trolley bus will run during the weekends until December 17th and will take riders around the historic downtown area. During the 30-45 minute ride, a guide will enlighten riders with fun and interesting stories about the town's history and landmarks. The tours will be offered on Friday evenings at 7 and 8 p.m. and Saturday evenings at 6, 7 and 8 p.m. Tickets for the trolley tour are $5 for adults and $3 for children and can be purchased from the Dahlonega Visitors Center.
The daily holiday celebrations will begin in December. On Friday, December 2nd, visitors can check off items from their Christmas lists because all of the shops on the square will be open for a moonlight shopping event. The Dahlonega Luminaries and Merchants' Open House is not to be missed. Dahlonega's gourmet candy stores and many unique shops will all offer a number of treasures that are sure to bring smiles to many faces on Christmas morning.
Starting at 4:30 p.m. on Saturday, December 3rd, Dahlonega will host its annual Christmas Parade where Santa will come to town to see who has been naughty or nice. Later in the evening, immediately following the parade, the Annual Lighting of the Tree at the Visitors Center will take place. The historic downtown square will be filled with festive cheer since it will be decorated with all of the holiday trimmings. From Christmas trees and mistletoe to thousands of twinkling lights, the town will feel like a holiday wonderland once the centerpiece is illuminated. In addition to December 3rd, Santa will return to town on Saturdays from 1 to 6 p.m. and on Sundays from 1 to 5 p.m. Throughout the rest of the month, Dahlonega will come alive with numerous holiday celebrations and events including Christmas caroling along the square, live entertainment, wine tastings, and Christmas performances at the Historic Holly Theater.
"December in Dahlonega is the perfect time to visit this historic town because the square truly comes alive with thousands of Christmas lights blinking in the night sky and yards of trimmings decorating the businesses," said Gayle Jones, Co-Chair of Dahlonega's Old Fashioned Christmas Celebration. "In addition to our Christmas festivities that visitors look forward to every holiday season, our new trolley ride offers another exciting reason to spend the season with us."
One of the most popular Christmas events in Dahlonega is the Sleigh Bell Tour, which is a self-guided driving tour of all of the town's bed and breakfast inns. Each inn will be decorated with a unique holiday theme and will feature holiday music and refreshments. This year's participants include: Lily Creek Lodge, Mountain Top Lodge, The Historic Worley B&B Inn, Long Mountain Lodge, Mountain Laurel Creek Inn & Spa, and Dahlonega Spa Resort. The tour will take place on December 11 from 1-6 p.m. and will cost $12. For more information on the participating inns, please visit www.innsofdahlonega.com.
For additional information on December in Dahlonega, please visit www.Dahlonega.org.
________________________________________________________________________
About Dahlonega, GA:
Located about 70 miles north of Atlanta, Dahlonega is Georgia's "Golden City" and the gateway to the Appalachian Mountains. Known for being the site of the first major U.S. gold rush, the historic downtown district is now home to The Gold Museum, gold mines, and gold panning facilities. Dahlonega has evolved into a center for the performing and visual arts in the North Georgia Mountains and hosts a number of artistic and cultural festivals each year. Many wineries have taken notice of Dahlonega's prime growing conditions and have made the area their home. The rich, fertile hillsides and the favorable mountainous elevations make the area the perfect place to grow and ripen a wide variety of European, French hybrid, and American wine grapes. Recreational activities are available year round and include miles of hiking trails and the Southern terminus of the Appalachian Trail, camping, golf, horseback riding, cycling, trout fishing, and more than 30 waterfalls to explore. Quaint shops around the Square attract some of the region's top artists and are filled with regional art, antiques, unique jewelry and collectibles. Delightful bed and breakfasts, country inns, mountain cabins and resorts offer a plethora of accommodation choices for every budget.
For additional media information, please contact:
Inga Marone
Pineapple Public Relations
(404) 237-3761
?