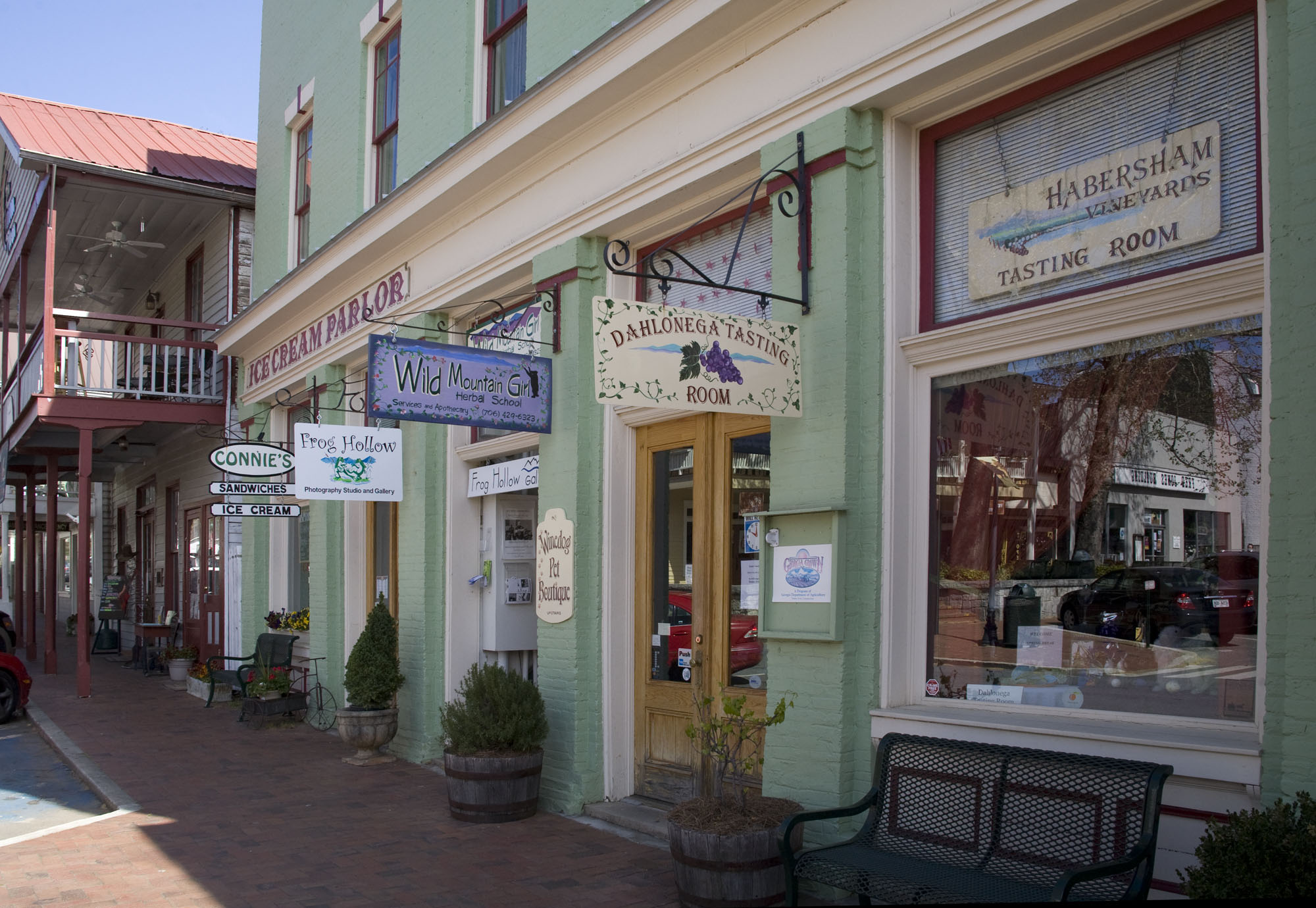 Dahlonega, Georgia (www.Dahlonega.org) is located just 65 miles north of Atlanta in the North Georgia Mountains and is perfect for a winter weekend getaway. A plethora of lodging choices allow visitors to take in the picturesque views of the snow-tipped mountains or enjoy a light dusting of snow without worrying about the chore of shoveling. Milder winter temperatures encourage guests to get outside and hike miles of trails or shop on the square. After a day of exploring, sipping a glass of wine from a local vineyard in front of a roaring fire is the ideal way to unwind. Dahlonega's history and unique charm make it a great escape, no matter what time of year.
Top 12 Reasons to Book a Mountain Winter Visit to Dahlonega:
1. Cozy Accommodations at a Comfortable Price – Dahlonega's assortment of cozy lodging options include bed and breakfasts, cabins, hotels, resorts, and lodges, making it the perfect romantic winter getaway. Escape to a mountain setting, curl up by the fireplace with loved ones, and unwind after a day filled with adventure and exploration.
2. Dahlonega Deals – This winter season will be the perfect time to visit Dahlonega because most of the lodging options offer discounted pricing from January through March. Take advantage of the cooler temperatures and experience the stunning views of the mountains while the leaves are off the trees while saving some green.
3. Massages in the Mountains – Enjoy an afternoon at one of six spas in Dahlonega. Relax, unwind and be pampered with a wide array of massages, facials, body wraps, manicures, and pedicures. Any of Dahlonega's spas are perfect for the couple that needs to de-stress.
4. Liquid Gold – Dahlonega is home to north Georgia's booming wine country. From Italianate hillside mansions to Appalachian-style lodges, visitors can tour six unique wineries to learn first-hand what it takes to produce award-winning wines. There are also multiple tasting rooms located on the square, allowing visitors to sip, taste, linger, socialize, and learn more about wines from the region.
5. Dahlonega Dining – On and off the square, Dahlonega's variety of restaurants offer something for everyone's taste buds. From Mexican and Italian to Southern and seafood restaurants, visitors have the opportunity to travel around the world while eating breakfast, lunch and dinner. With coffee shops, cafes and ice cream stores too, the square is also a great place to grab a snack.
6. Sweet Escapes – Dahlonega is home to a number of confectionaries and candy shops that will help sweet-lovers indulge. Famous for their handmade Southern treats and hand-dipped chocolates, the Fudge Factory and Paul Thomas Chocolates are among the favorite places to stop for a sweet treat on the square. Be sure to visit Yummyyogurt Den Coffee House, Connie's Ice Cream Parlor and Sandwich Shop, and The Picnic Café & Dessertery for other tasty treats.
7. Striking Gold on the Square – The unique shops on the historic downtown square are known for their eclectic feel. Perfect for art lovers and treasure hunters, visitors will spend hours perusing the shops for jewelry, art, antiques and collectables. Boutiques, with clothes for men, women, and children, can be found on the square as well.
8. Take a Hike – Home to the gateway of the Appalachian Trail, Dahlonega has been designated a trail-friendly community. Numerous hiking trails are great for day hikes and backpacking trips. The white-tipped mountains also provide visitors with scenic views perfect photos and the chance to enjoy the snow from afar.
9. Landmarks and Legends Walking Tour – New to Dahlonega, this walking tour takes visitors back in time through the town's history. Learn about the famous people who visited or played an influential role in developing the town, while seeing the historic buildings for which the town is well-known.
10. Concerts, Musicals and Dr. Seuss, Oh My! – Dahlonega is a hub for the arts and culture in north Georgia. The Historic Holly Theatre's 2012 performances and shows include Neil Simon's Rumors, Radio Gals – the Musical, Miss Firecracker, and Seussical the Musical among others. Music lovers will also delight in Dahlonega's eclectic local music scene – many establishments feature a plethora of performers throughout the week and weekend.
11. A Treasure Hunter's Dream Come True – Known for being the site of the first major U.S. gold rush, the historic town is home to The Gold Museum, gold mines, and gold panning facilities. Visitors wanting to experience the rush of panning for gold can visit the Crisson Gold Mine and the Consolidated Gold Mines. Most of the mill buildings are gone but visitors may explore the tunnels deep below where gold bearing rock still remains. The mines are open year round. Stop by the Visitor's Center to pick up the itinerary for the revamped Gold Fever Package and learn how to rediscover Dahlonega gold…with no rush.
12. Valentine's Month – With the number of unique restaurants on and off the square, activities both inside and outside, and lodging options Dahlonega has to offer, February is the ideal time to plan a romantic mountain trip. Many of the bed and breakfasts and cabins will offer special Valentine's Day packages and discounts. Surprise your loved one and plan a romantic weekend getaway during the month of February.