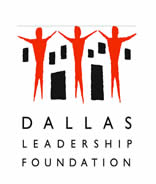 May 26, 2010 (Dallas)--Dallas Leadership Foundation (DLF) will host a unique annual city-wide work day Saturday, June 26, 2010 in four underserved communities. City of Hope Day will bring together stakeholders (Neighborhood associations, churches, corporations, small businesses, etc.) to address the plight of residents in low-income areas of the city by repairing and painting the homes of qualifying residents free of charge. A list of participants is included. "When it comes to helping seniors who desperately need repairs on their homes, persons with disabilities who need accommodations, residents who are being served notices of code violations, streets that are unsafe and not maintained; everyone in the community is a stakeholder," said Wil McCall, DLF president. "We feel it is our duty to engage the public in developing collaborative and cooperative solutions to poverty and hopelessness in every part of our city," McCall continued. The City of Hope Day will allow DLF and its partners to further test their capabilities to respond to the needs of citizens across Dallas. DLF will rely on volunteer manpower from a variety of groups across racial, economic, and denominational lines. DLF staff and volunteers have been preparing for months to bring visible change to some of Dallas' most disenfranchised neighborhoods in the areas being targeted. Areas of the city targeted are located in Southeast Dallas, North Dallas, Oak Cliff, and West Dallas. This work day allows us to bring community, business, and church leaders to the table to work together to address the complex issues related to neglected streets, declining housing stock, and deteriorating neighborhoods. Our ultimate goal is to offer hope across the city that will produce lasting change," McCall added.

Partners include four neighborhood associations representing the following Dallas neighborhoods: Hamilton Park, Jubilee Park, Westmoreland Heights, and Wynnewood Heights. Partnering churches, organizations and businesses include Sherwin Williams, Friendship West Baptist Church, Hamilton Park Civic League, Hamilton Park United Methodist Church, ICI Paints, Highland Park Presbyterian Church, Park Cities Presbyterian Church, St. Luke "Community" UM Church, Texas Instruments, and United Renovations - a number of whom are professionals in specialty trades.

For more than twelve years, DLF has concentrated its community development activities in several southern sector neighborhoods. In recent years, DLF has expanded its' outreach to include providing services in East and West Dallas as well. Other DLF initiatives include new home development, organizing crime deterrent projects, assisting those previously incarcerated, mentoring at-risk youth, and both encouraging and equipping the leadership in target neighborhoods. For information about City of Hope Day, contact Allen Bozeman at DLF at (214) 777-5520. Dallas Leadership Foundation, founded March 1995, is a non-profit organization committed to the vision of "transforming Dallas into a `City of Hope' for all its' people and a place where God is glorified."