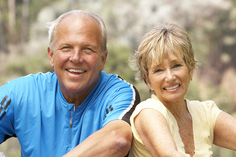 In middle-age many people look toward retirement and start investing in ways they hope will reward and support them as they grow older. If prudent investments are made, retirement may be a smooth transiiton, with assets that can help support them, and possibly even leave an inheritance for their children and grandchildren.
All too often, however, fate intervenes with a long-term illness or disability. It happens more often than any of us would like to admit—in fact, a recent study* found that 70 percent of the population over the age of 65 will need some sort of long-term care. In such a situation, without a safeguard, the work of a lifetime can be completely destroyed. Investments, savings, and retirement plans can be exhausted rapidly to pay for care. Assets which could have been passed onto children may need to be sold off and used for care. Moreover, when all assets are depleted, the financial burden for care may fall on your family.
Health care programs—and most health insurance plans—only go so far. Medicare only pays for skilled care and covers for 100 days. Medicaid is only available after someone has spent down their assets. Health insurance is not designed for extended long-term care.
Costs to cover a long-term illness or disability can be astronomical. Average annual nursing home costs for a private room in the New York tri-state area are $135,050, and $85,775 in Florida . The national average rate for a home health aid or certified nursing assistant was $21 per hour in 20102. None of these costs include specialized treatment or medication, which can be substantial.
A preemptive solution that can help you avoid the devastation that can accompany a long-term illness or disability is long-term care insurance. The cost of long-term care insurance is fractional when compared to the costs of care. Such a policy provides a facility and home care monthly benefit to directly pay for care, over a number of years.
The premiums for long-term care insurance, however, can be expensive. "Policy premiums can be paid for, or subsidized by, funds generated from income producing investments," says David Lerner, CEO of David Lerner Associates. "It's imprudent to entirely rely upon income produced by investments as the only source to fund a long-term care insurance policy or any other contractual commitment which requires periodic payments. Investors should possess alternative sources of income sufficient to satisfy contractual commitment payments, including premiums required to keep a long-term care insurance policy in force."
Also investors should consider tax consequences related to investment income prior to committing that income to fund contractual commitment payments (i.e. long-term care insurance premiums) and should consult their tax advisor when considering such commitment.
The benefits to this kind of program are manifold. If you need to undergo long-term care, or are the victim of a disability, the burden on one's spouse and family can be lessened. The assets on which you planned on depending have a level of protection—and may be protected for inheritance.
The considerations for long term care are not only about the care itself, but about your family, loved ones and heirs.
For more information visit http://www.davidlerner.com
* US Department of Health and Human Services study