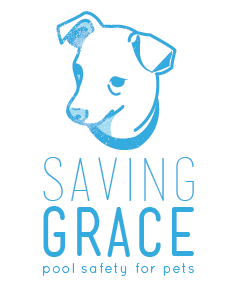 PHOENIX (March 2012) – Phoenix-based advertising and graphic design agency, Davidson & Belluso has helped launch a new website for a local cause, Pool Safety for Pets.

When Scottsdale resident Ashlee Cain lost her pet Chihuahua Grace to a pool drowning, she took action to help prevent others from having to deal with her same loss by creating Saving Grace: Pool Safety for Pets followed by the launch of her new website www.poolsafetyforpets.org, complete with resources about how to keep pets safe around water.

"After Grace died I did some research and I found there is little information about pool safety for pets. I realized very few people are even aware that it's possible for dogs to drown. I couldn't just standby and let something like this happen to another loving pet owner," Cain said. "That's when I decided to take action to spread the word about pool safety for pets at local animal expos and events."

That's when Davidson & Belluso owners Rob and Michela Davidson reached out to Cain, offering the company's services pro-bono for the organization's logo and website development.

Davidson & Belluso created a brand new logo with the likes of Cain's pet Grace and constructed a website. This is not the first time Davidson & Belluso have helped the lives of community animals. Rob and Michela have a rescue Chihuahua and Michela is a board member on the Friends of Animal Care and Control, whose main mission is to promote spay/neuter to reduce the number of homeless pets and end euthanasia of adoptable animals.

"I'm so appreciative of what Rob and Michela have done for Pool Safety for Pets. Their services have helped me to improve credibility and as a result, I've been able to reach and educate thousands of people in the community about how to keep their pets safe around water," Cain said.
To learn how you can keep your pets safe around water go to www.poolsafetyforpets.org.
ABOUT DAVIDSON & BELLUSO
Davidson & Belluso is an advertising and graphic design agency founded in 2001 by husband-and-wife team, Rob Davidson and Michela Belluso. Their creative shop provides the capabilities of a large agency and the personal attention and dedication of an in-house design team. The company operates under the motto, "We listen. We make it happen."

For 10 years, Davidson & Belluso has proudly supplied award-winning advertising and graphic design, website design and development, branding and marketing services to a variety of clients in the public, private and non-profit sectors. Their experience includes working with entities such as Phoenix Sky Harbor International Airport, Arts & Business Council of Greater Phoenix, Childhelp and the City of Phoenix. For more information visit Davidson & Belluso's website.

Join Davidson & Belluso's Networks:
Facebook
LinkedIn
Twitter

###