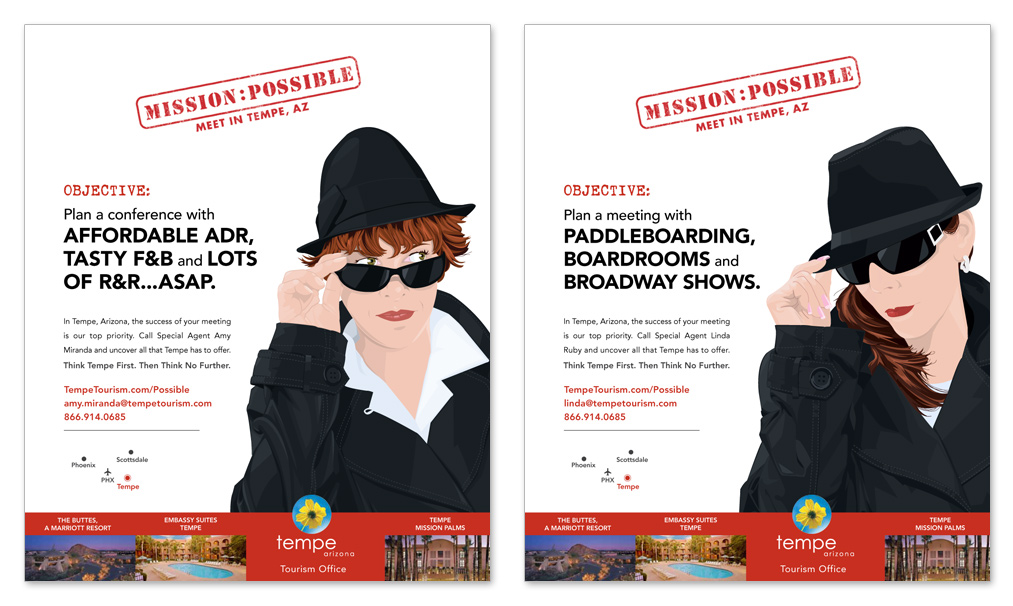 PHOENIX (February 2012)—Davidson & Belluso Advertising and Graphic Design has launched phase two of the advertising campaign for the Tempe Tourism Office, promoting Tempe as the ideal destination for meetings and conferences.
Davidson & Belluso has developed two different national advertisement campaigns for the Tempe Tourism Office; one that promotes Tempe as a leisure destination and a second that reaches out to meeting planners to select Tempe for their next event.

For the meeting planner campaign, Davidson & Belluso features the Tempe Tourism Office as an invaluable asset in the meeting planning process. Inspired by the "Mission: Possible" concept used in previous years, the agency took the campaign to a whole new level. The creative features illustrations of the Tempe Tourism Office staff as top-notch special agents decked out in black suits and sunglasses ready to uncover all that Tempe has to offer. Bold and playful headlines highlight the many unique and unexpected benefits that allow meeting planners to "accomplish their mission" on time and on budget.

"The new creative designed by Davidson & Belluso has been fun to share with our meeting planners. They appreciate having "special agents" in Tempe, Arizona with all the information at our fingertips to help them find the best fit for their meetings," said Linda Ruby, director of sales.

The campaign targeting meeting planners spans across print and digital with media buys extending throughout the end of the year. To view samples of the new print campaign visit: http://www.davidsonbelluso.com/portfolio/advertising.
ABOUT DAVIDSON & BELLUSO
Davidson & Belluso is an advertising and graphic design agency founded in 2001 by husband-and-wife team, Rob Davidson and Michela Belluso. Their creative shop provides the capabilities of a large agency and the personal attention and dedication of an in-house design team. The company operates under the motto, "We listen. We make it happen."

For 10 years, Davidson & Belluso has proudly supplied award-winning advertising and graphic design, website design and development, branding and marketing services to a variety of clients in the public, private and non-profit sectors. Their experience includes working with entities such as Phoenix Sky Harbor International Airport, Arts & Business Council of Greater Phoenix, Childhelp and the City of Phoenix. For more information visit Davidson & Belluso's website.

Join Davidson & Belluso's Networks:
Facebook
LinkedIn
Twitter

###