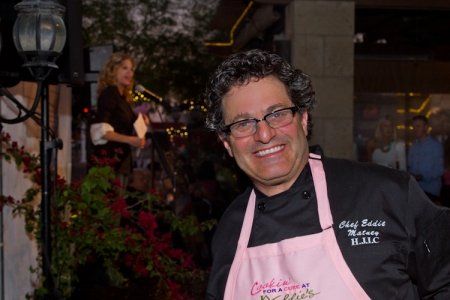 PHOENIX (April 2012) – The Marilyn B. Gula Mountains of Hope Foundation raised $70,000 for advanced breast cancer research at their charity event, Cookin' for a Cure at Eddie's House on Thursday, March 22. 100% of funds raised will be invested in advanced breast cancer research at Phoenix based, the TGen Foundation.

In addition to a great cause, the evening was packed with celebrity appeal and exquisite accommodations. Guests were greeted with pink martinis, Su Vino wines and an array of delicious hors d'oeuvre both passed and arranged at stations. The evening ended with appetizing desserts and Hava Java Coffee.

Emcee Tara Hitchcock greeted the attendees on a glowing stage set up on the patio of Eddie's House while owner and celebrity chef Eddie Matney fired up the grill beside her, cooking up some of his specialties and bantering with the captivating emcee.

The relaxed dining atmosphere even included a pasta bar, where cooks prepared pastas made-to-order, allowing for satiated stomachs before the bidding commenced.

The silent and live auctions in addition to the exclusive raffle prizes were the talk of the evening. Items included a vacation package to Sedona, Arizona Diamondbacks luxury suite for 18 and a Willy May's autographed baseball. One live auction item, dinner for 10 prepared by Chef Eddie Matney, took on special attention when celebrity guests Luis Gonzalez and Joe Garagiola promised to attend the event.

Guests walked away from the evening with priceless prizes in hand, gourmet food savored in their minds, photos with their favorite athletes (football player Ben Patrick, Diamondbacks player Justin Upton, World Series player Luis Gonzalez and baseball legend Joe Garagiola just to name a few) and most importantly the knowledge that they contributed to finding a cure for advanced breast cancer, a fight that the Mountains of Hope Foundation hopes to empower the TGen Foundation to continue to pursue.
____________________________________________________________
ABOUT THE MARILYN B. GULA MOUNTAINS OF HOPE FOUNDATION
The Marilyn B. Gula Mountains of Hope Foundation is a 501c(3) non-profit organization, established in 2003 by Marilyn Barry Gula, a native of Northeast Ohio, who was diagnosed with breast cancer in 1996. Although controlled by powerful drugs, the cancer continued to recur until the drugs were ineffective and she lost her battle with this insidious disease on July 26, 2006. As a result, the Mountains of Hope Foundation was renamed "The Marilyn B. Gula Mountains of Hope Foundation" to honor her memory and continue the work she began. Based in Phoenix, every dollar donated is applied directly to funding highly-regarded researchers across the nation who study advanced stages of breast cancer, with the hope of making inroads to improve the detection, treatment and management of this deadly disease. For more information, please visit www.MountainsofHopeFoundation.org .

ABOUT TGEN FOUNDATION
The Translational Genomics Research Institute (TGen) is a Phoenix, Arizona-based non-profit organization dedicated to conducting groundbreaking research with life changing results. Research at TGen is focused on helping patients with diseases such as cancer, neurological disorders and diabetes. TGen is on the cutting edge of translational research where investigators are able to unravel the genetic components of common and complex diseases. Working with collaborators in the scientific and medical communities, TGen believes it can make a substantial contribution to the efficiency and effectiveness of the translational process. TGen is affiliated with the Van Andel Research Institute in Grand Rapids, Michigan. For more information, visit www.TGen.org.

# # #