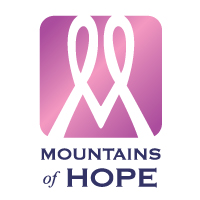 PHOENIX (July 2011)- Since the
Marilyn B. Gula Mountains of Hope Foundation's
inception in 2003, the Foundation has invested more than $1 million for advanced breast cancer research.
Marilyn B. Gula founded the Mountains of Hope Foundation eight years ago as a means to raise funds for advanced stage breast cancer, providing hope for women and their families who receive the dismal diagnosis. She lost her 10-year battle to breast cancer on July 26, 2006.
Marilyn's husband, co-founder and CEO of Mountains of Hope, Allen J. Gula, Jr. carried on his wife's legacy by renaming the organization in her honor and continuing her vision to "give every woman with Advanced Breast Cancer a fighting chance."
This year alone, the organization has invested $75,000 at Phoenix-based TGen and $60,000 at the University Hospitals Seidman Cancer Center in Ohio. The funds were raised at the fourth annual Golf for a Cure event at the Shaker Heights Country Club in Ohio and Cookin' for a Cure at Eddie's House in Scottsdale, respectively.
In total the organization has hosted 10 events in Arizona, Northern California and Ohio since they began the nonprofit in 2003. The Foundation has invested in Advanced Breast Cancer Projects at Memorial Sloan-Kettering in New York, UCSF in San Francisco along with TGen and University Hospitals. Al is not alone in his endeavor to find a cure for the terrible disease. He has had the overwhelming support of sponsors, donors, volunteers, committee members and friends to help achieve the organization's accomplishments.
"My heartfelt thanks to each person. The Foundation cannot accomplish its mission of investing in advanced breast cancer research without everyone's continued support. I'm extremely grateful," he said.
____________________________________________________________
ABOUT THE MARILYN B. GULA MOUNTAINS OF HOPE FOUNDATION
The Marilyn B. Gula Mountains of Hope Foundation is a 501c(3) non-profit organization, established in 2003 by Marilyn Barry Gula, a native of Northeast Ohio, who was diagnosed with breast cancer in 1996. Although controlled by powerful drugs, the cancer continued to recur until the drugs were ineffective and she lost her battle with this insidious disease on July 26, 2006. As a result, the Mountains of Hope Foundation was renamed "The Marilyn B. Gula Mountains of Hope Foundation" to honor her memory and continue the work she began. Based in Phoenix, every dollar donated is applied directly to funding highly-regarded researchers across the nation who study advanced stages of breast cancer, with the hope of making inroads to improve the detection, treatment and management of this deadly disease. For more information, please visit
www.MountainsofHopeFoundation.org
.
###