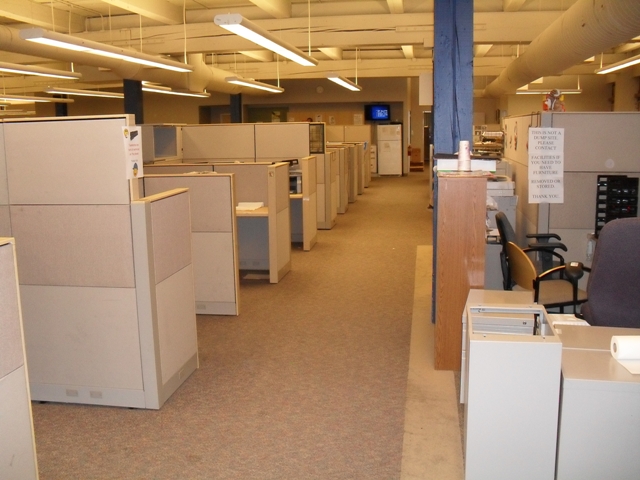 DaVita Inc.
(NYSE: DVA), a leading provider of kidney care services that is committed to improving the quality of life for those diagnosed with chronic kidney disease (CKD), announced that its
Tacoma
office was recently updated using innovative techniques and sustainable materials.
The building, located at 1423 Pacific Avenue in Tacoma, was in need of improvements and DaVita® wanted all teammates to work in a bright and inviting workspace. With a tenant improvement budget provided from the building owners, teammates began improvements in the tower that included 560 workstations.
"The office has glass on three sides of the building and teammates were eager to move toward bright workstations instead of the outdated gray cubicles," said Ana Grover-Barnes, administrative services and facilities manager for DaVita's Tacoma business office. "We didn't have a large enough budget to buy new furniture, so we found some creative solutions."
Clinton Bell of Bell & Associates advised
DaVita
on the remodel. Not allowing budget constraints to derail the vision,
DaVita
reduced the height of the workstations and reupholstered them in bright colors. As a result, more natural light is allowed into each work space. Increasing natural light in the workplace has been shown to reduce eyestrain, increase productivity and even decrease absenteeism.
Because DaVita decided to repurpose the work stations instead of buying all new furniture, this environmentally friendly office renovation saved more than 80 tons of waste from going to the landfill. "Teammates at the office love the updated space and are really proud of the way we went about, with the environment in mind," said Grover-Barnes.
DaVita is a registered trademark of DaVita Inc. All other trademarks are the property of their respective owners.
About DaVita
DaVita Inc., a Fortune 500® company, is a leading provider of kidney care in the United States, delivering dialysis services to patients with chronic kidney failure and end stage renal disease. DaVita strives to improve patients' quality of life by innovating clinical care, and by offering integrated treatment plans, personalized care teams and convenient health-management services. As of March 31, 2012, DaVita operated or provided administrative services at 1,841 outpatient dialysis centers located in the United States serving approximately 145,000 patients. The company also operated 15 outpatient dialysis centers located in three countries outside the United States. DaVita supports numerous programs dedicated to creating positive, sustainable change in communities around the world. The company's leadership development initiatives and social responsibility efforts have been recognized by Fortune, Modern Healthcare, Newsweek and WorldBlu. For more information, please visit
www.davita.com
.