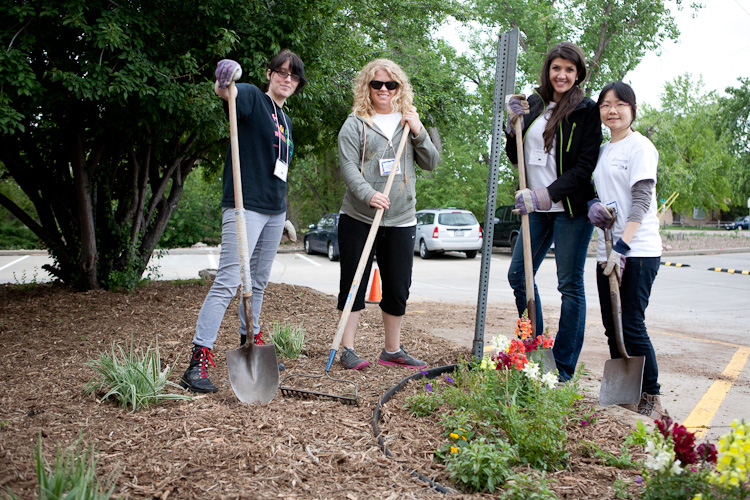 DENVER (June 20, 2012) – DaVita Inc. (NYSE: DVA), a leading provider of kidney care services that is committed to improving the quality of life for those diagnosed with chronic kidney disease (CKD), recently announced DaVita teammates participated in a
Village Service Day
benefitting five Denver-area nonprofits. DaVita's Village Service Day was a part of the 7th Annual "Community Day," a high-profile volunteer event hosted by Denver-based
Concerts for Kids
to benefit children in the Denver community.
DaVita's 70 volunteers separated into teams to tackle an array of specific projects. Their volunteer service included maintenance projects, cleaning, picking up trash, facility painting, landscaping, and more. DaVita was proud to volunteer for:
•
Children's Outreach Center
•
Project Pave
•
Providence Network
•
Tennyson Center for Children
•
Sun Valley Youth Center
DaVita and Village Vitality are trademarks or registered trademarks of DaVita Inc. All other trademarks are the property of their respective owners.
About DaVita
DaVita Inc., a Fortune 500® company, is a leading provider of kidney care in the United States, delivering dialysis services to patients with chronic kidney failure and end stage renal disease. DaVita strives to improve patients' quality of life by innovating clinical care, and by offering integrated treatment plans, personalized care teams and convenient health-management services. As of March 31, 2012, DaVita operated or provided administrative services at 1,841 outpatient dialysis centers located in the United States serving approximately 145,000 patients. The company also operated 15 outpatient dialysis centers located in three countries outside the United States. DaVita supports numerous programs dedicated to creating positive, sustainable change in communities around the world. The company's leadership development initiatives and social responsibility efforts have been recognized by Fortune, Modern Healthcare, Newsweek and WorldBlu. For more information, please visit www.davita.com.