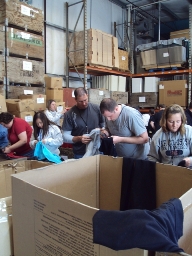 DaVita teammates help sort clothing as a part of a recent Village Service Day.

DaVita teammates help sort clothing as a part of a recent Village Service Day.
BOISE, Idaho. (Dec. 21, 2011) – DaVita Inc. (NYSE: DVA), a leading provider of kidney care services committed to improving the quality of life for those diagnosed with chronic kidney disease (CKD), announced that DaVita's teammates (employees) partnered with the Idaho Youth Ranch and United Way of Treasure Valley to perform a Village Service Day in Boise, Idaho.
More than 100 DaVita® teammates who had gathered for a divisional meeting decided to spend a day volunteering for service projects in the Boise community. Through coordination with the United Way, teammates were sent to a Boise food bank, the Easter Seals Goodwill and the Idaho Youth Ranch (IYR).
"The generosity of DaVita's volunteers in partnering with the Idaho Youth Ranch to rescue children who face dangerous situations in our community is sincerely appreciated," said Stacey Moody, IYR's Business Contributions Representative.
DaVita teammates and volunteers from the United Way spent their day rejuvenating the food bank garden and bagging food, as well as cleaning, sorting clothes and preparing merchandise for display at Easter Seals Goodwill. They also designed holiday end-cap displays, disposed of old inventory, and priced and sorted clothing. At the Idaho Youth Ranch distribution center, volunteers sorted, priced and categorized more than 2,200 pieces of clothing for display in Idaho.
"It is an honor to work for a company such as DaVita, a company that believes in supporting its communities enough to allow us the opportunity to serve in a capacity that is meaningful and useful," said DaVita Market Liaison Gina Safford, RN. "The day we spent working at our assorted Boise community thrift stores and food banks was fulfilling, rewarding, and fun; thank you DaVita!"
The Idaho Youth Ranch operates residential treatment homes in Idaho for at-risk children and also provides family counseling and adoption services. Revenue from IYR Thrift Stores partially funds the homes, programs and services. "We're looking forward to working again with DaVita volunteers, who have kindly offered to help in some of our 27 thrift stores," Moody added.
DaVita is a registered trademark of DaVita Inc. All other trademarks are the property of their respective owners.
About DaVita
DaVita Inc., a Fortune 500® company, is a leading provider of kidney care in the United States, delivering dialysis services to patients with chronic kidney failure and end stage renal disease. DaVita strives to improve patients' quality of life by innovating clinical care, and by offering integrated treatment plans, personalized care teams and convenient health-management services. As of September 30, 2011, DaVita operated or provided administrative services at 1,777 dialysis facilities, serving approximately 138,000 patients. DaVita supports numerous programs dedicated to creating positive, sustainable change in communities around the world. The company's leadership development initiatives and social responsibility efforts have been recognized by Fortune, Modern Healthcare, Newsweek and WorldBlu. For more information, please visit www.davita.com.