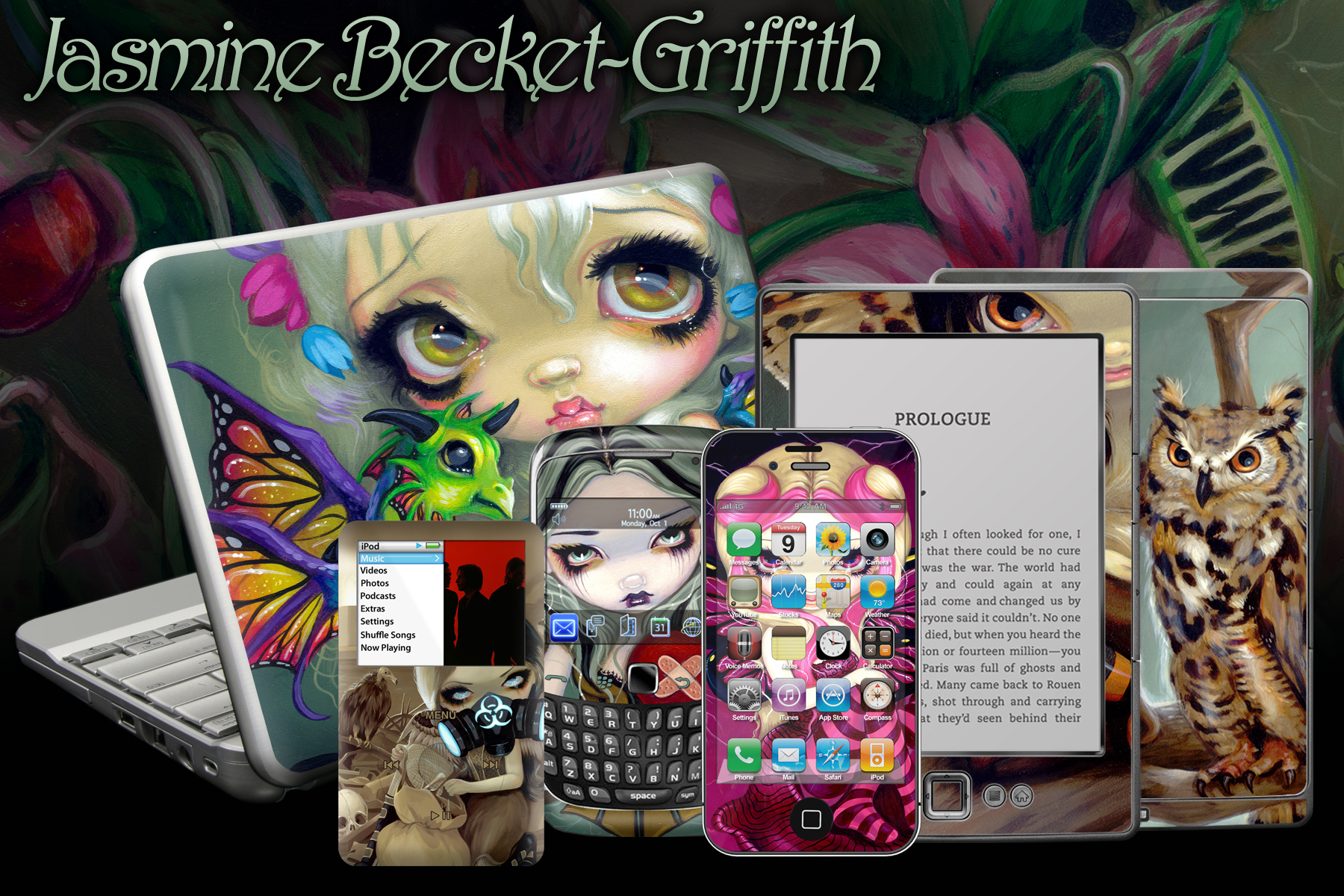 DecalGirl – the first American-based manufacturer of premium, full-color cast vinyl electronic device skins – is thrilled to announce it has signed acclaimed fairy and fantasy artist Jasmine Becket-Griffith, also known by her pen name, "Strangeling."
The artist's original paintings are highly sought after by art collectors around the world, and they have been featured in books, on movie sets, and in reputable art galleries, including at the POP Gallery in Disney World. For the first time ever, her widely recognized art is now available as skins for electronic devices exclusively at www.decalgirl.com.
The premier Fairy collection consists of 10 skin designs based on some of artist's most famous paintings, including "Alice & Snow White," "Alice Clockwork," "Pink Lightning," "Carnivorous Bouquet," and "Scavengers." Starting at $9.99 MSRP for a cell phone skin and available for the more than 500 devices in the DecalGirl library, devout Strangeling fans can have one of her enchanting fairies with them wherever they go.
"I hope my artwork brings a little magic to this often mundane world," mused Jasmine. "With DecalGirl we can enchant the gadget world!"
Says Amanda Peters, COO of DecalGirl, "We are thrilled to have Jasmine join our artist collaborative. Her work is mysterious and spellbinding. Her work looks beautiful on our skins – her fans will be captivated!"
Located in the small town of Milton, Delaware, DecalGirl skins are designed and manufactured in the USA by American workers from top quality American materials. DecalGirl proudly offers the best skins at the best prices on the web. The company receives accolades from consumers about the integrity of their skins and their crisp, creative graphics. With thousands of designs in a range of styles and colors, DecalGirl is sure to have a skin that will please just about anyone!
High-resolution, fine art digital graphics are printed directly onto high-performance cast vinyl film and sealed with a UV, fade resistant matte or gloss enamel finish for added durability. DecalGirl skins are removed easily because of their patented adhesive backing, which doesn't leave behind any sticky goo or residue. Thin and durable – DecalGirl skins fit precisely and tightly on the surface and will last for years … or until the consumer swaps out to another design.
* * *
ABOUT DECALGIRL
The original skin company since 2003, DecalGirl has covered millions of personal electronic devices with their premium, die-cut, removable, full-color skins. DecalGirl offers the best quality at the best price. With the hottest designs for just about every gadget out there, including cell phones, laptops, tablets, media players, E-Readers, and gaming devices and accessories, DecalGirl has virtually skinned the globe.