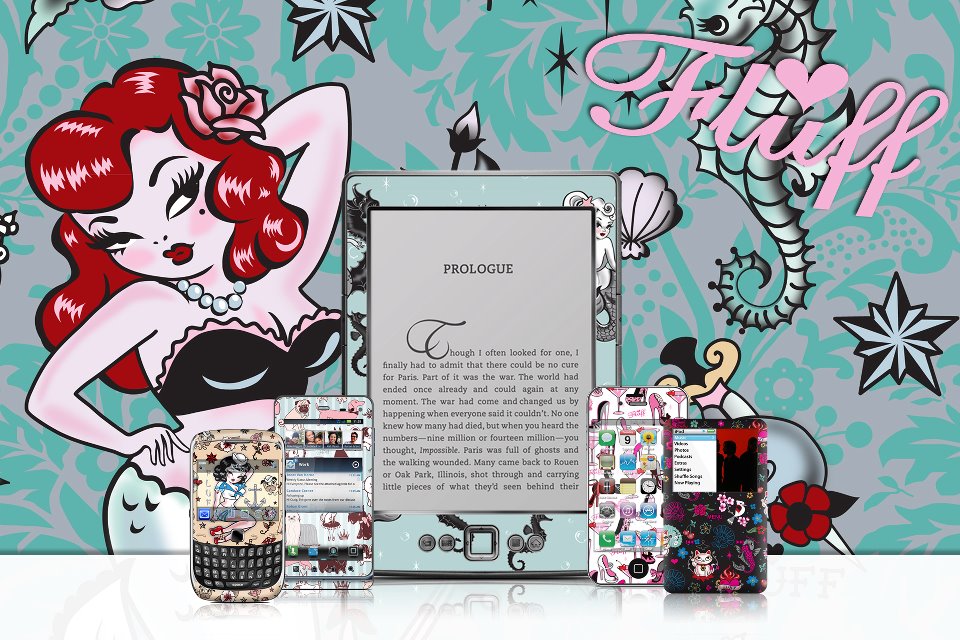 DecalGirl, the original manufacturer of premium, full-color, cast vinyl skins for electronic devices, has announced today it has signed Los Angeles-based brand "Fluff" by artist Claudette Barjoud. Fluff designs will be available for the more than 500 electronic devices in the DecalGirl library directly on www.decalgirl.com, starting at $9.99 MSRP for a cell phone skin.
"Claudette Barjoud's kitschy, Pinup girl-inspired art is fresh, fun, and sassy," says Linda Castillon, SVP of Licensing for DecalGirl. "We discovered her products while several of us were window-shopping after a tradeshow in Las Vegas. We just loved her work and contacted her right then and there to sign her up."
"My mission with Fluff is to inspire spontaneous, happy feelings, using the power of vintage-inspired 'girly glamour'," states Barjoud. "I am so excited to be working with DecalGirl. Fluff skins will make anyone's devices delightfully fluffy and cute."
Located in the small town of Milton, Delaware, DecalGirl is proudly and completely made in the USA, from its' top-quality vinyl, to the design and development, and production, sales, and distribution. The skins giant embraces its small town America roots, and is thrilled to be working with another acclaimed American fashion company like Fluff.
Fluff products and accessories have been featured in Cosmopolitan, Teen People, and Life & Style. Fluff skins by DecalGirl rock with sassy style, taking that naked gadget and transforming it into a true fashion accessory.
DecalGirl offers the best skins at the best price on the web. The company receives accolades from consumers about the integrity of their skins and their crisp, creative graphics. With thousands of designs in a range of styles and colors, DecalGirl is sure to have a skin that will please just about anyone!
High-resolution, fine art digital graphics are printed directly onto high-performance cast vinyl and sealed with a UV, fade-resistant matte or gloss enamel finish for added durability. DecalGirl skins are removed easily because of their patented adhesive backing, which doesn't leave behind any sticky goo or residue. Thin and durable – DecalGirl skins fit precisely and tightly on the surface and will last for years … or until the consumer swaps out to another design.