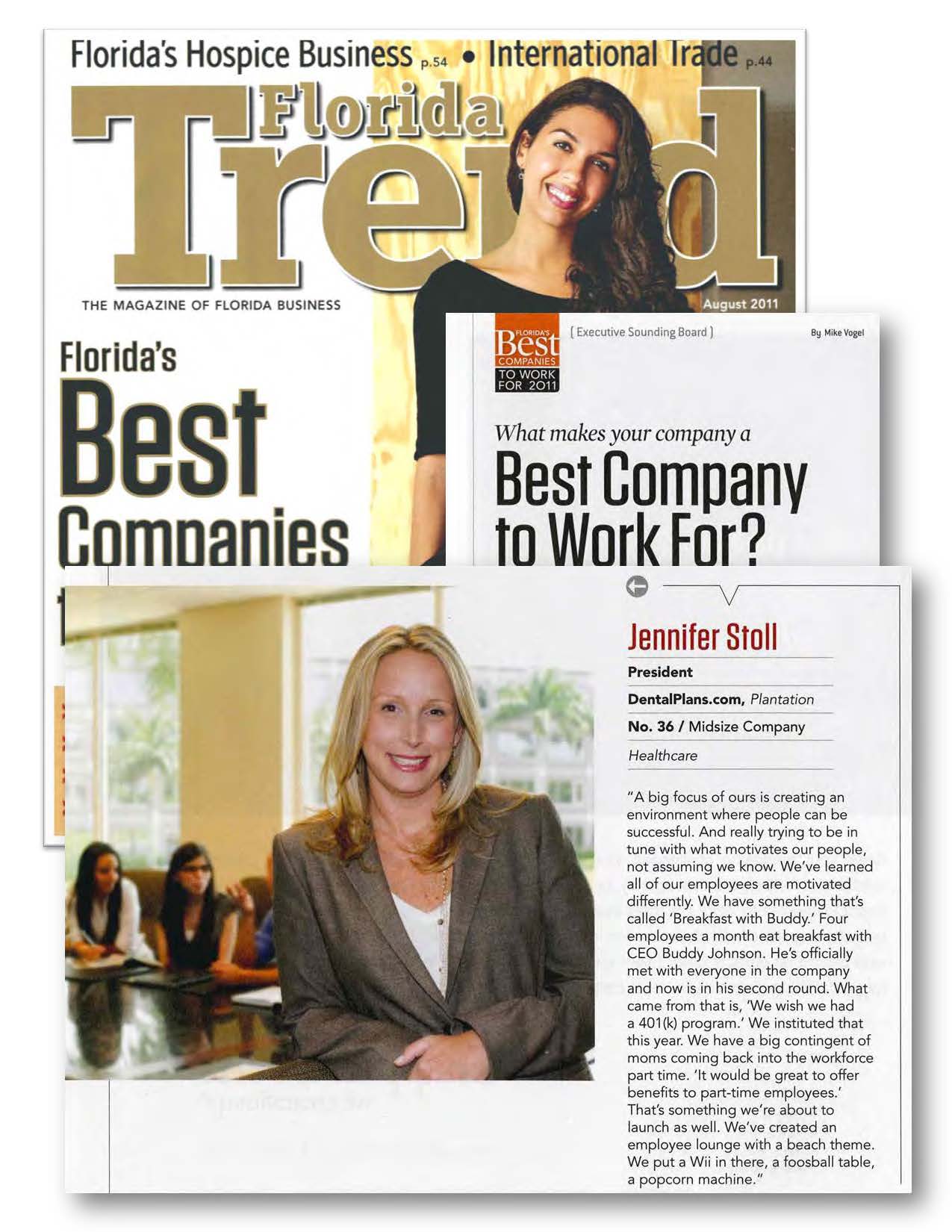 DentalPlans.com was recently named one of Florida's Best Companies To Work For by Florida Trend Magazine.

A total of 100 companies were recognized in small, midsized and large categories. The rankings-the third annual statewide Best Companies list-appear in the August issue of Florida Trend and on FloridaTrend.com.

With more than 120 employees, DentalPlans.com was ranked as one of the best midsize companies to work for in Florida. The issue also features DentalPlans.com President, Jennifer Stoll, in an article with several prominent Florida executives sharing their thoughts on what makes a company a great place to work.

As quoted in Florida Trend's "Executive Sounding Board" article, Stoll said, "A big focus of ours is creating an environment where people can be successful. And really trying to be in tune with what motivates our people."

"One strong theme in this month's Best Companies coverage is how companies keep good employees. We highlight companies that take sophisticated, enlightened approaches to training, communicate the company's values clearly, and listen to employees as they try to improve the workplace and make the company more productive," says Mark Howard, executive editor.

The Best Companies To Work For in Florida program was created by Florida Trend and Best Companies Group, and endorsed by the HR Florida State Council. To be considered for participation, companies or government entities had to employ at least 15 workers in Florida and be at least a year old.

Companies that chose to participate in the Best Companies To Work For in Florida process underwent a two-part survey. The first part consisted of evaluating each company's workplace policies, practices, philosophy, systems and demographics. The second part consisted of an employee survey to measure employee satisfaction.

The combined scores determined the top companies and the final ranking. Best Companies Group managed the overall registration, survey and analysis process, and determined the final rankings. Companies were not required to pay a participation fee to go through the online assessment process.

For a complete list of the 100 Best Companies to Work For in Florida, go to www.FloridaTrend.com/Best_Companies.asp.

About DentalPlans.com
DentalPlans.com (www.DentalPlans.com) is making quality dental care affordable nationwide. The company allows students, seniors, parents, families and businesses to compare the best dental savings plans in their area online and find one that fits their unique dental care needs. Through DentalPlans.com, people have easy access to savings at the dentist, and an easy-to-use alternative to dental insurance.