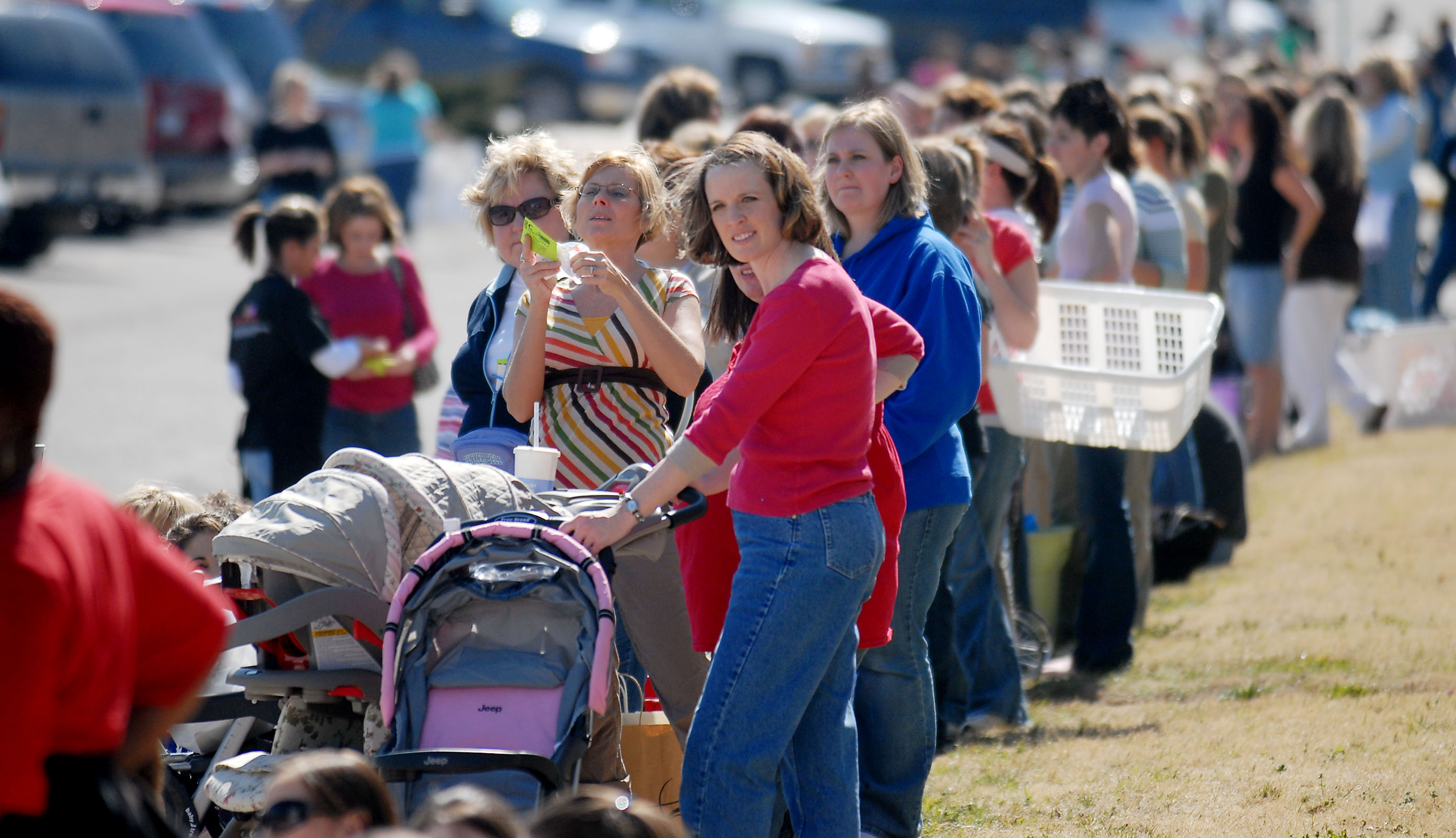 Tulsa, Okla. - Just Between Friends of Tulsa is kicking off its big Fall-Back-to-School Consignment Event this weekend, Aug. 21 - 27 at the Exchange Center at Expo Square.

Shoppers typically save between 50 to 90 percent on everything they need to raise a family: clothes for infants, children, teens and expectant mothers; baby equipment; baby and kids' furniture; DVDs, games, books and toys; along with boutique items and much more.

Just Between Friends also helps families turn their leftover children's items into cash by selling new and gently used items their family has outgrown or no longer uses.

Consignors price their own items using an easy, online bar code system. They earn 65 percent of the sale price or, if they volunteer at the event, 70 percent of the sale price.

What: Just Between Friends of Tulsa Fall & Winter sales event
When: Sunday, Aug. 21 - Saturday, Aug. 27
Where: Exchange Center at Expo Square
Admission: $5 on Sunday, Aug. 21 Note: all other days are free admission

This year, JBF has new guidelines for cribs following the new Consumer Product Safety Commission's Crib Regulations for selling and donating cribs, which went into effect on June 28. All cribs made before July 23, 2010 will no longer eligible for sale. Cribs manufactured between July 23, 2010 and June 28 of this year requires certificates of compliance from the manufacturers and retailers before they are eligible for re-sale. Any cribs manufactured after June 28, 2011 are eligible for sale/re-sale/donation.

Just Between Friends is also enforcing a new safety rule concerning drawstrings on children's outerwear due to injuries and deaths involving the drawstrings getting stuck in doors, on playground equipment and cribs. The CSPC recommends that any drawstring on outerwear, such as a sweatshirt or jacket be removed in clothing up to size 16. For pants and shorts, it is recommended that the drawstring is sewn to the garment and be no longer than 3 inches long. Just Between Friends recommends that parents remove the drawstrings before allowing their children to wear the clothing or for it to be sold at JBF.

All consignors and JBF Tulsa only offer merchandise that is Consumer Product Safety Commission compliant. JBF is committed to not only making the event a great opportunity to make money and save money, but also an event where moms can shop with peace of mind. Families will find new and gently used children's and maternity items at deep discounts at the upcoming consignment event, which begins this Sunday, Aug. 21.

JBF of Tulsa provides moms with convenience because bargain shopping is in one location. Instead of running from store to store or garage sale to garage sale, the JBF sales event has everything under one roof and saving money on items for fall and back to school couldn't be easier.

JBF Tulsa continues friendship with community
Just Between Friends is comprised of moms and dads who live, work and raise their families in the greater Tulsa metro area. As a concerned and active member of that community, JBF Tulsa donates a portion of their proceeds from each sale to Emergency Infant Services. Consignors can also donate unsold items to EIS and Catholic Charities.

Owners Daven and Paul (Mr. JBF) Tackett are parents who know first-hand how expensive it is to raise a family. They work to bring Tulsa shoppers the best bargains. Daven and Paul are available for interviews as are families who benefit from Just Between Friends. Contact Diane White at 918-770-3905 for more information or to schedule an interview.

About Just Between Friends

In 1997, Just Between Friends was created in a living room in Tulsa, Okla. when two young moms, Daven Tackett and Shannon Wilburn hosted their first consignment sale, while inviting 17 friends from church to be consigners. Promoted only in their neighborhood with hand painted signs, the gross sales reached approximately $2,000. Soon after, the idea caught on and each season, a new, larger event was held.

In 2003, Tackett and Wilburn formed Just Between Friends Franchise Systems, Inc., and began developing and selling franchises. Currently, Just Between Friends Franchise Systems, Inc., has 112 franchises in 22 states. JBF has received national attention on several national television shows including ABC News, Good Morning America, CNN, Headline News, Inside Edition and CNBC's The Big Idea. They have also been featured in The Seattle Times, St. Louis Post Dispatch, Sacramento Bee, LA Times, The Tulsa World, Daily Oklahoman as well popular Websites such as sheknows.com and Disney's Website, family.com and broadcast outlets in dozens of cities across the country including Dallas, Houston, Minneapolis, Denver and Seattle.