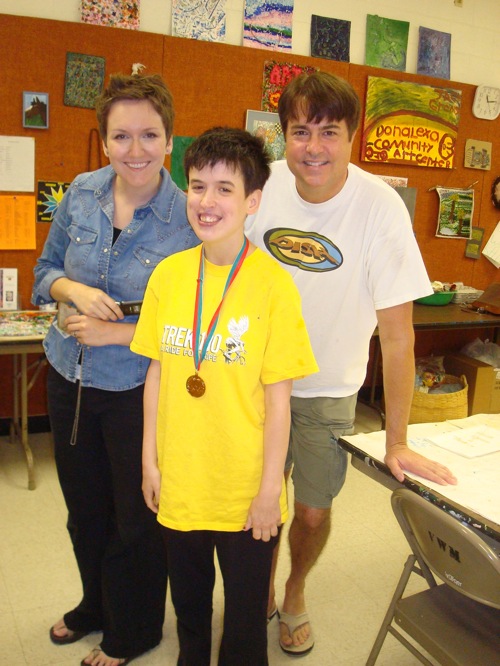 MILWAUKEE, WI (March 12, 2012) – A visit to the Donna Lexa Community Art Center West Milwaukee studio is a truly remarkable experience. Located in the basement of the West Milwaukee Community Center (47th Street & Greenfield Ave), the studio is bursting with colorful portraits, 3D sculptures and detailed drawings made by adults with disabilities. These students speak proudly of their artistic accomplishments and exude tremendous energy and excitement for art class each week.
Making art gives these adults a great sense of pride, accomplishment and independence. Art classes are intimate and affordable, taught by caring, professionally trained art therapists and teachers. The benefits of art class extend far beyond beautiful pieces to bring home. Art class lifts spirits, engages camaraderie and allows interaction with other creative minds.
Donna Lexa Community Art Center (with locations in Waukesha, West Bend and West Milwaukee) brings fine art classes to more than 1,000 people with physical disabilities and other health conditions. The West Milwaukee Center is growing from 2 classes per week to 6 classes, opening up opportunities for students to attend multiple classes and welcoming several new students to join.
Art instructor Kurt Meinke (who is a brain injury survivor himself) says, "Creating art allows us to free our minds of our disabilities and turns our energy into abilities." He adds, "The goal of the program is to awaken each student's unique creative potential, enhance the quality of their lives, and promote feelings of accomplishment and self-worth."
Kurt and the other instructors offer one-on-one instruction to students and an opportunity to discover the joy of creativity. This creative energy spreads among students and into other aspects of their lives. Kurt has seen students demonstrate unbelievable progress both artistically and personally, citing, "Many new students are making art for the first time in their lives and have discovered a whole new passion for life."
If you, or someone you know or care for, is interested in attending art classes, visit: www.donnalexa.org or call 262-521-2292 for registration information.
The Donna Lexa Community Art Centers, including the West Milwaukee studio, offer art classes to adults with disabilities. Challenges may be due to cognitive, physical, or developmental disability resulting from age, illness, disease, accident or natural causes. The program encourages the exploration of many types of artistic media and focuses on the individual interests and abilities of the artists. For more information about Donna Lexa Community Art Centers, visit: www.donnalexa.org or call: 262-521-2292.