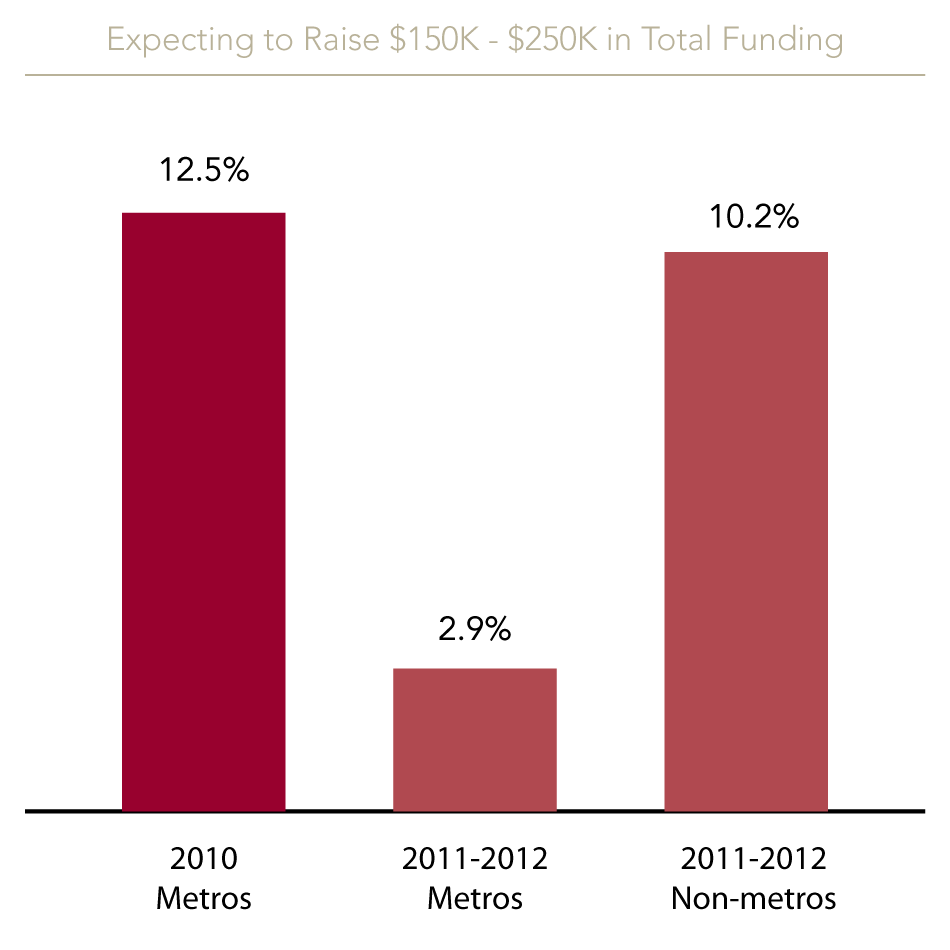 Survey Overview
The Palo Alto office of Dorsey & Whitney embarked on their second market survey of startup CEOs to gauge their perspectives around funding. Administered over a 3-month period, there were a total of 336 respondents.
Titled "Calling all CEOs: 2011/2012 Fundraising Survey," the report explores what matters most to entrepreneurs in their selection of investors, and draws comparisons and explores changes that have taken place since Dorsey conducted its first startup CEO survey in 2010.
This survey gauges the perspective of early-stage entrepreneurs primarily in the consumer Internet space, mobile or cloud computing/SaaS. Respondents were sourced from Dorsey & Whitney's internal contact lists that include clients and other contacts, as well as readers of technology blogs VentureBeat and Mashable.
Respondents
All respondents were planning to raise funds within the next 12 months or had completed a funding round in the past 12 months. Survey respondents were either CEOs or founders/co-founders from a range of technology sectors, spanning IT infrastructure, software, gaming, life sciences/biotech, and green tech/energy.
The survey results identify respondents in two primary categories: startups located within the San Francisco Bay Area/Silicon Valley and other specified major metro areas ("Metros"), and startups located in other US locations or abroad ("Non-Metros").
Sources of Funding
While today's entrepreneurs have a broad choice of investors, Dorsey's survey and investor rankings reveal that the pendulum is swinging back toward embracing traditional VCs in lieu of other options. The data from this survey represents a snapshot of the startup funding environment immediately prior to the JOBS Act, which allows unaccredited crowdfunding and solicitation for accredited investor financing rounds.
Survey data suggests the emergence of angels, super angels, accelerators and incubators as an escalator to institutional VCs and larger funding rounds, and provides an early positive indication of how the JOBS Act will impact the startup funding environment.
Investors Top-of-Mind with Startup CEOs New to this survey, startup CEOs also weighed in on their top 3 preferred investor choices. Although startup CEOs could have selected any type of investor, they more often identified traditional VC firms as their funding preference. Coming in first place for the metro group was new kid on the VC block
Andreessen Horowitz; Sequoia Capital came in second place, and Kleiner Perkins Caufield Byers ranked third. For the Non-Metros, Sequoia Capital received the most write-ins to nab first place, with Andreessen Horowitz ranking second, and Google Ventures placing third.
Greater Availability of Capital to Startups
Survey data indicates that funds are more readily available to Metro startups now than in 2010. For example, 36.3% of the Metros and 33.9% of the Non-Metros completed a round of funding in the past 12 months as compared to 28.8% in 2010. There also appears to be a trend since 2010 towards fewer small rounds and the increased prevalence of large rounds:
The percentage of CEOs who raised less than $500,000 in total funding dropped to 62.8% overall from 75.8% in 2010.
CEOs expecting to raise $150,000 - $250,000 in their next round dropped from 12.5% in 2010 to 2.9% for the Metros and 10.2% for the Non-Metros.
CEOs who raised between $1-5M in total funding rose from 10.2% in 2010 to 15.8% overall.
In 2010, only 1% of startups reported raising $15 million or more in the prior 12 months, whereas 7.5% of today's Metros and 2.5% of Non-Metros completed a round in this larger range.
Startups expecting to raise future rounds between $1-5M increased from 23.2% in 2010 to approximately 30% for both Metros and Non-Metros.
Regional Differences Reflect Mixed Outlook Among Incubators, Angels and Super Angels
Along with the increased clout of traditional VC firms, the data shows a mixed picture on a regional basis for incubators, angels and super angels. Metros tend to access incubators for early, but not subsequent, rounds, while the opposite is true of Non-Metros. For example, the use of incubators in previous rounds rose to 15% in Metros and dropped to 5% in Non-Metros, compared to 8.6% in 2010.
The use of angels and super angels was also mixed. Fewer startups across the board (52.5%) received prior funding from angels compared to 2010 (59%), and angel funding anticipated for a future round also dropped overall. In turn, super angel funding appears less prevalent for the Non-Metros. Whereas metro CEOs receiving super angel funding for a prior round stayed the same as 2010 levels (approximately 12%), it dropped to 7.5% for Non-Metros.
Startup CEOs Still Weigh Other Criteria
As in 2010, the overwhelming majority of CEO/founder respondents consider valuation, dilution, liquidation preferences, and board control to be important in completing a deal.
On the other hand, the following factors were found to be relatively unimportant:
Approximately 88% of startup CEOs felt that selecting an investor based on having raised funds with them before was "somewhat important" to "not important".
The importance of existing relationships with investors decreased overall since 2010 as a factor in selecting an investor. Approximately 81% of today's Metros ranked an existing relationship as "somewhat important" to "not important" compared to 75.4% of 2010 respondents.
One new criteria introduced in this survey asked startup CEOs/founders whether it was important that the investor is agreeable to allowing founders to take money (ie: founder's liquidity) from the round. However, approximately 72% of startup CEOs felt that this was "somewhat important" to "not important".
Dorsey & Whitney
Clients have relied on Dorsey since 1912 as a valued business partner. With more than 600 lawyers in 19 locations in the United States, Canada, Europe and the Asia-Pacific region, Dorsey provides an integrated, proactive approach to its clients' legal and business needs. Dorsey represents a number of the world's most successful companies from a wide range of industries, including leaders in the technology, life sciences, financial services, and energy sectors, as well as major non-profit and government entities. Its Palo Alto office has a strong focus on technology-based startups and venture capital, and Dorsey is one of only 15 law firms recommended by the National Venture Capital Association. Interested parties may obtain more information by visiting http://www.dorsey.com/.
Dorsey & Whitney Palo Alto
Dorsey & Whitney's Palo Alto office has a strong focus on technology-based startups and venture capital.Partner Ted Hollifield specializes in corporate and securities law with an emphasis on representing emerging growth companies, venture capital financings, public equity and debt offerings, as well as mergers and acquisitions.
Ted Hollifield, Venture Capital Practice Partner
Ted leads the corporate practice group in Dorsey's Palo Alto office, which specializes in the representation of clients at the intersection of business and technology. Ted's transactional practice encompasses public equity and debt offerings, venture capital financings, mergers and acquisitions, and general representation of emerging growth companies. His clients include established public corporations and private, venture-backed companies, and he has substantial experience representing clients in the Internet, mobile, software, telecommunications, and semiconductor sectors. In addition, Ted serves as a mentor to Stanford's StartX accelerator and the Thiel Foundation where he's been recognized for his expertise in helping entrepreneurs and high growth companies to achieve superior fundraising and M&A outcomes. Interested parties can reach Ted at hollifield.ted@dorsey.com and can follow him via Twitter at @TechStartupLaw.
© 2012 Dorsey & Whitney LLP
305 Lytton Avenue
Palo Alto, CA 94301
(650) 857-1717
www.dorsey.com