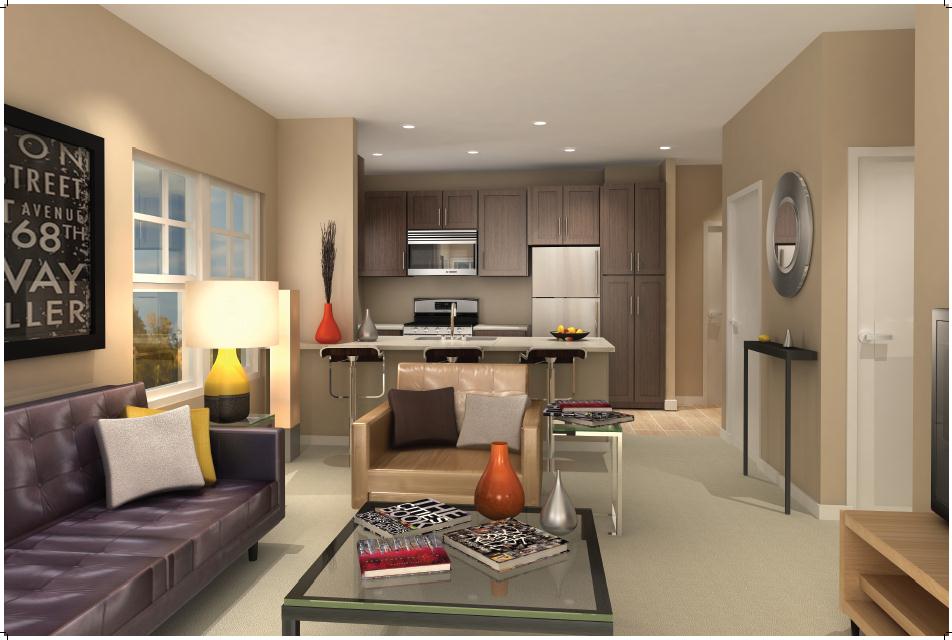 NEWPORT NEWS, VA (February 20, 2012) The apartments are the second phase in Jefferson Marketplace, which is already home to Five Guys, Firehouse Subs, Jason's Deli, Sweet Frog and other retailers. Radius Urban Apartments will have a mix of studio, one, two and three bedroom apartments ranging from 613 to 1313 square feet of space. Monthly rental rates are anticipated to be in line with the current market rates ranging from $1013 -$1950 per month.
Radius is slated to raise the bar of luxury living in Hampton Roads. The community will offer designer quality interior finishes, club caliber amenities, green living features and a central Peninsula location. "There are many people in different stages of their lives that would like to lease a place where they know that they have high-end finishes, like Kholer, inside their apartment. They also want a location where they can walk out their door and eat lunch; and will look forward to living in a community where they can actually use the amenities" says Tarra Carr, Drucker & Falk's Management Specialist. "We have been working with the owners and architects for years to make sure that the renters are getting the best product in the market. We looked at everything from the designs of the floor plans, to the location of interior trash chutes and made sure the residents have free interior bike storage". Community plans for Radius are said to include electric car charging stations, a year-round Saltwater pool, Billiards Media Lounge, Guest Suite as well as a resident Clubhouse & Catering Kitchen available for private use by the residents that live within the community.
"Drucker & Falk is very excited about being part of this trendsetting, eco-friendly opportunity in Hampton Roads," boasts Wendy Drucker, Managing Director. "At Radius Urban Apartments we are making the eco-conscience and green lifestyle luxurious and convenient for our residents. It is truly the wave of the future in the multi-family industry." Water efficient plumbing fixtures, Energy-Star Stainless Steel Appliances, Electric car charging stations and Low E glass windows, are also key components to the eco-friendly design.
The first apartments will be delivered in Spring of 2012. Leasing activity is underway with prospective renters touring the community with "hard hat" tours to select their new apartment. You can find more on this community by visiting RadiusApartments.com.