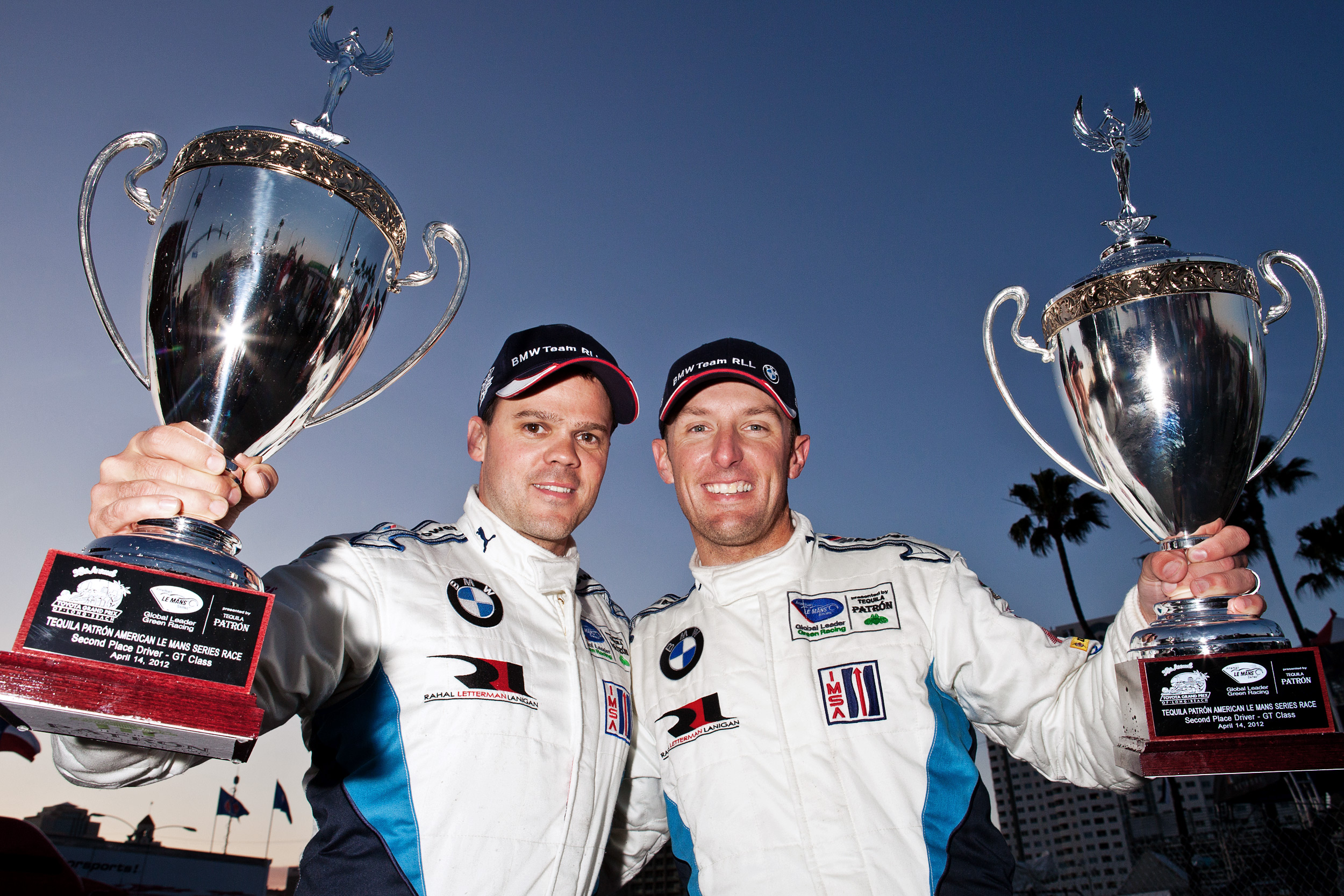 LONG BEACH, Calif., April 16, 2012 – For the second round of the 2012 American Le Mans Series (ALMS), BMW Team RLL once again used tire strategy to regain its race position, earning a second-place GT class finish for BMW and Dunlop during Saturday's race at Long Beach. Dunlop-equipped teams also rounded out the podiums in both the LMP1 and LMP2 prototype classes.
In the GT class, the No. 56 BMW M3 GT of Joey Hand and Dirk Mueller started the race from pole position and led for 16 laps until contact with a prototype punctured the car's right rear tire. After pitting for fuel and four new Dunlop tires, Hand returned to the race in seventh position. The day's only caution period brought him back to the pits on lap 41, where Team Principal Bobby Rahal made a bold strategic move to not change tires. The quick stop allowed Mueller to jump ahead the rest of the field in the pits, sending the No. 56 out in the lead.
"It's a great day for Dunlop," said Rahal. "We double-stinted the tires at Sebring and that's what got us the win. Here, we asked for the same thing. There was no question that we had to leap frog the field after being hit and having a flat tire. We didn't have enough to beat the No. 4 Corvette, but we held everyone else off. We'll take a well-deserved second place."
Hand also credited Dunlop for the duo's strong performance.
"We won the race at Sebring by double stinting tires and we placed here the same way," Hand said. "It says a lot to have that kind of confidence in a tire that not only has the performance, but it will also go the distance."
Teammates Bill Auberlen and Jörg Müller finished 11th in the No. 55 BMW M3 GT, after a first-lap accident forced Müller to the pits for lengthy repairs to replace the radiator.
Paul Miller Racing's Dunlop-shod Porsche 911 GT3 RSR of Bryce Miller and Sascha Maassen finished eighth in GT, after a pit lane speed violation led to a loss of position.
"I'm really pleased with the team," said Bryce Miller. "We're the only team in the field that has a new car and a new tire combination, so this is a challenge for us, and for the team to come out swinging and throw a setup on it like this with the conditions we've had the last couple days, I'm really pleased about it. Dunlop also gave us some good dry pressures on a tire combination that we hadn't run in the dry here as well on this car, so hats off to the crew and Dunlop for that."
The Paul Miller Racing team is eagerly awaiting the next ALMS race at Mazda Raceway Laguna Seca, which will see the debut of a new Porsche-specific Dunlop tire.
In the LMP1 (Le Mans Prototype) class, the pair of Dunlop-equipped Dyson Racing Lola-Mazdas finished second and third. The No. 16 car of Chris Dyson and Guy Smith started the race from pole position and led for 16 laps, but ultimately finished second.
"We led a good part of the race," said Smith. "This is only our second race with our new Lola Mazda coupe and we continue to find more speed."
Saturday's race was the debut of Dyson Racing's second LMP1 entry, the No. 20 Lola Mazda of Michael Marsal and Eric Lux, which rounded out the podium with a third place finish.
In LMP2, the Level 5 Motorsports No. 055 HPD ARX-03b of Christopher Bouchut and Scott Tucker rolled to victory on Dunlop tires, thanks to a fuel strategy which paid off in the final laps of the race. The Long Beach finish gave Level 5 its second consecutive ALMS victory, following a win in the series' first race at Sebring.
Although the LMP2 field is an open class for tire manufacturers, all entrants in Long Beach were competing on Dunlop tires.
The third round of the American Le Mans Series will take place on May 12, when teams will travel to Monterey, California to compete at the famed Mazda Raceway Laguna Seca.
About Dunlop
Dunlop is a global tire brand with an excellent reputation among performance car enthusiasts. Well known for its prestigious sports car racing heritage, many of the world's leading vehicle manufacturers—including Alfa Romeo, AMG, Audi, Bentley, BMW, Jaguar, Lexus, Mercedes-Benz and Porsche—come standard with Dunlop tires. For more information on Dunlop, visit www.dunloptires.com. Teams are sponsored in part by Dunlop Motorsport.