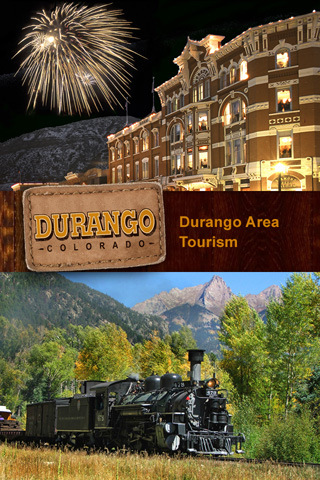 DURANGO, COLORADO
- Small and mobile! This southwestern Colorado city with a population of 17,000 has grasped the opportunities of smartphone technology and offers instant information accessibility to visitors. The
Durango Area Tourism Office
announces the launch of a free iPhone app
available to download now on iTunes
and the creation of a mobile site for
www.durango.org
.
"Our Durango mobile app is like a handheld visitor center," says John Cohen, Executive Director of the Durango Area Tourism Office. "It brings instant access to information on what to do, where to go and what to see. It's all at your fingertips right when you need it." The app is compatible with iPhone, iPod touch, and iPad and requires iOS 4.0 or later. It includes useful information on lodging, activities, attractions, calendar of events, attractions and everything you need to plan and enjoy your southwestern Colorado vacation. The app has location-aware GPS functionality that allows the user to map in where they are in proximity to where they want to go. Cohen sought instant information access for visitors to use when they arrived and were on the street. The app gives up-to-date information so that "they can wake up and see what to do, where to eat, what's going on."
GoMobiT research shows that by 2013 more people will access the web with mobile devices than personal computers. The creation of Durango's mobile website customized the already popular vacation planning site for smartphone applications. When a smartphone user logs on to
www.durango.org
, the website senses the smartphone and automatically redirects to the mobile site-
www.visitdurango.mobi
. The information is identical, however it is delivered in a format specifically for smartphones--that means the site is quicker and easier to use on a mobile unit.
Durango, Colorado is mobile, social and building its virtual presence. Durango launched the mobile website and iPhone app and has built a successful Facebook page:
www.facebook.com/VisitDurango
. Cohen continues to position Durango to keep up with the technology curve. "Our visitors are from all over the world and they were eager to utilize technology to make the most of their vacation," adds Cohen.
MobiManage specializes in the tourism industry and was chosen to create the visitdurango app. Having created over 100 apps for Convention and Visitor Bureaus across the USA, they had the expertise to meet the needs of the tourism market and create a functional, good looking and easy to navigate application.