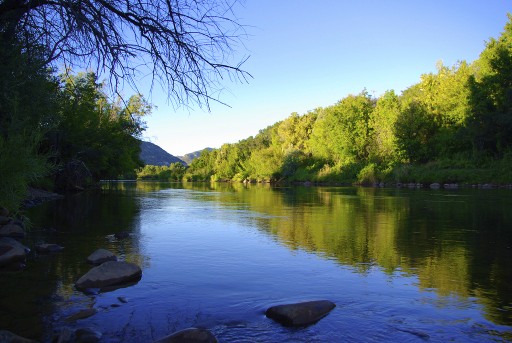 DURANGO, COLORADO
-- This summer take a mountain vacation in Southwestern Colorado. Nestled in the mountains in the Four Corners Region,
Durango
promises a Colorado mountain vacation filled with natural beauty, Mesa Verde National Park,
Durango & Silverton Narrow Gauge Railroad
, superb dining, galleries, zip lines, microbreweries, rafting, hiking, horseback riding, fishing, biking and other outdoor adventures. You'll find Durango's new attractions provide even more reasons to enjoy Southwestern Colorado. Start planning your trip at: www.durango.org
WHAT'S NEW FOR SUMMER 2012?
USA Pro Cycling Challenge chooses Durango as overall start of the 2012 race:
It All starts Here!
Referred to as "America's Race," the second annual
USA Pro Cycling Challenge
selected Durango as the overall start for the second annual stage race. After drawing more than 1 million spectators in its inaugural year, the 2012 race will return to Colorado from August 20-26, 2012, and will visit Durango as the start of Stage 1 on Monday, August 20. For seven consecutive days, the world's top athletes race through the majestic Rockies, reaching higher altitudes than they've ever had to endure – more than two miles in elevation. One of the largest cycling events in United States history, the 2012 USA Pro Cycling Challenge will feature the best of the best in professional cycling, competing on a challenging course through some of America's most beautiful scenery.
www.Durango2012.com
Durango Welcome Center
802 Main Avenue
Opening early June, the Downtown Welcome Center offers tourists and locals everything they need to know about the Durango area. The partnership between the
Durango Area Tourism Office
,
Fort Lewis College
and the
City of Durango
will be located at Main Ave. and 8th Street in the heart of Downtown Durango. The Welcome Center is designed as "THE" place to discover all that Durango has to offer – and it's a lot. It is the first visitor center of its kind in the region, offering ticket sales to various attractions such as the
Durango & Silverton Narrow Gauge Railroad
and the
Community Concert Hall
, plus information on Fort Lewis College, river, snow and outdoor activities, entertainment venues, restaurants, local events and more. The Durango Area Tourism Office at Santa Rita Park will remain open and offer RV parking, a dump station and basic information. www.Durango.org
Dinosaur Train
June 15, 16, 17, 2012
Jim Henson's Dinosaur Train™ comes to life when you will meet Buddy, the loveable and curious T. rex to celebrate the fascination that children have with both dinosaurs and trains! Enjoy this adventure-filled train ride based on the hit PBS Kids Television series, with music, stories, Nature Trackers Club guidebook and Nature Trackers Adventure Area. You'll find fossil dig sites, dinosaur tracking, temporary tattoo station, music and other outdoor activities.
Salute to America
July 4, 2012
Come join in the fun for all of the areas 4th of July Events. Starting with a breakfast and 5K at Rotary Park and ending with a Parade at 6PM and a street dance on Main Ave. and fireworks
Cocktails & Creations
858 Main Ave,
www.cocktailsandcreations.net
, 970-764-4296
A night of creativity and camaraderie--Cocktails & Creations is a fun night out with friends while creating your own masterpiece. Sip your way to a masterpiece during a two to three hour painting class while enjoying wine (for inspiration), snacks and other drinks with friends. Step-by-step instruction. At the end of the evening you will have created your own 16 x 20 inch acrylic painting on stretched canvas.
Foremost western teacher of Buddhism speaks in Durango
Awakening the Buddha Within
Community Concert Hall
at
Fort Lewis College
, August 4, 2012, 7 pm
Lama Surya Das, known to the Dalai Lama as the Western Lama, will speak and lead a retreat in Durango. Surya has spent 40 years studying Tibetan Buddhism and meditation with great masters of Asia, including the Dalai Lama's teachers. He is the author of the bestselling books, Awakening the Buddha from Within and Buddha Standard Time: Awakening to the Infinite Possibilities of Now. Information: 970-946-0233, Tickets: 970-247-7657
LIVE MUSIC & THEATRE
Music in the Mountains
July 8 - 29, 2012
This summer marks Music in the Mountains' 26th anniversary season of classical and world music. Choose from over 30 concerts and events performed in venues set in the spectacular mountain scenery. www.musicinthemountains.com.
Music in the Courtyard Garden
Rochester Hotel
, Wednesday nights, 4 - 7 pm
A free, live summer concert series on Wednesday nights during the summer season. Refreshments will be served at the Rochester Hotel outdoor bar. Schedule of all events: https://www.facebook.com/rochesterhotel, 970-385-1920
Trimble Hot Springs Music on the Lawn
6475 County Road 203
A great list of artists for your pleasure Sundays and Thursdays through the summer. Relax on the lawn or during your mineral soak listening to a different artist each week. Local favorites: Pete Giuliani, The Assortment, and Katrina and Cook; and Zydeco, Latin, quartets, Celtic groups and more.
http://www.trimblehotsprings.com
, 970-247-0111
Durango Arts Center Community Theater: Beehive, the '60s Musical
802 East 2nd Avenue, Fridays and Saturdays June 15 - September 1, 2012
Beehive, the '60s Musical, a musical review written by Larry Gallagher, features classic songs deeply influenced by social and political mores of the 1960s. Beehive takes us through the decade with a series of 40 songs sung by a cast of six women: "Let's Rock" and "The Name Game," "banana fana foe fana, me my moe," "My Boyfriend's Back," "I'm Sorry" by Brenda Lee and "Where the Boys Are" by Connie Francis to name but a few. www.durangoarts.org, 970-259-2606.
Durango Melodrama at Henry Strater Theatre: Two Orphans
699 Main Avenue, June 15 – September 22, daily except Mondays, 7:45 p.m.
Two Orphans, a show about two orphan girls who make their way to Paris; one gets arrested, the other falls in love—will they ever see each other again? "Dinner and A Show" packages available. Tickets $18 and $30, DurangoMelodrama.com, 970-375-7160
ON THE WATER!
Stand-Up Paddle Boarding
Stand Up Paddle Boarding is one of the newest and fastest growing ways to enjoy Durango's waterways! It offers a great core workout in a serene setting while you're having fun! No experience is necessary. We provide all necessary equipment on beginner, half-day instructional classes for ages 9 and up.
Ropes & Raft
Learn to rock climb with Durango's only comprehensive and most experienced professional climbing school and guide service, Southwest Adventure Guides, in the morning. Then, experience Durango from the popular Lower Animas River on a half-day rafting trip with Class I, II and III rapids. Double the adventure in one fun filled day!
More Summer Fun…
The
Durango & Silverton Narrow Gauge Railroad
has regular service to the historic mining town of Silverton. Relax in the natural mineral waters at Trimble Hot Springs. The Durango Discovery Museum and Southern Ute Cultural Center and Museum will inspire and inform; our galleries and art museums unveil the beauty of western and contemporary art. Experience our quintessential Colorado mountain town as you stroll, shop and dine along our Historic Main Avenue. Visit www.durango.org for information on all our springtime festivals and events.
About the Durango Area Tourism Office
The Durango Area Tourism Office is a not-for-profit organization operating with the mission to promote Durango and La Plata County's multitude of tourism attractions, events and services. For more information, visit www.durango.org or call (970) 247-3500.
Click here to download the official Durango Tourism iPhone app
.