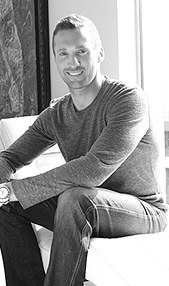 He grew up in total poverty. His home was an environment of domestic violence, drugs, and alcoholism. His Torrance, California neighborhood was a crime infested area that most kids don't leave. He was forced to join a gang, sell drugs, and do things that no person should ever have to go through.

Then, for Ryan Blair something wonderful happened. His mother divorced the abusive father and re-married a very successful entrepreneur who took him out of poverty and into a better life.

For Ryan, it was a personal reinvention. His new stepfather said four words that changed his life: "I believe in you." Those four words opened up a whole new world. No more gangs. No more poverty. Now Ryan took control.

At 21 he started his first of ten businesses. He now owns ViSalus, a weight loss and fitness company valued at over $600 million.

All because someone took the time to say "I believe in you".

Sometimes all it takes is a simple sentence like "I believe in you" to take your life in a positive direction.

Encourage a budding entrepreneur today. It can change a kids life.