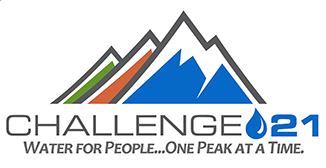 Denver, CO - On August 16, renowned mountain climber and photographer Jake Norton began a 16,763-foot trek up Mt. Stanley in Uganda, Africa to officially kick-off the Eddie Bauer First Ascent -sponsored Challenge21.
As part of the challenge, Jake will attempt to climb the Triple Seven Summits - the three highest peaks on each continent, one of which is Mt. Stanley - in an effort to raise awareness of the worldwide clean water and sanitation crisis. Water For People, an international nonprofit that aims to establish creative and collaborative solutions that allow people to build, operate and maintain their own reliable safe water and sanitation systems, is Challenge21's official partner. The nonprofit's CEO, Ned Breslin, joined Jake on the climb.
Over the next three to four years,
Challenge21
hopes to raise $2.1 million for Water For People as well as educate and empower 2.1 million people to help combat the crisis.
"I have been an avid climber for most of my life, and I can attest to the strength and performance of First Ascent's gear," said Jake. "Over the past several years, my teammates and I have worked closely with Eddie Bauer to design, test, and build the best gear in the world. The result is a full line of outerwear and gear that have never once failed me on my climbing expeditions, and I know the gear will support me on all the peaks of Challenge21 and throughout my efforts to make a lasting impact on the global water crisis during the next few years. With 884 million people lacking access to safe drinking water and 2.5 billion people without adequate sanitation methods, the scale of the global water and sanitation crisis is massive, and I am so appreciative of Eddie Bauer First Ascent's support in bringing sustainable water and sanitation development solutions to the areas where Water For People focuses its efforts," said Jake Norton.
"Jake's been an incredible partner and contributor to First Ascent and Eddie Bauer. We are excited and honored to participate in Jake's quest to bring attention to one of the most urgent issues facing the world by outfitting and equipping his upcoming Challenge 21 expeditions" said Damien Huang, senior vice president of outerwear, active and gear at Eddie Bauer.
About Eddie Bauer
Established in 1920 in Seattle, Eddie Bauer is a specialty retailer that sells sportswear, outerwear, gear and accessories for the active outdoor lifestyle. The Eddie Bauer brand is a nationally recognized brand that stands for high quality, innovation, style and customer service. Eddie Bauer products are available at approximately 353 stores throughout the United States and Canada, through catalog sales and online at
www.eddiebauer.com
. Eddie Bauer is proud to be named a J.D. Power 2011 Customer Service Champion and is only one of 40 companies so named in the U.S.
About First Ascent
First Ascent is Eddie Bauer's line of expedition-quality mountaineering outerwear, apparel and gear built by a team of the world's foremost mountain guides. The line includes everything from base layers and insulating layers to soft shell and hard shell outerwear to backpacks, duffels, knives and other essential gear. First Ascent "shops" are located in 183 Eddie Bauer stores across North America, through catalog sales and online at
www.firstascent.com
.
ABOUT WATER FOR PEOPLE
Water For People is a non-profit international development organization dedicated to helping people in developing countries gain access to safe drinking water and improved sanitation. Water For People's entrepreneurial approach establishes partnerships between local and national governments, nongovernment organizations, private enterprise, and entrepreneurs to create self-managed safe water and sanitation services that last over time. Water For People works to reach everyone with sustainable services in the areas where it operates and monitors development for at least 10 years post project completion. To learn more, visit
www.waterforpeople.org
or join the conversation on
Facebook
and
Twitter
.
ABOUT CHALLENGE21
Launched on April 22, 2011, Challenge21 is a ground-breaking series of expeditions where renowned climber, Jake Norton, will attempt to be the first person to climb the Triple Seven Summits - the three highest peaks on each continent - to raise at least $2.1 million for Water For People over four years. To learn more, please visit
www.challenge21.com
or join the conversation on
Facebook
and
Twitter
.