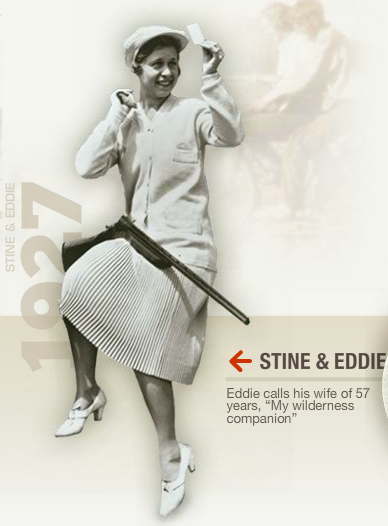 Date - Seattle, Wash. - Specialty retailer
Eddie Bauer
, the Original Outdoor Outfitterr brings back styling of old with technical updates for the modern user. The Packhorse Collection includes six styles that are sure to please the outdoorsman, fly fisher and traveler.
All styles include aspects like waxed-cotton, vegetable-tanned saddle leather, harness-stitch detailing, hammered copper rivets and brass closures. The
Packhorse Collection
includes the
Packhorse Duffel
, the
Packhorse Rucksack
,
Packhorse Satchel
,
Packhorse Garment Bag
and the
Packhorse Shave Kit
. All are items that Eddie Bauer and his wife Stine would bring with them on their extended outdoor trips fishing or hunting.
The
Packhorse Duffel
(also available in a large option) is the ultimate gear piece that includes a removable adjustable padded shoulder strap, U-shaped zipper providing easy access to interior, two side flap pockets, two interior zippered pockets and is cotton lined.
MSRP $279
Eddie Bauer used to love to run a trapline and with a pack such as the
Packhorse Rucksack
he could stow extra traps, a lunch and be out for hours. Adjustable shoulder straps, brass rings that fasten the large full-grain-leather cover and a drawstring that cinches the top-loading main compartment rounds out this pack.
MSRP $199
Walk through security or into the office with style using this
Packhorse Satchel
. A classic design that incorporates waxed-cotton fabric, vegetable-tanned saddle leather, harness stitching and a zippered front pocket to organize any miscellaneous items. Add to it an adjustable padded shoulder strap with plenty of room for a laptop computer, phone and notebook and even the most confirmed outdoorsman is ready for a trip into town.
MSRP $229
On extended trips the
Packhorse Garment Bag
will keep garments looking pressed and professional for that morning meeting. Zippered pockets under the main flap, an interior hanger loop and a D-string lashing loop to help hold garments in place make this an ideal travel bag. As is the same with all items in the Packhorse Line; waxed-cotton, vegetable-tanned leather, hammered copper rivets and brass closures add a touch of the outdoors and authenticity to each item.
MSRP $259
Keeping an organized grooming kit is key for any outdoorsman. The
Packhorse Shave Bag
contains three interior mesh pockets: two zip-closers and one with a self-fastening flap cover keeps the essentials organized and at hand. A large vegetable-tanned leather flap with brass closures keeps the style authentic Eddie Bauer. Even if it is hung in a hotel bathroom and not a wall tent.
MSRP $99
To read more about Eddie Bauer's heritage and find out more of his impressive list of firsts please visit,
www.eddiebauer.com/heritage
.
About Eddie Bauer
Established in 1920 in Seattle, Eddie Bauer is a specialty retailer that sells sportswear, outerwear, gear and accessories for the active outdoor lifestyle. The Eddie Bauer brand is a nationally recognized brand that stands for high quality, innovation, style and customer service. Eddie Bauer products are available at approximately 352 stores throughout the United States and Canada, through catalog sales and online at
www.eddiebauer.com
. Eddie Bauer is proud to be named a J.D. Power 2011 Customer Service Champion and is only one of 40 companies so named in the U.S.